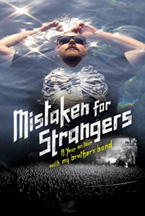 (Mistaken For Strangers opens theatrically and an VOD—iTunes and Amazon Instant
, for example—on Friday, March 28, 2014, through Starz Digital Media and Abramorama. It world premiered at the 2013 Tribeca Film Festival, where it was the opening night film, before moving on to Hot Docs. Visit the film's official website to learn more. NOTE: This review was first published on May 1, 2013.)
The band The National is comprised of lead singer Matt Berninger and two sets of brothers, Aaron and Bryce Dessner and Scott and Bryan Devendorf. The band toiled, touring endlessly for the first half of the last decade, but with their 2007 release Boxer achieved notoriety and acclaim on a scale few indie acts will ever encounter. They've since performed for Obama's campaign and will soon be their own art installation, singing their hit "Sorrow" on repeat over the course of six hours at MoMA PS1. There is a third pair of brothers, and though Matt Berninger's kid sibling Tom isn't in the band, his artistic aspirations (and shortcomings) are in every way on display in his debut documentary Mistaken For Strangers, which follows his year on tour as a roadie with his big brother's band.
Tom still lives at home with his parents in Cincinnati. In preparation for his departure on a worldwide tour, he brings his camera crew—himself—to the neighborhood record store to show off, play the big man, and brag about his upcoming trip. It's painful to watch the blasé teenagers mumble through their impromptu interview, or the record store clerk look at Tom as if he never believed anyone would see this home video. Tom is open, well meaning, genuine and so ripe for ridicule, especially among the soaked-in-sarcasm crew of jaded roadies.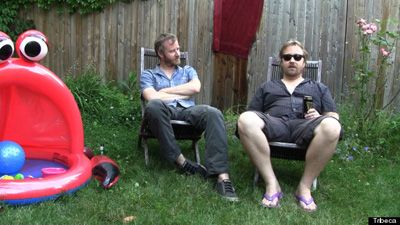 The crew, and especially the tour manager, sees Tom as nothing more than a problem waiting to happen and a bad case of nepotism. Tom assures his boss that he's taken care of everything—the water bottles, the towels—and then promptly sprints in the opposite direction to complete the tasks he's clearly forgotten. No one on the tour believes in his project or artistic ability. When he shows one of the band members a previous film he'd made, he and the audience suffer through an earnest low-budget horror film, scared only for its maker and his seeming level of cluelessness. Even his own brother eventually loses his cool, admitting that nepotism is the only explanation to his presence, confessing doubt in Tom's project, suggesting that maybe this was not such a good idea after all.
Berninger's self-effacing, filter-less approach enable him as filmmaker and subject to go beyond a tepid tour documentary and to look at what it's like to live in the shadow of a brother's fame, of what it's like to come to terms with how different your life is than what you thought it could be. After finally being fired, his rock star vacation eradicated, Tom finds himself back home with mom and dad. He begins to cull through the hours upon hours of footage he's compiled, what has brought him to this point. But he treats it with kid gloves, avoiding the embarrassment and the failures that the last year had brought. This culminates with a botched test screening for friends and family in New York. This public shaming forces Tom to take ownership, to stop avoiding himself, to take responsibility for the person he has become. If he's unhappy, if he sees himself as a loser, there is no one else to blame.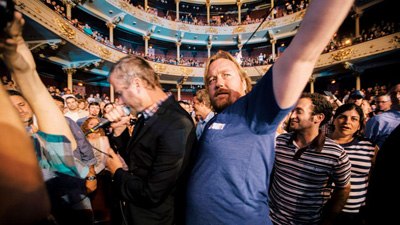 And it is through this realization that Tom grows as a filmmaker and as a person; it is what gives Mistaken For Strangers its resonance and weight. En route to the test screening, Matt turns the camera on a clearly nerve-wracked Tom and asks him about his female prospects. Tom says he can't date at this point, there are too many things missing in his life, all he eats are pizza slices and Chinese takeout (he "doesn't even have any dishes"). From here, his rock bottom, Tom begins to see that all of these awkward, painstaking moments—each and every small failure—are the movie and that all of the friction with his brother must be acknowledged before it can even begin to be resolved.
By being his bumbling but sincere self, Tom brings out the truth in those around him and pushes through his famous older brother's chilly façade to a deeper, more meaningful relationship with him. For someone seemingly so bad at being himself, Tom Berninger sure seems to make everyone around him better, fuller, happier.
— Jesse Klein