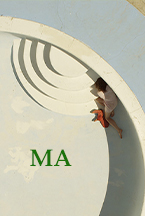 (Ma was screened as a work-in-progress as part of MoMA PS1's Sunday Sessions during the 2015 Tribeca Film Festival.)
I first discovered Celia Rowlson-Hall's work at the Borscht Film Festival in 2012. Borscht is less a film festival than a happening organized by a loose collective of Miami film and art carnies. They benefit from the largesse of the Knight Foundation, and use some of this money to fund filmmakers, and Celia was one of the recipients for her film Si Nos Dejan. Her work was immediately distinctive, both in form and theme. Celia is a choreographer and dancer and movement infuses her films. They don't include any dialogue, but it doesn't feel right to call them silent films because she finds such a full expression for the narrative potential of other aspects of cinema. Time, movement, color, texture, tone, music, and emotion, emotion, emotion – her films are both primal and ripe with intent.
Si Nos Dejan stars Celia as a woman who dons various identities and tropes of femininity signalled through costume and makeup. But there's always a dark twist: a drowning bride, a terrified stripper, a rail-thin Pamela Anderson cradling a young boy in her arms. These ideas are also present in Celia's earlier short film Prom Night, where she dances alone in a decorated gym, transforming into a praying saint, a busty blonde with balloon tits, a Lolita sucking on a lollipop. What I love about Celia's work is that she doesn't simply reject these stereotypes. She allows herself to explore these women as very real bodies and souls both hungry for acceptance (and love and sex) and fighting furiously against imposed definition. They seduce and punish, they writhe with joy and tension, they are exhausted. It's feminism incarnate, an instinctual expression of how women are always already performing, whether they choose to or not.
Last year Celia announced via Kickstarter that she was making her first feature film Ma, "the story of a virgin mother on a pilgrimage to Las Vegas to give birth to our savior." As part of the 2015 Tribeca Film Festival a work-in-progress screening of the film was hosted by MoMA PS1 in their geodesic dome, and I couldn't think of a better place to experience this film than in a giant constructed womb in the middle of Queens. I hope that it finds other such homes as it makes its way into the world because Ma deserves to be seen in communion with others. I saw it in an insomniac haze, so my membrane between waking and dreaming was especially thin that day. But I guess I got lucky, because that might be the ideal way to experience it. Ma is astonishing, and easily one of the most brazen and beautiful independent films I've seen in years.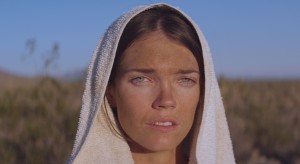 True to the pitch, Ma is an adaptation or retelling of the Virgin Mary's story from miraculous conception to the birth of Jesus. It is set in the desert and filmed in the American Southwest, and location is one of the many ways the film mixes pop and religious iconography. Celia plays Ma and spares herself nothing in a difficult and complex performance. Her "Joseph" – called Daniel in the film – is played by actor Andrew Pastides, who brings a perfect blend of humor and empathy to a challenging role. Actually the cast is one of the interesting surprises of Ma. The esoteric subject and experimental form did not prevent Celia from casting indie names like Amy Seimetz, Kentucker Audley, and Peter Vack in supporting roles, and it's fun to see these film actors get their freak on, embracing mythology and silent performance. But the heart of the film belongs to Ma and Daniel.
When we first meet Ma she is wandering the desert, wearing a cheap, thin white towel like a shroud. Daniel is cruising in his vintage car when he finds Ma on the side of the road, and they drive to a motel with her affixed to his windshield like a spider. There are touches of (often physical) humor like this throughout Celia's work, and this film is no exception. But everything in Ma is elevated and heightened, the humor and beauty as well as the darkness. There's nothing immaculate about Ma's conception, a bruising scene that plays out as a rather brutal gang rape. The narrative flows in such cyclical throbs of tension and release. I know this sounds awfully precious, but I assure you it isn't. Celia keeps the film moving through brisk pacing and remarkably economical shot progression.
Perhaps the most astonishing thing about Ma is its visual beauty. The film recalls Michelangelo Antonioni in its feel for the line of architecture and the contours of the land, but there's something deeply feminine about its numinous gaze. There are many, many striking images in the film, and credit should also go to Celia's team of collaborators, including cinematographer Ian Bloom and production designer Jen Dunlap, who gamely helped build the world of Ma. White and red reappear in the washed and sun-bleached palette, and so do the contrasts of water and sand. But Celia elevates them beyond blunt visual metaphors to narrative motifs that elaborate on her themes. At the story's core there's a clever reversal of expectations about fertility. When Ma curls her body into the corner of a swimming pool it is bone-dry. Daniel is the one who plunges into water, dripping with life. I love this contrast most of all. Ma is not a passive vessel waiting to be filled. She is willful, she has desires, she struggles with her fate. Her thirst is endless, the great thirst of women who wander the parched desert. It reminds me of a line from Marie Ponsot's poem Among Women: "What women wander? / Not many. All. A few."
— Susanna Locascio