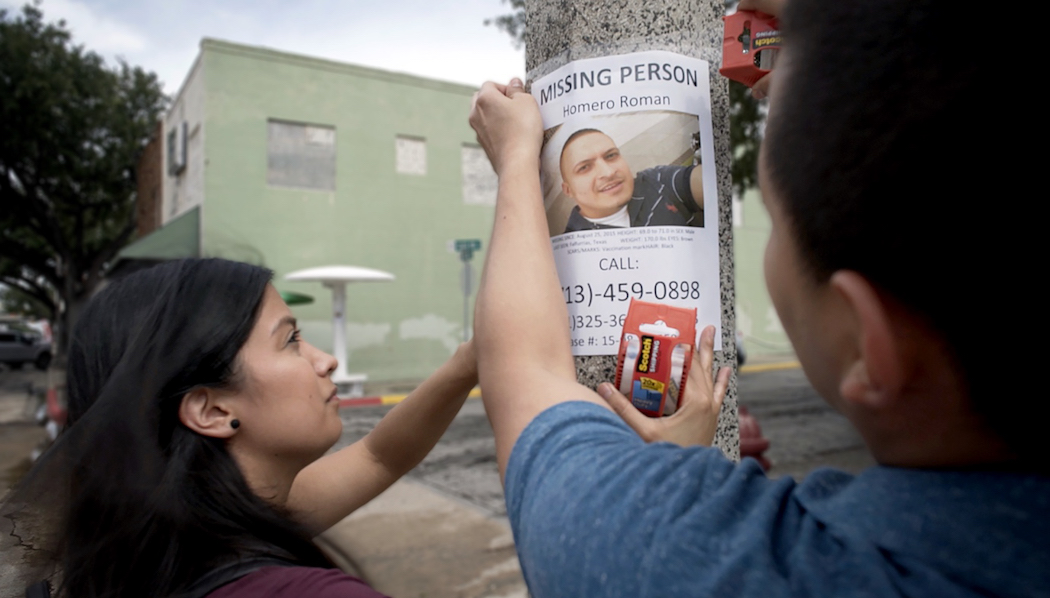 (DOC NYC runs online Nov 11 – 19, 2020 and Hammer to Nail has TONS of reviews to keep you in the loop! Like what you see here on Hammer to Nail? Why not give just $1.00 per month via Patreon to help keep us going?)
There is a place in Texas, about 70 miles north of the Mexican border, where thousands of undocumented immigrants have died making their way north, the direct result of policies put in place during the Clinton administration that force these desperate souls into the most environmentally dangerous areas of that part of the country. In order to avoid the interior check point at Falfurrias Station, the "mules" shepherding their charges drop them into a hot and dry region that has proven deadly over the years. For those tempted to shrug and assume that illegal entry deserves such a fate, Missing in Brooks County, a new documentary from Jeff Bemiss and Lisa Molomot (The Hill) offers a solid rebuke. However one might feel about border security, human lives and their loss deserve respect. In this film, we honor the dead.
Beyond the general issues of immigration, the directors focus on two specific families who have lost loved ones and one human-rights activist (and those who help him). They are the relatives of Homero Román Gómez and Juan Maceda Salazar, both of whom disappeared years earlier; and he is Eddie Canales, of the South Texas Human Rights Center, committed to recovering bodies in the field, no matter how decayed, and delivering them to Texas State University biological anthropologist Dr. Kate Spradley so she and her team can perform DNA tests and identify the remains. It is often hopeless and thankless work, with no happy end ever in sight (though at least a kind of resolution), but someone has to do it, and they step up.
Bemiss and Molomot also spend time with local law enforcement, border-patrol agents and ranchers. It's those last folks who prove the least sympathetic to the plight of the migrants, seeing them purely as a nuisance to be captured and sent back. Some of them even sabotage Canales' water stations, set out to help people survive the trek (which makes him a target of suspicion, as well, for what kind of man would help illegal aliens?). Those in charge of actual policing prove more sympathetic, even as they arrest those they catch; many of them appear to be Spanish-speaking Mexican Americans, and though they send people back, they first provide sustenance and compassion.
Given the current tone of the national debate on immigration, we are nowhere near close to solving the conundrum of how to prevent unnecessary deaths (over 20,000 since 1994). But one thing is clear: we are one species, united by our common time on this planet, and the least we can do is not actively try to kill others. If Missing in Brooks County doesn't convince you of that, then you are a lost cause.
– Christopher Llewellyn Reed (@ChrisReedFilm)