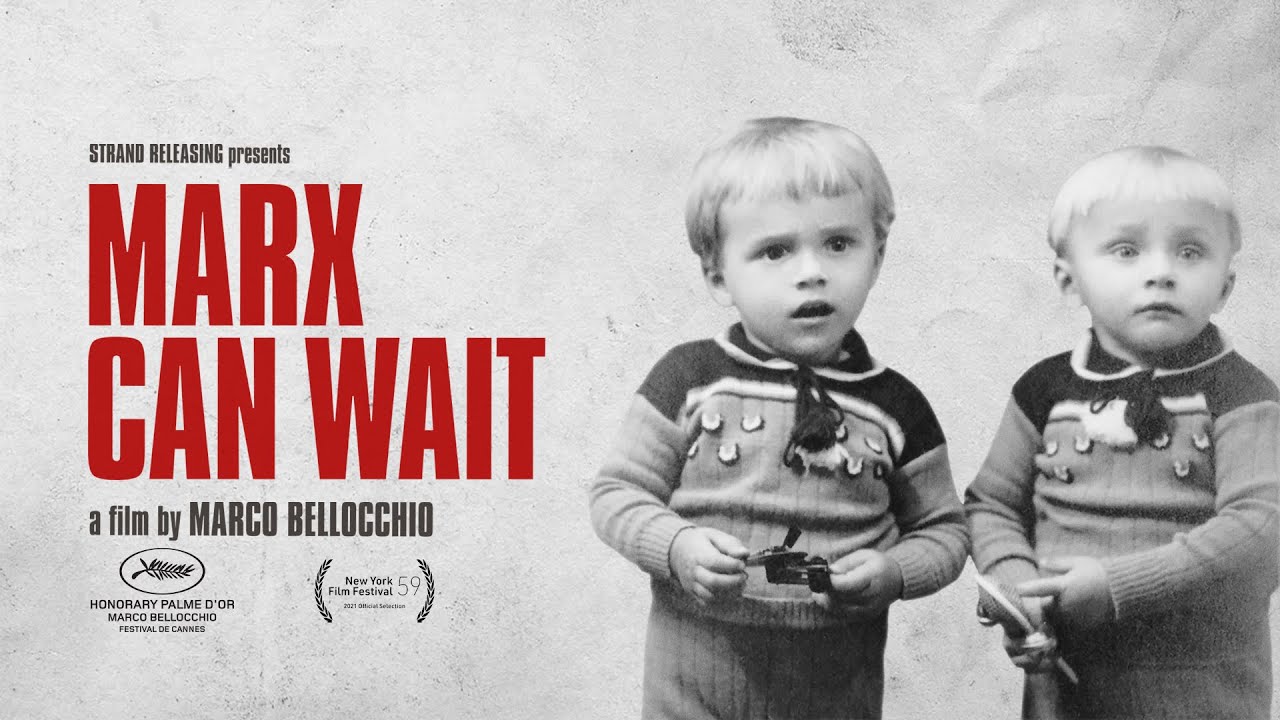 (Check out Ray Lobo's review of Marx Can Wait, available now on Mubi. Seen it? Join the conversation with HtN on our Letterboxd Page).
Marco Bellocchio's films have alternated between the personal–Fists in the Pocket— and the political—Vincere. His latest film does not disguise the personal with a fictional narrative. Marx Can Wait is an autobiographical documentary focused on Bellocchio's twin brother, Camillo, and how his death at the young age of 29 produced emotional reverberations for everyone in their family.
Perhaps no cinema in the world captures family dynamics as well as Italian cinema. One need only look at some beautifully executed recent examples such as Sorrentino's The Hand of God or the series My Brilliant Friend. Like the two examples cited, Bellocchio places his family drama within a wider Italian historical context. Marco Bellocchio and Camillo Bellocchio grew up in a post-WWII Italy wherein the remnants of a defeated Fascism lingered, a large contingent of young people willed a Communist revolution into existence, and the Catholic Church held a powerful ideological hold on Italians through both the church itself and Catholic schools. Marco and Camillo's mother, for instance, had a literal belief in hell and went so far as to baptize Camillo thrice. The way Camillo died made his death all the more difficult for his mother and some of his siblings in the context of Catholic theology.
While the Bellocchio family dynamic was complicated by the death of the father figure from cancer and a sibling with mental health problems, the family was as normal as any other. Paolo's mental illness necessitated attention from the family, and Marco's early successes as a filmmaker got him recognition both from the film community and the family. Camillo got lost in the shuffle. Outwardly he seemed happy. He had friends and a girlfriend; however, some within the family noticed he carried a "veil of melancholy" around him. Camillo was not a good student. He lacked any career direction or aspiration. The documentary gets its title from a phrase uttered by Camillo. Marco Bellocchio wanted to be more than a mere bourgeois film director. He was committed to making the world better for those who suffered, the working class, the poor, the needy. Camillo told Marco that he also had needs, existential ones, and that for him, "Marx can wait." Marco, truth be told, was caught up in a maelstrom of career, fame, and social change. He did not pick up on the fact that if anyone was needy, it was his own brother. This realization, unfortunately, hit Marco only after Camillo died.
Marx Can Wait is Marco Bellocchio's letter to the dead. The documentary is most powerful in its somber moments. Family members recount very specific details, quite horrific ones, about the day they found out about Camilo's death. It is quite curious how even a death as seemingly straightforward as Camillo's is interpreted by different family members in different ways; often the interpretations are shaped by the family member's degree of commitment to Catholicism. What comes through, regardless of Marco Bellocchio's degree of faith, is that this is a confessional, a work of penitence. With Marx Can Wait, Marco Bellocchio has not only finally offered recognition to his brother, he was created a beautiful film.
– Ray Lobo (@RayLobo13)
Mubi, Marco Bellocchio; Marx Can Wait movie review