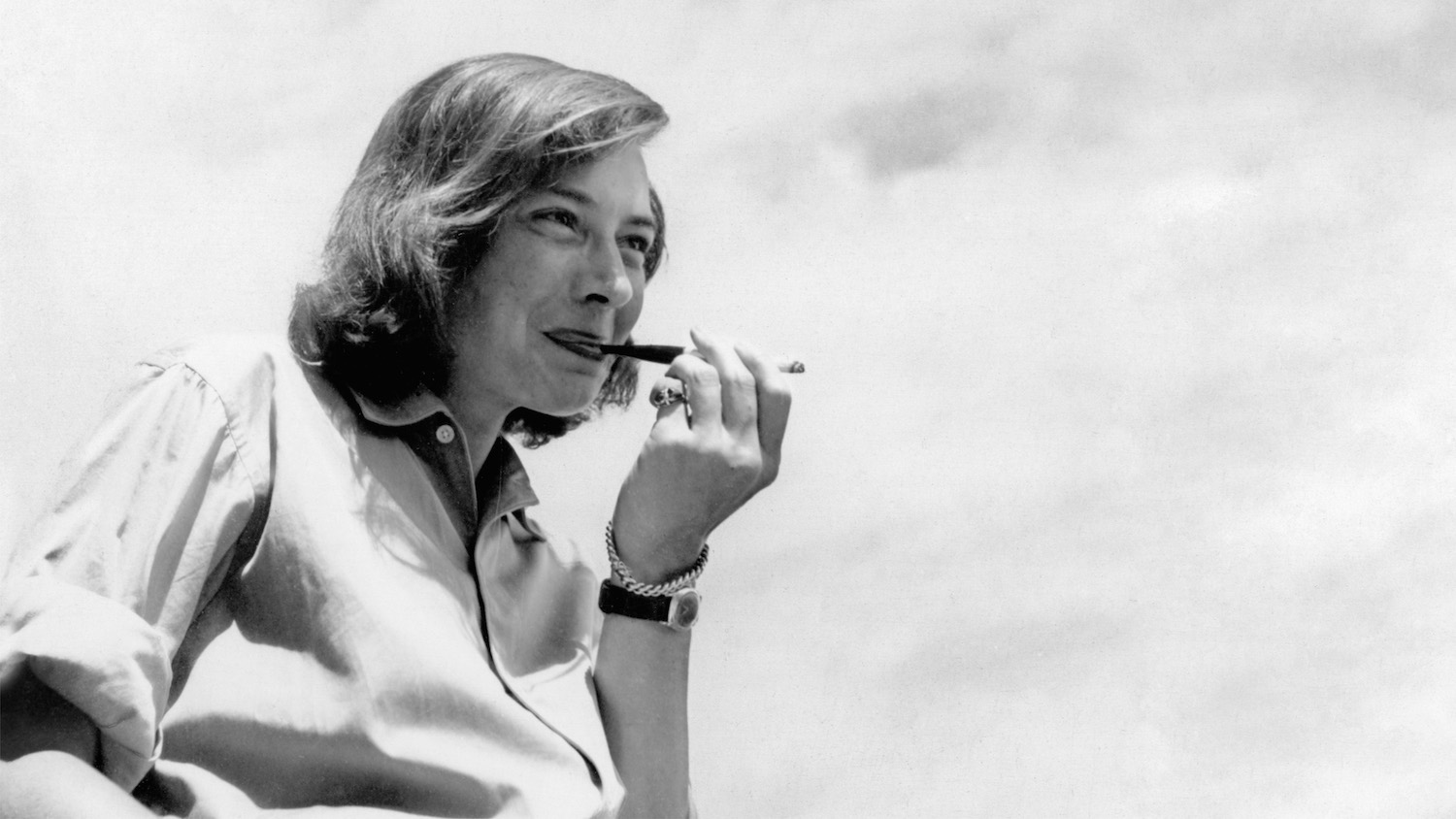 (Director Eva Vitija's Loving Highsmith opens Sept. 2 at Film Forum in New York City and Sept. 9 at Landmark's Nuart Theatre in Los Angeles via Kino Lorber. Seen it? Join the conversation with HtN on our Letterboxd Page.)
American writer Patricia Highsmith (1921-1995) is perhaps best known today thanks to the many cinematic adaptations of her works, starting with Alfred Hitchcock's 1951 Strangers on a Train, René Clément's 1960 Purple Noon, Wim Wenders' 1977 The American Friend, and Anthony Minghella's 1999 The Talented Mr. Ripley, among many others (those last three all taken from Highsmith's "Ripliad," or series of five novels about her favored protagonist Tom Ripley). And then there is Todd Haynes' 2015 Carol, based on the lesbian-themed book The Price of Salt Highsmith wrote in 1952 under the pseudonym Claire Morgan. All are worth reading, the films worth watching to varying degrees.
As a gay woman in mid-20th-century America, Highsmith had a lot to potentially fear, yet lived her life more or less as she pleased. Her publishing success helped, no doubt, insure her against the same kind of pressures that as someone less financially independent might have experienced. Still, the 1950s and 1960s were hardly without prejudice, so she couldn't quite always do as she pleased. Close, though.
In Loving Highsmith, her adoring portrait of the dearly departed, director Eva Vitija (My Life as A Film: How My Father Tried To Capture Happiness) explores Highsmith's life and writing in depth, though perhaps not always with an overly objective lens. She's all in with the affection, as the title promises, creating almost a hagiography of her complicated subject. Despite this limited approach, the documentary still holds many fascinating treasures.
Among them are photographs of the artist as a young woman (as a little girl, too), and a discussion of her Texas origins and her disrupted childhood when her formerly distant mother decided to force a move to New York City. Vitija interviews surviving family members in the Lone Star State who provide rich details of Highsmith's early days. She also interviews some of Highsmith's many lovers, including fellow writer Marijane Meaker and German actor/director/producer (and drag king) Tabea Blumenschein (now deceased). Everyone's descriptions help make Highsmith come alive.
Unfortunately, she is less forthcoming about some of the more unsavory aspects of Highsmith's character, in particular her well-known antisemitism (in contrast to her frequent dating of Jewish women), only mentioning this in passing as an affectation of old age. Human beings can be many things at once, and we can admire parts of them and dislike, or disapprove of, others. I, for one, love Strangers on a Train and the movie made of it (and love Carol and Purple Noon, as well). Highsmith forged a path as writer and lesbian icon that merit recognition. No need to ignore what is far less admirable. That significant caveat aside, Loving Highsmith is still a deserving watch.
– Christopher Llewellyn Reed (@ChrisReedFilm)
Kino Lorber; Eva Vitija; Loving Highsmith documentary movie review