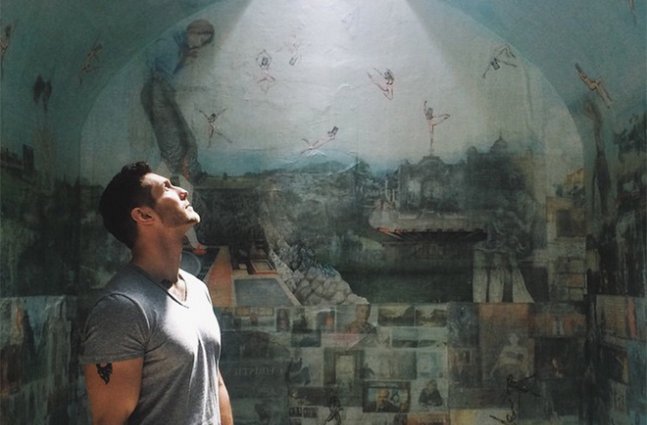 (DOC NYC's 12th edition will take place in theaters and online November 10-28, 2021. Hammer to Nail has the fest covered so stay tuned for tons of reviews! Like what you see here on Hammer to Nail? Why not give just $1.00 per month via Patreon to help keep us going?)
A journey of redemption and artistic self-discovery, Alysa Nahmias' documentary Krimes explores the life of a formerly convicted artist, and also acts as an indictment of our justice system. As the film opens up with a giant mural made of prison bed sheets being hammered to a wall, we meet the titular artist as he sits in front of his work and makes a call to his parole officer to inform him he is on his way back to the halfway house. Even if you've never heard of Jesse Krimes, the film's opening provides insight into this individual's talents as well as his predicament. With help from Molly Schwartz's sharp animation sequences, Nahmias empathetically profiles his tragic past and present rise to artistic fame. Krimes also struggles to help change the lives of his fellow convicted artists, many of whom are African American, and who got longer sentences for similar drug offenses. However he learns not everyone is as lucky as he was.
Being raised in poor conditions by a teenage mother in Lancaster, Pennsylvania, Jesse Krimes grew up as a troublemaker who had multiple misdemeanor run-ins with the law, as well as drug dealing starting in his teens. This stage in his life was likely triggered by the unexpected suicide of his mother's boyfriend who had raised him. "I didn't give a shit about myself. I didn't care if I lived…" he admits regarding his teenhood. After spending a year and a half behind bars for possession with intent to distribute, the pressures from juggling both work and art school got him back to dealing drugs. He eventually paid the price dearly when the police raided his home–shown in a chilling animated sequence – and discovered 147 grams of cocaine in his apartment. After refusing to give up his suppliers, the authorities unethically charged him with possession of 50 kilos of cocaine rather than 147 grams. 
In this documentary, both Nahmias and Krimes take the time to divert from his life, and shine a light on the flaws and biases of the justice system. One example is the moment of Jesse's sentencing. He gets 70 months for possession of 50 grams of cocaine, whereas a black man who was sentenced before him (being charged with the same offense) got 20 years. Jesse doesn't hesitate to admit that his more lenient sentencing was likely due to him being white, a fact that never sat easy with him. Struggling behind bars with loneliness, his mental health, and a son being born within the first year of his sentence, he turns to creating conceptual art to cope with the grim conditions of prison. Such works he puts together include cutting out photos of offenders and celebrities' faces from the newspapers and sticking them on recreations of religious art as a way of decontextualizing who is and isn't an offender. His transfer to a New Jersey prison gave him more access to art supplies, where he met fellow inmate artists Jared "O" Owens and Gilberto "Cano" Rivera, who share his passion for art. Even outside of prison, the three keep their camaraderie alive. 
Using his art as a way of humanizing himself to others during his incarceration, Jesse discreetly ships his art out of prison to various art galleries and exhibitors. Being paroled after serving five years, he tries to reconnect with family and bond with his five year-old son he never got to see grow up. Shortly after his release, Jesse takes a transitional job with the Mural Arts Restorative Justice program in Philadelphia where he works with Russell Craig, a fellow formerly incarcerated artist with whom he would come to co-fund Right of Return USA. The documentary excels in taking the time to profile these individuals, giving them enough context to humanize them and make it seem like they are in the room with us. About a year after his release, Jesse has his prison work shown in group exhibitions, including a 39-panel mural made from bedsheets, hair gel, and newspapers. This period of glory gives him momentary fame within the art community. But eventually reality comes crashing in as he continues to struggle applying for full-time employment and artist grants as an ex-con. Self-doubt, anxiety, and temptation put him in danger of reverting to his old ways, sending him back to prison, and crumbling everything he worked hard to rebuild during his release. Only a supportive system of people, including Craig, can help him back up to his feet. "Let's not fuck up again because if you do, it will prove whoever's trying to take you down right," he tells Jesse. The steps he takes to put himself back together is shown in a motivational, Rocky-like montage. 
A solo exhibition in early 2016 is the first step in helping Jesse build his life back together. This is a moment that has him reflect on everything that led him to where he is, and considers his prison time a "meant to be" period. In Krimes, director Alysa Nahmias uses Jesse Krimes' life to raise the question of what makes a person worthy in our society. Through experiencing the lives of these formerly incarcerated artists, it's clear that everyone has a story to tell, and sometimes it takes a sense of purpose to be able to tell it. The result of this storytelling is a satisfying, heartening tale of redemption that is full of empathy for every person involved, somewhat similar enough to last year's shortlisted doc The Painter and The Thief. Krimes leaves open the possibility of absolution for a world of tormented artists with complicated criminal pasts.
– M.J. O'Toole (@mj_otoole93)
DOC NYC; Alysa Nahmias ; Krimes documentary film review