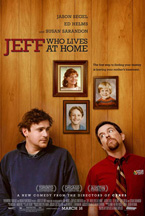 (Distributed by Paramount Pictures, Jeff, Who Lives At Home is now available on DVD + UltraViolet
, Blu-ray + UltraViolet
, and at Amazon Instant
. It opened theatrically on Friday, March 16, 2012. NOTE: This review was first published on September 14, 2011, in conjunction with the film's world premiere at the 2011 Toronto International Film Festival. Visit the film's official website to learn more.)
A look at the Duplass Brothers' body of work finds both striking stylistic similarities across the films and storytelling that continues to grow with each project. In their new film Jeff, Who Lives at Home, the brothers' signature techniques—a handheld camera that zooms in on the faces of their actors, a tightly circumscribed group of characters—remain, but their generosity has grown by leaps and bounds. Whereas a film like The Puffy Chair took great pleasure in the unresolved suffering of its protagonists, Jeff is interested in creating harmony in the universe and allowing its characters' dreams to come true in unexpected, moving ways.
Jeff (Jason Segel) is a thirty-something stoner living in his mother's (Susan Sarandon) basement. His ambitions lie outside of the world of material concerns; the film's opening monologue, which features Jeff declaring his love for the elegant plot machinations of M. Night Shyamalan's film Signs, performs the neat trick of simultaneously highlighting Jeff's seemingly misguided understanding of fate and the sincerity of his world view. When his mother asks him to visit the hardware store to get the materials required to fix a broken shutter, the act sets into motion a series of unlikely coincidences that lead Jeff into an encounter with his alpha male, materialistic brother Pat (Ed Helms), whose decision to buy a sports car creates a rift in his marriage. When their lives finally converge with that of their mother, destiny shows its hand and allows the entire family a chance at reconciliation.
As filmmakers, Jay and Mark Duplass each have unique gifts; Jay's cinematography (generous in the way it uses actors' faces to deliver emotions) and staging are in top form here, highlighted by a surprising car chase that shows a real gift for action sequences. This scene is by far the most sophisticated (and likely expensive) they've made, but it still feels perfectly at home in the film because it is at once harrowing and funny. Mark Duplass has always found a way to give his actors hilarious pieces of on-screen "business," creating characters and situations that are served by small details that deliver wonderful, telling information. Here, there is Pat's goatee and his driving gloves, as well as a great moment where Jeff, compelled by fate to follow the "signs" that are appearing all around him, apologetically hitches a ride on the back of a candy truck.
But in the end, what is clearly separating the Duplass Brothers from their peers in the independent filmmaking community—though this is admittedly a star-studded Paramount picture, their process and spirit remain indie—is the way in which they use comedy as a way to reinforce their humanism. It is this belief in and support of everyday characters and their dreams and desires that finds the brothers' films becoming more and more purposeful. Whereas their earlier movies found comedy in self-certainty (The Puffy Chair), ambition (Baghead) and oedipal jealousy (Cyrus), Jeff, Who Lives At Home rewards its titular protagonist not just by giving him dopey ideals, but by making those dopey ideals come true through a profoundly important act that re-frames everything we might have otherwise assumed. By turning Jeff into a hero, the Duplass Brothers signal their own move into another world.
— Tom Hall