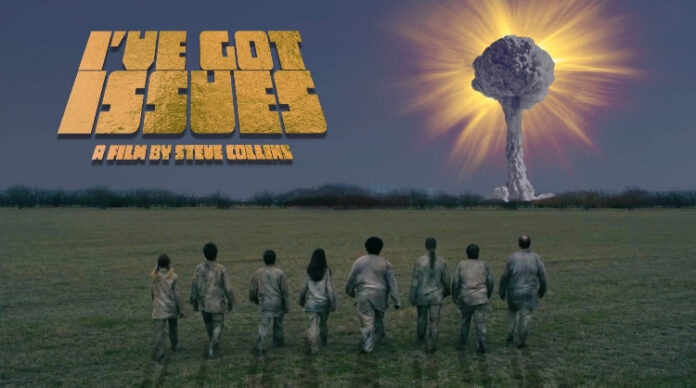 (Steve Collins' latest feature, I've Got Issues, might be the first zeitgeist film of the COVID shutdown. The film is available now via Gravitas Ventures. Like what you see here on Hammer to Nail? Why not pay just $1.00 per month via Patreon to help keep us going?)
The landscape of film and television is about to change. Robert Pattinson made it two days on a big-budget movie set before contracting COVID, which means the entertainment world is nowhere near ready to return to "normal". We simply can't have that many people in a room together without endangering each other's health. Now is the time for directors like Steve Collins to shine. His latest effort, I've Got Issues, is a low-budget collection of existential vignettes starring an average of no more than 2-3 characters at a time. What could be safer to shoot? You don't even need to gather a bunch of effects artists together for post-production. Someone in a basement with a single laptop could handle that job. Wham, bam, cinema!
Of course, you'd have to be into the premise. With I've Got Issues, Collins posits that day-to-day life of regular folk is a lonely, emotionally draining, seemingly pointless uphill battle. (At the moment, I reckon he'd have a hard time finding someone to argue this notion.) Collins handpicked a cast of character actors with a capitol C to embody his Joe and Jane Does in their Sisyphean lives. Among them, Macon Blair (I Don't Feel at Home in This World Anymore), Maria Thayer (TVs Eagleheart) Paul Gordon (The Happy Poet), Sam Eidson (Zero Charisma), Byron Brown (Mustang Island), and John Merriman (Sister Aimee). Comedian Jim Gaffigan provides occasional narration with a bleak, deadpan delivery that's nonetheless tinged with hope. The actors are all fully committed to their scenes which helps sell the absurdity.
The scenarios that unfold in sketch-style are satirical and surreal, but close enough to plausible that the viewer can empathize. A man visits a guru at the behest of a friend, and the method of treatment involves cradling a hirsute, shirtless guy. A woman takes in a mute stranger with a perpetual grimace who begins low-key mooching off of her reluctant hostess. A man is dismayed to learn that his internship involves editing a white supremacist newsletter but begrudgingly accepts the position because it includes a stipend and health benefits. A man spends so much time on his devices eating pizza that he essentially becomes a giant pile of pizza stuck to a chair (think Pizza the Hutt but GROSSER). The scenes are loosely connected, with the actors playing multiple roles in this beige-washed, technologically retro parallel universe.
Fans of Bob Byington and Miranda July will be at home with the deadpan humor and synecdochal storytelling. All the better if the viewer enjoys the works of Tim Heidecker and Eric Wareheim. A simple, yet effective keyboard score adds a dash of emotional resonance to even the most farcical scenes.
– Jessica Baxter (@tehBaxter)