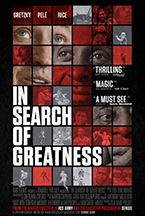 (Gabe Polsky's latest documentary, The Search for Greatness, is on Amazon Prime now. Like what you see here on Hammer to Nail? Why not pay just $1.00 per month via Patreon to help keep us going?)
What makes for a great athlete? Is it in the DNA, a matter of training, or some combination of both? These are the questions tackled by director Gabe Polsky (Red Army) in his latest documentary In Search of Greatness, which profiles a number of famous sports titans to investigate the secret to their success. From soccer superstar Pelé to hockey legend Wayne Gretzky to football giant Jerry Rice – the main subjects, with many more peripheral players – Polsky takes the viewer on a journey through the how and why of their careers, asking what others might do to mimic their triumphal streaks.
A funny thing happens on the way to the end, however, which is the discovery that the more one tries to match what those who have come before have done, the less one might succeed on one's own. Certain truths are nevertheless timeless, best encapsulated in the following two necessities: a "rage to master" and an ability to learn quickly. In other words, to achieve greatness (in whatever area), one needs to be passionate about the subject/sport/field, and have the skill to learn within that given subject/sport/field. Gretzky, for example, was neither physically imposing nor particularly fast, yet dominated his generation of hockey players because, as a child, he was self-motivated to practice, practice, practice and was lucky enough to have an aptitude for the sport. Interestingly, he was not initially devoted solely to hockey, enjoying many other games before finally settling on the one that would define his life.
Rice, as well, did not take to his own sport right away; his mother didn't want him to play football in high school, believing it was too violent. And though he was fast enough, as a runner, others were faster. What led him down his own path to distinction was a natural discipline and a brain that could map the trajectory of the ball as it flew through the air. Pelé also started young, following in his father's footsteps, but spent as much time in unstructured childhood play as in team workouts. Indeed, imposed regimentation – according to this movie's protagonists and experts, anyway – seems to be the kiss of death to the mastery of the kind of improvisation that the great players need to achieve … greatness.
Pelé, Gretzky and Rice make for very engaging primary subjects, but I wish there were even more. Folks like John McEnroe, Tom Brady, Venus and Serena Williams and others appear on screen, too, but only as secondary characters, talked about but not directly represented. The film would be richer with their first-hand input. I also didn't understand why Polsky kept putting up interstitial cards with the words of British philosopher Alan Watts. The first one worked, but later the device felt forced. Finally, there is simply too much distracting camera movement within the interviews, themselves, which are otherwise beautifully photographed. I'm all for a roving camera, but better one that brings added value to the image, rather than stripping it away through manic frenzy. Those caveats aside, In Search of Greatness is extremely watchable and a strong tribute to the athletes at its center.
– Christopher Llewellyn Reed (@ChrisReedFilm)
Like what you see here on Hammer to Nail? Why not pay just $1.00 per month via Patreon to help keep us going?