IDINA MENZEL: WHICH WAY TO THE STAGE?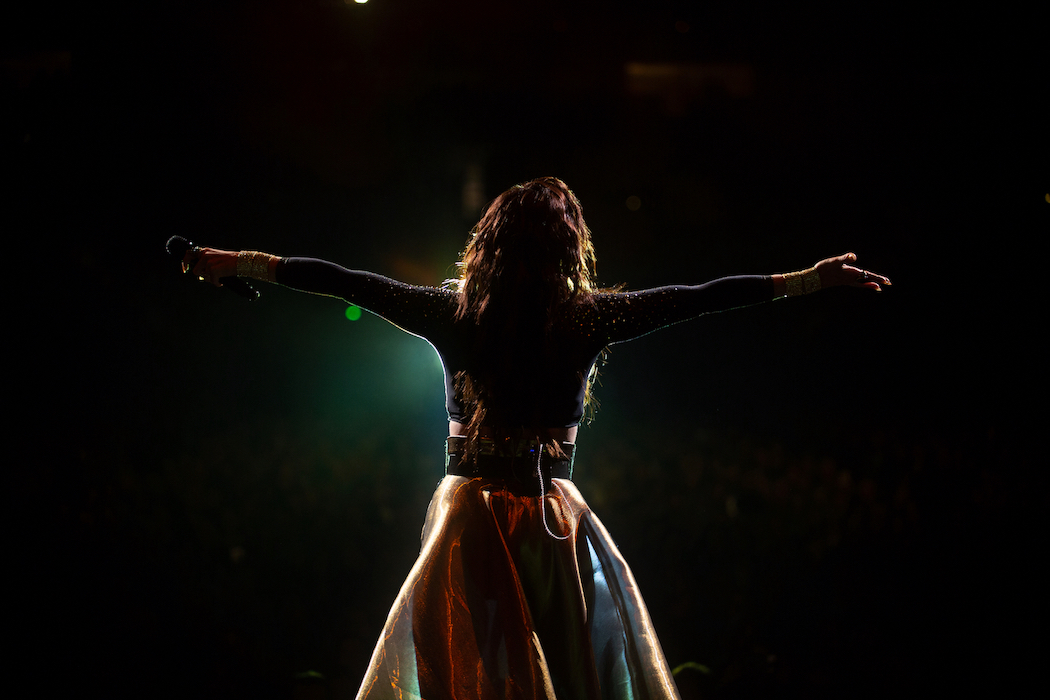 (DOC NYC, "America's largest documentary festival" was back this year for its 13th edition, running November 9-27. Check out Chris Reed's movie review of IDINA MENZEL: WHICH WAY TO THE STAGE? Seen it? Join the conversation with HtN on our Letterboxd Page.)
To anyone who has paid even half attention to popular culture over the past 25+ years, Idina Menzel needs no introduction. A member of the original Broadway cast of Rent (as Maureen) in 1996, she would make another splash as Elphaba in the original 2003 run of another smash hit, Wicked. It was her role as the voice of Elsa in Disney's 2013 box-office topper Frozen—with its popular earworm "Let It Go"—that really launched her into the celebrity stratosphere. John Travolta's mangling of her name at that year's Oscar's ceremony didn't hurt, either.
Now, in her directorial debut, Idina Menzel: Which Way to the Stage?, longtime editor Anne McCabe (A Beautiful Day in the Neighborhood) gives Menzel the full celebratory treatment. It may sometimes feel a little too much like a promotional video, but it's an otherwise delightful portrait of an amazingly talented performer. Her powerful singing voice would alone be worth the price of admission.
As befits a star of stage and screen, Menzel is front and center here, McCabe's camera granted what seems like fairly full access behind the scenes as preparations are underway for a 2018 concert tour paired with Josh Groban (they each take one half of the show). Mixing in archival material from Menzel's past, the film walks the viewer through the milestones, and more pedestrian stages, of its subject's career. Raised in Syosset, located in the Town of Oyster Bay on New York's Long Island, Menzel early on yearned to perform not only on Broadway but in Manhattan's Madison Square Garden arena. This tour will end there, marking the fulfillment of a lifelong dream.
While we follow the rehearsals and, soon thereafter, the performances, we also spend time with Menzel and her second husband, Aaron Lohr, and her son, Walker, from her first marriage to Taye Diggs (whom she met while doing Rent). Though she occasionally jokes about her distracted parenting, it's clear that Menzel is very much devoted to Walker, bringing him with her whenever she can. His life is otherwise in Los Angeles, where basketball appears to take up the bulk of his extracurricular interests.
But we are here for the singing! That's what fans want! Have no fear, for there's plenty of music, as McCabe and Menzel treat us to a wealth of concert and past-performance footage. Perhaps the most engaging of these involve the audience members on her live tour, who clearly take enormous joy in belting out the lyrics to the songs they know, "Let It Go" foremost among them (but hardly the only such melody).
The title of the movie is itself a quote from her part in Rent, so the entire experience here is a self-referential one, which is all to the good. There's a lot of fan service, but also more than that, since by the end we have a fully rounded sense of who Ms. Menzel is, including her quest to have another child with Lohr. And then there are the many touching and funny moments with her parents, who figure prominently, as well. All in all, Menzel more than knows the way to the stage, for it is a welcoming place, and she deserves the full spotlight.
– Christopher Llewellyn Reed (@ChrisReedFilm)
2022 DOC NYC; Anne McCabe; Idina Menzel: Which Way to the Stage? documentary movie review