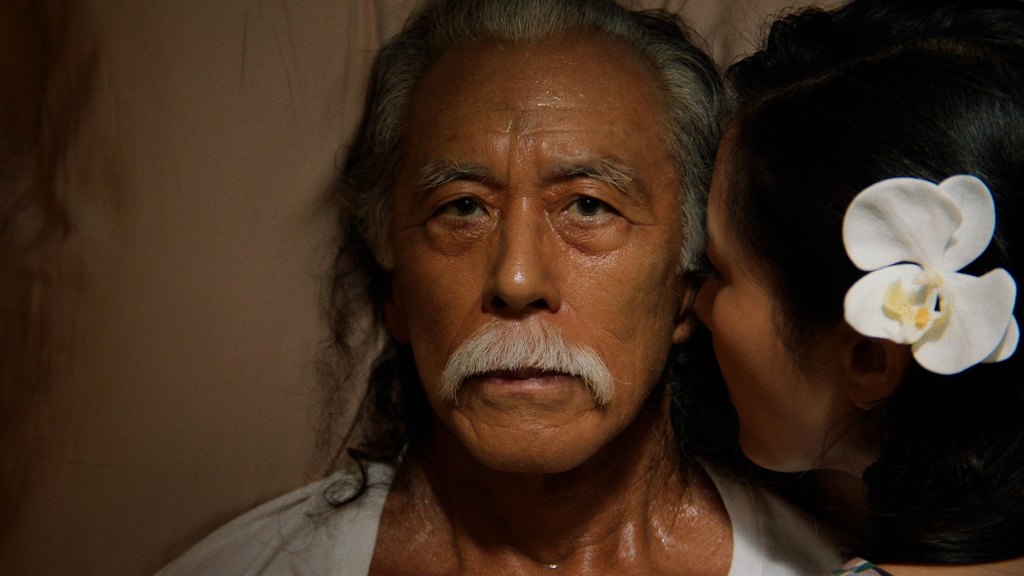 (The 2021 Sundance Film Festival runs January 28- February 3, all virtually as well as with drive-ins sprinkled around the U.S.. Hammer to Nail is bringing you a ton of coverage so, keep coming back! Like what you see here on Hammer to Nail? Why not give just $1.00 per month via Patreon to help keep us going?)
"Dying isn't simple, is it?" That question is whispered throughout writer/director Christopher Makoto Yogi's quietly haunting and spellbinding sophomore feature I Was A Simple Man, a multigenerational ghost story set in contemporary Hawaii. With the tranquil magical realism of Apichatpong Weerasethakul and a familial portrait with shades of Yasujirō Ozu, the film puts into focus a cancer-stricken man near the end of his life as he reflects on his family and life regrets, all while being visited by the ghosts of his past.
Yogi's style of filmmaking here is built on strong, static compositions of the Hawaiian rural scenery, sounds of nature's forces settling in, and his characters trying to understand their own familial bonds given complications of the past. Early in the film, we see aging, man-of-few-words Masao (Steve Iwamoto) living a solitary life in the countryside with his dog, distant from his grown children. When his sickness begins to worsen, he gets paid a visit by the spirit of his late wife, Grace (an elegantly quiet Constance Wu), who comforts her still-living husband as his memories haunt him til his last breath.
We are also introduced to other key people from Masao's past, going back as far as his idyllic teenage courtship with Chinese-American Grace in pre-statehood days. The sorrowfulness in his heart is further explored as the film flashes back earlier to her death (on the same day Hawaii officially became the 50th U.S. state in 1959), which filled Masao with enough rage and mourning for him to distance himself from his own children.
The only one of his grown children who steps up to care for him is his only daughter Kati (Chanel Akiko Hirai), who despite her deep love and devotion for her father also bears a hidden resentment towards him. "How can I be there for him when he was never there for us?" she calmly asks a neighbor at one point in the film. We are also eventually introduced to Kati's teenage son Gavin (Kanoa Goo), who has only known the "modern" Hawaii and is trying to reconcile his feelings helping care for the dying grandfather he barely knew growing up.
It's one thing to say that Yogi has created a sense of place in this film, but he has also created a beautifully thorough portrait of a man who has failed to gain a sense of self in his own life. It is a slow-moving, but absolutely worthwhile film that rewards the viewers' patience with an overwhelming feeling of peace that few films are able to provide. Even though the viewer will likely know how this story ends, one gets the feeling that Death may not really be the end at all.
– M.J. O'Toole