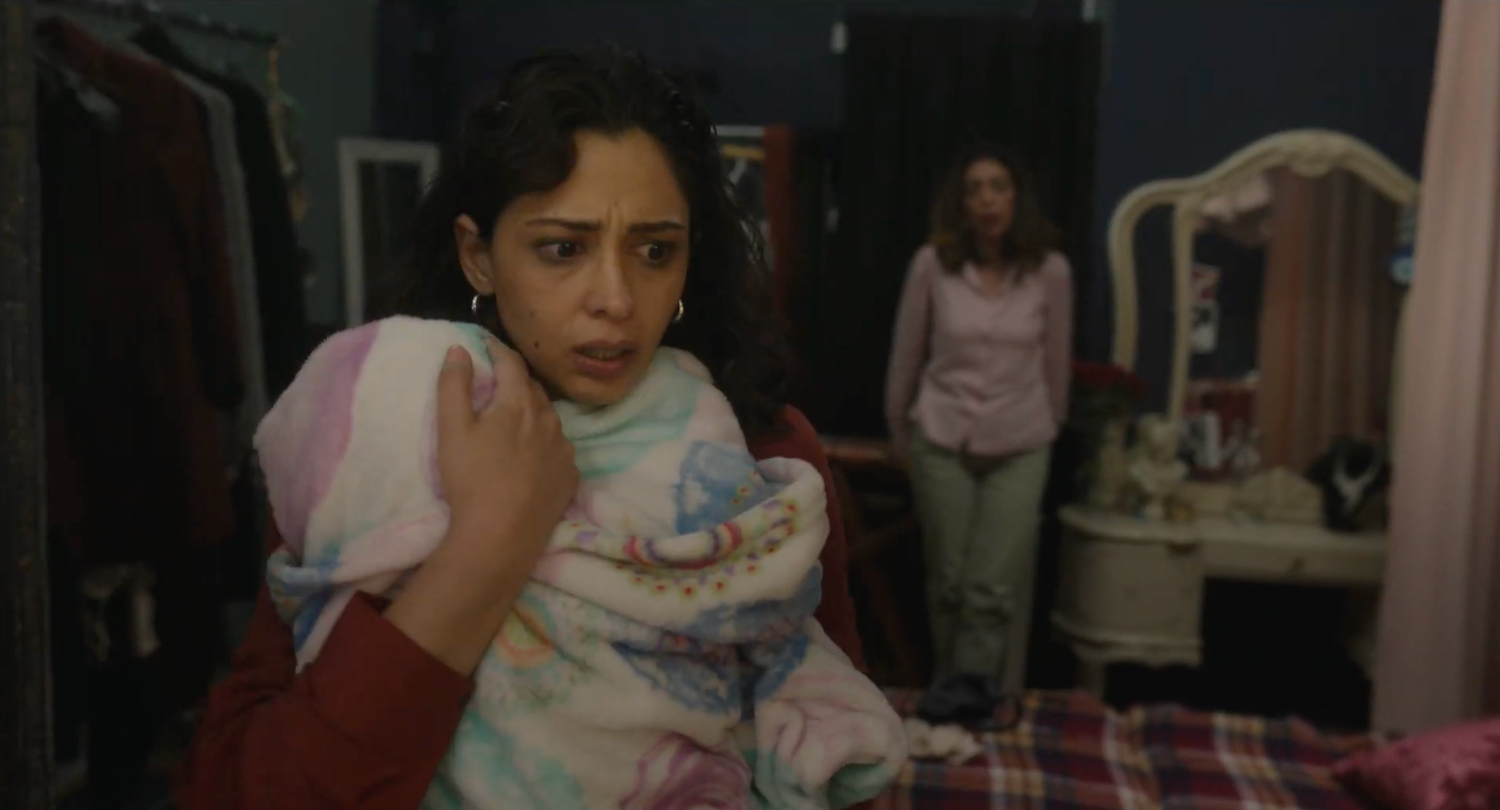 (Chris Reed has this movie review of Huda's Salon by writer/director Hany Abu-Assad. the film hits theaters on Friday, March 4 via IFC Films. Join the conversation with HtN on our Letterboxd Page.)
Wherever one stands on Arab-Israeli politics and whomever one blames for the state of that part of the world, there can be no question that life in the Occupied Palestinian Territories of Gaza and the West Bank is not easy. As challenging as it may be for men, it is doubly so for the women, given the deeply patriarchal society in which they reside. In his latest film, Huda's Salon, writer/director Hany Abu-Assad (The Mountain Between Us) explores the profound insecurities and fears of his compelling protagonists as they face multiple existential crises rooted in history, religion and gender. A social drama (based on true events) wrapped inside a taut thriller, the movie pumps us full of equal parts analysis and adrenaline. 
Abu-Assad opens at the titular hairdresser's, where Huda (Manal Awad, Gaza Mon Amour) is in the midst of prepping Reem (Maisa Abd Elhadim, also Gaza Mon Amour) for a trim and styling. Over the course of a long single take, the two women discuss love, marriage, children and more, Reem's infant daughter occasionally stirring in her crib behind them. Huda offers Reem some coffee, which she accepts and drinks, after which she suddenly passes out. It's quite the shocking conclusion to what appeared such an ordinary scene.
From there, it gets stranger. A man steps out from a back room, helping Huda to drag Reem onto a bed, where she is stripped naked. He then poses next to the sleeping woman, her eyes propped open, while Huda snaps Polaroids. It sees she runs a recruiting scheme at the behest of the Israeli Secret Service, blackmailing select clients into spying on their compatriots. Unfortunately for Reem, she is the latest victim.
What then transpires is a narratively rich tale that examines sexism and misogyny within the ranks of an oppressed people. Reem has nowhere to turn, for she is sure her feckless husband will neither believe nor support her. And with Hasan (Ali Suliman, Flash Drive), a Palestinian resistance operative in hot pursuit, Reem's chances of coming out alive from this nightmare diminish with every minute. Women are both sacred, in terms of a societal belief in idealized virtue, and untrustworthy. There is no happy medium.
Nor is there a happy end in sight. Abu-Assad raises the stakes as the story progresses, twisting the knife of dramatic tension ever further into our gut. It's a highly effective cinematic strategy. Unfortunately, some of that suspense is lessened by the expositional conversations between Huda and Hasan, though the performances of both actors keep us fully engrossed. As does that of Abd Elhadim, whose expressive face (and, especially, eyes) does more work than any words she might speak.
Despite the setting, Abu-Assad is far more interested in the personal interactions of his characters than in settling political scores, offering a variety of points of view for our consideration. At the heart of it all is the desperate will to survive. What would you do in a world without hope? That is the ultimate question. And though there is no definitive answer here, it's in the asking that Huda's Salon excels.
– Christopher Llewellyn Reed (@ChrisReedFilm)
IFC Films; Hany Abu-Assad; Huda's Salon movie review