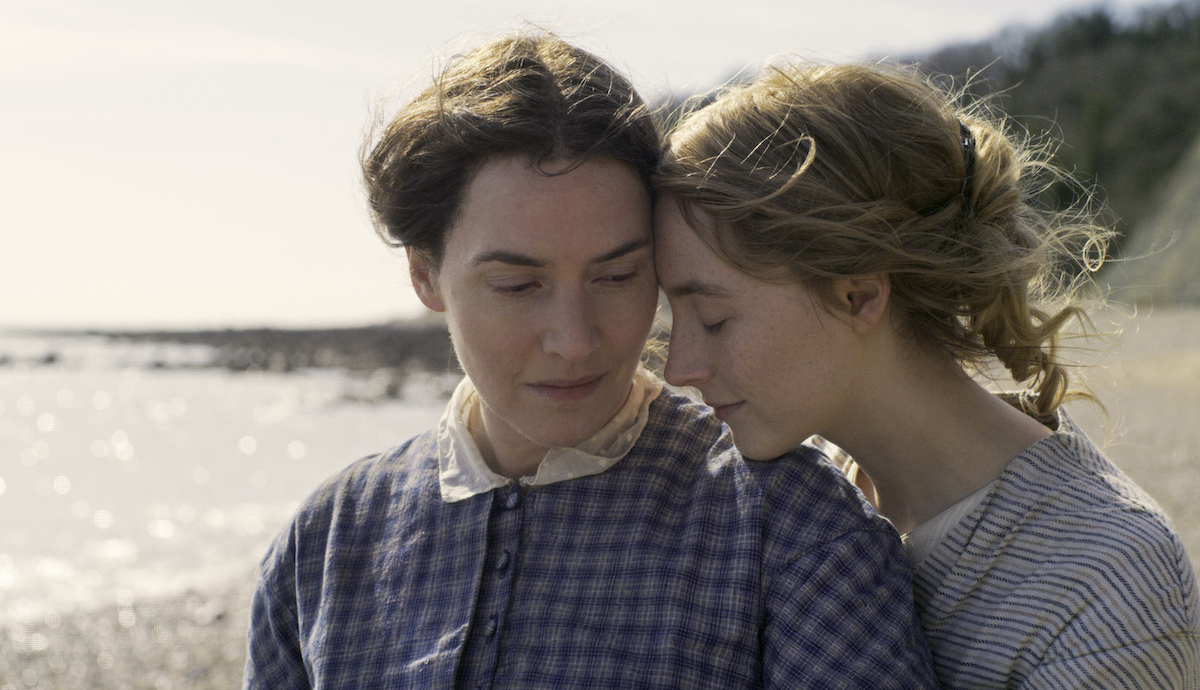 (Francis Lee's Ammonite is available on all streaming platforms Friday, December 4 via Neon. Like what you see here on Hammer to Nail? Why not give just $1.00 per month via Patreon to help keep us going?)
Very loosely based on the real-life friendship between 19th-century English paleontologist Mary Anning and geologist Charlotte Murchison, the new romantic drama Ammonite may stray far from the actual facts but still offers a contemplative exploration of lesbian love at a time when it mostly remained hidden. More than simply an Anglo-Saxon take on the same themes covered in Céline Sciamma's powerful Portrait of a Lady on Fire, released in the U.S. earlier this year, the movie is a study in slowness and melancholy laid over barely contained existential despair. The lingering gazes between the protagonists do the emotional work that the minimal dialogue avoids, allowing lead actors Kate Winslet (The Mountain Between Us) and Saoirse Ronan (Little Women) ample opportunity to deliver moving behavioral performances. As with the fossils that Anning devoted her life to discovering (the title refers to the remnants of a long-extinct cephalopod), there is much to see when looked at closely.
It's the 1840s in Lyme Regis on the southern English coast. Mary Anning (Winslet) is a dour, solitary sort, famous for collecting fossils yet unable to participate in the scientific community of London for reasons of gender and class. When geologist Roderick Murchison (James McArdle, The Chamber) pays a visit, young wife Charlotte (Ronan) in tow, Mary is not so inclined to offer him the training he requests (to "see her in action," he asks), but money is tight, and if she can hold back on her contempt for the refinery of city folk, there is some needed coin to make. Little does she realize that she has signed up for far more than just a lesson.
For Charlotte is not well, lost in the post-partum depression of miscarriage and unable to muster more than a whisper of her former vivacious self, at least according to Roderick. As he prepares to leave for a foreign expedition, it becomes clear (to him) that she would not do well on such a voyage. And so he leaves her behind in Lyme, entreating Mary to watch over her, woman to woman. He also arranges for Charlotte to take the waters, as in bathe in the ocean, which results in a high fever for which bed rest proves the best cure. Since she collapses on the Anning doorstep, the local doctor suggests that Mary be the one to nurse her. Slowly, as Charlotte recovers, she and Mary develop something more than mere familiarity.
With the blue tones of winter and austere cliffs of the Dorset coast setting an appropriately bleak color palette, offset by the roiling sea of the English Channel, Ammonite surprises, by the end, with the warmth beneath its benumbed surface. Director Francis Lee (God's Own Country) is in no hurry to heat up his tale of restrained passion, however, though he does eventually film two scenes of unbridled lovemaking. There are hints of Mary's inclinations long before that, especially in her interactions with another local amateur scientist, Elizabeth Philpot (Fiona Shaw, Kindred), with whom she shares the kind of icy relationship common to former lovers. Lee almost oversells Mary's growing infatuation with Charlotte, but Winslet's natural moderation keeps the worst of his sometimes overwrought mise-en-scène in check.
Among the rest of the cast, Gemma Jones (Bridget Jones's Baby) does wonderful, unassuming work as Mary's disapproving, but dependent mother, whose every glance registers that she's been here before and is unhappy, and Alec Secareanu (God's Own Country) is solid as the physician attracted to, and then confused by, Mary. But the film really belongs to the two leads. Winslet and Ronan are a perfect match, their gestures and looks at first at odds, then beautifully in sync, until circumstances once more force them apart. Whatever the (many) liberties Lee takes with the historical record, the image of this pair, entwined and unwound, remains with us long afterwards.
Still, if one cares about accurate biographies, it is important to note that the actual Charlotte, born in 1788, was in fact the elder of the two, with Mary, born in 1799, the younger by a significant amount. Charlotte was therefore no unformed gamine the way she here appears, but an active participant in her husband's research and a legitimate scientist in her own right. The two women had a close rapport, romantic or otherwise, but the dynamic was not in any way as it appears in Ammonite. That aside, what exists onscreen, however fanciful, is a stark and beautiful anthem of sexual liberation in an age that had none, powerful to behold.
– Christopher Llewellyn Reed (@ChrisReedFilm)