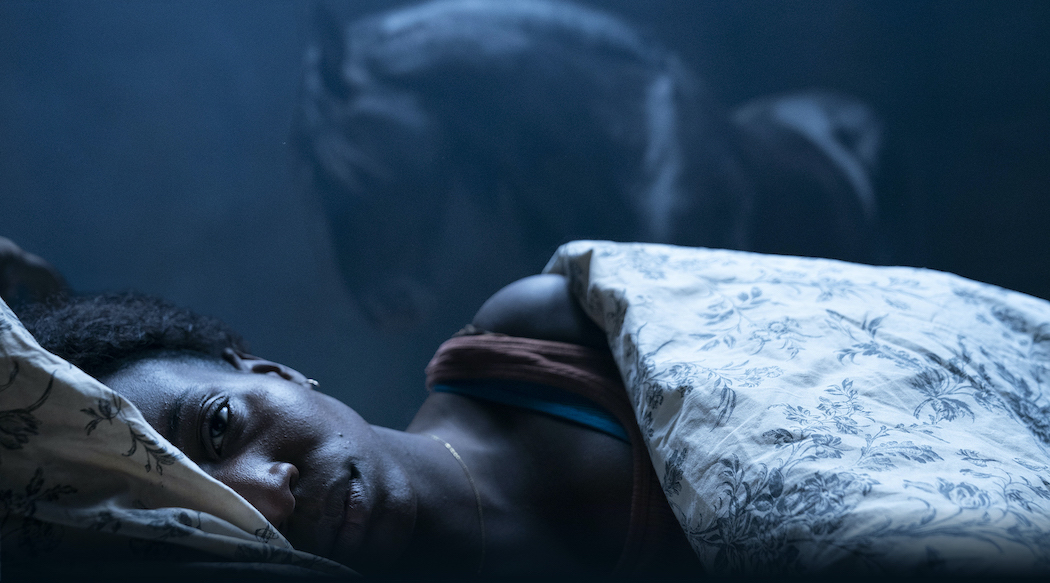 (Joe Marcantonio's psychological thriller Kindred is available now on VOD via IFC Films. Like what you see here on Hammer to Nail? Why not give just $1.00 per month via Patreon to help keep us going?)
Though one might think that a film entitled Kindred is an adaptation of the late Octavia Butler's brilliant 1979 novel of the same name, which tells the story of a modern-day African American woman sent via supernatural means back to the horrors of the antebellum South, it is in fact its own unique thing. The feature debut of director Joe Marcantonio, this new Kindred nevertheless also features a Black female protagonist under attack from predatory white folks, though here those assaults come cloaked not in racism but the smothering blanket of familial bonds. Despite this lack of overt racial animus, Kindred's narrative can nevertheless be read as a metaphor for white supremacy and its parasitic feeding on the blood, sweat and tears of those it subjugates. Perhaps it's not all that far from Butler's work, after all.
Charlotte (Tamara Lawrance, King Charles III) and Ben (Edward Holcroft, Netflix's Alias Grace series) are a couple deeply in love, living in England but about to move to Australia. This decision is not all to the liking of Ben's aristocratic, possessive mother Margaret (Fiona Shaw, The Hippopotamus), who sulks as soon as she is told. Who will take care of the family manor, she laments, if her only biological descendant decamps to a distant continent? It's clear that Ben wants nothing more than to be far away from her control, though Charlotte's unexpected pregnancy gives both young people pause. Not for long, however, as Ben is in short order killed in a freak accident. Destroyed by grief and provoked by Margaret, Charlotte throws herself violently at her would-be mother-in-law, then collapses. Later, she awakes in the mansion, with little memory of how she got there.
Watching over her is Margaret's stepson Thomas (Jack Lowden, England Is Mine). Spurned by Ben while he was alive (we never quite learn why), and behaving more like a domestic servant than adopted child, Thomas nevertheless brings out his most solicitous manner to try and make Charlotte feel at home. It doesn't work, perhaps because Margaret takes it upon herself to move Charlotte out of her flat, insisting that she remain in the house with her and Thomas, at least until the baby is born. Aided and abetted by the local doctor, Margaret has scientific and financial power on her side, with maybe some drugs slipped into her prisoner's food and drink, as well. Charlotte must stay. Please. And so the film becomes an increasingly creepy and unsettling battle of wills (via shades of George Cukor's 1944 Gaslight and Alfred Hitchcock's 1946 Notorious), with Charlotte an unwitting pawn in her hosts' sinister game.
Marcantonio films the story in dark blues and grays, England's naturally gloomy weather a fitting backdrop for the malevolent business at hand. Though Charlotte's race (she's Black) is never once mentioned by anyone else (nor does Margaret appear to mind the biracial origins of her future grandchild), as the only central character of color, and one from more humble origins than that of her captors, she exists as outsider in this insular world, a fact Marcantonio emphasizes with every shot. She is also prone to visions, be they of a mysterious crow that visits her throughout, sometimes alone, sometimes with other avian companions, or of her past life. As we learn, her mother suffered from mental illness, a fact which Margaret and Thomas use to further destabilize Charlotte's emotional well-being as they remind her of who she comes from. Stick with us, kid, and all we be well. Nevertheless, Charlotte refuses to play nice, attempting escape numerous times.
Despite its fascinating, evocative atmosphere of dread and decay, Kindred breaks down in some of its peripheral details, particularly as it explores the history of Thomas' inclusion in the family, losing focus along the way. Still, everyone is at the top of their performance game, Lawrance a compelling heroine (she does not go quietly), Shaw at her steely best, and Lowden the most sensitive evil henchman you will ever see. The final results may be simultaneously macabre and muddled, but what stays with one is the frightening image of white privilege ripping the fruits of Black labor from the loins of their creator in the most direct way possible. What's past is present, and the present is still very much now.
– Christopher Llewellyn Reed (@ChrisReedFilm)