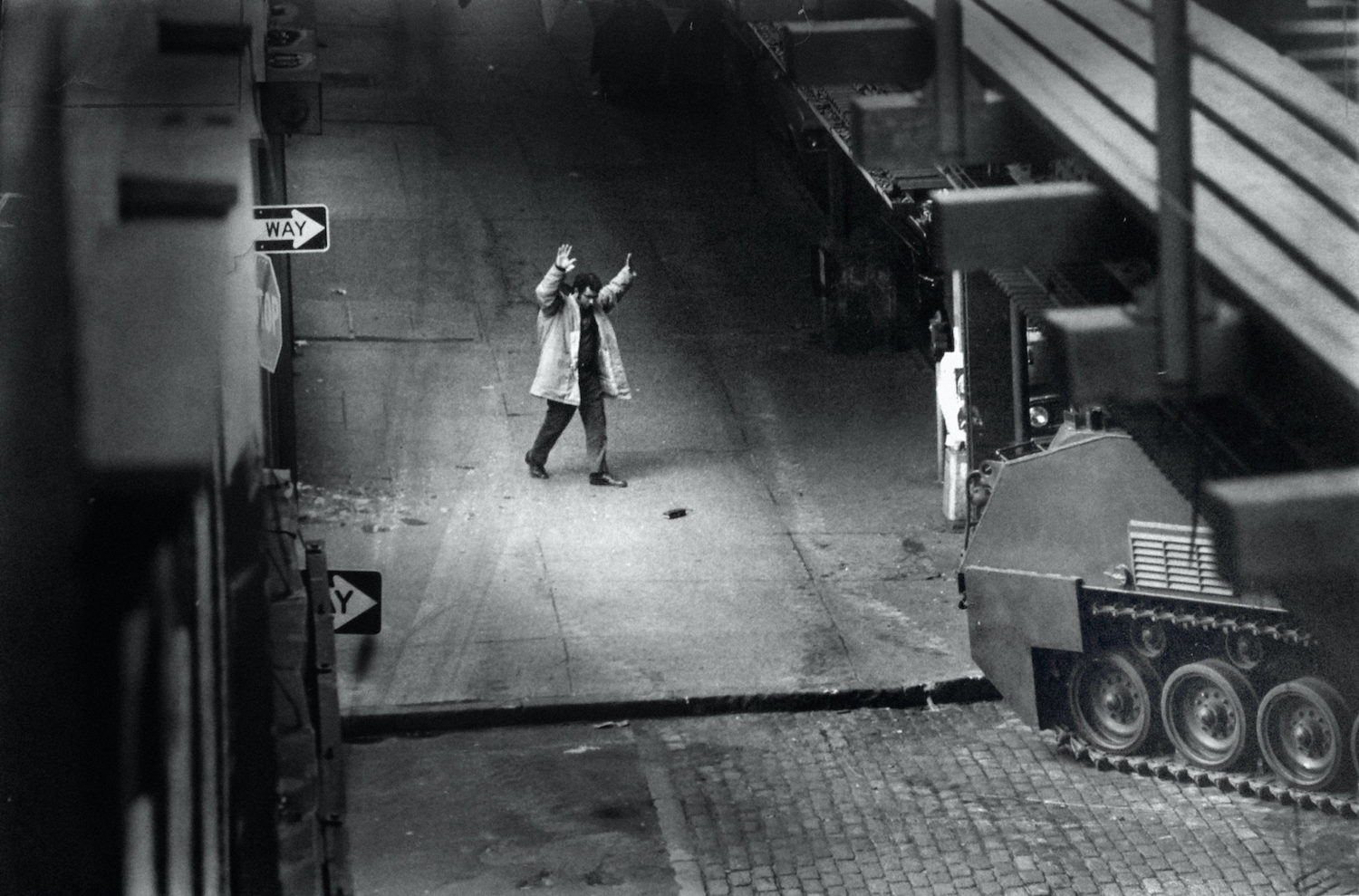 (The 2021 Toronto International Film Festival runs Sep 9-Sep 18 in Toronto, Canada. HtN has a ton of coverage from the fest so stay tuned! Like what you see here on Hammer to Nail? Why not give just $1.00 per month via Patreon to help keep us going?)
In Hold Your Fire, Stefan Forbes (Boogie Man: The Lee Atwater Story) dissects how a 1973 robbery went very wrong, very quickly. In January of that year, four men walked into a Brooklyn, New York, sportings-good store in search of weapons. By the time the events they unwittingly set in motion would end, 47 hours later, a police officer would lie dead in the street and one of their own would be seriously wounded. In addition, countless innocents, among them hostages from the hold-up, would suffer lingering trauma. Still, some good came from the tragedy, for it made the need for comprehensive hostage-negotiation units in law enforcement more urgent. Forbes lays it all out in clear, cinematic brush strokes, crafting a fully engaging documentary in the process. He also creates a moving meditation on the wages of crime, racism and violence, and how simple human conversation can be the salve that heals many wounds.
Of the wannabe criminals, only their leader, Shu'aib Raheem, and one other, Dawud Wahman, are still alive, and their interviews, along with that of store owner Jerry Riccio, form the spine of the piece. Their accounts are supplemented by those of various officers and of Harvey Schlossberg, himself at that time a traffic cop (with a Ph.D. in psychology) but later a leading light in the development of negotiation tactics. "I believe in talking; everything is resolvable through talking," he says. And it is lucky for all involved that his voice was heard, given the "shoot first, ask questions later" mentality of the others on the force. Both the New York Police Department (NYPD) Commissioner, Patrick Murphy, and Assistant Commissioner, Ben Ward, however, were firmly in his camp, and so talk everyone did, even as the NYPD struggled to figure out what was going on inside the building and who the perpetrators were.
They were four twentysomething Muslim men who had gotten on the wrong side of the Nation of Islam, felt threatened, and after being unable to legally obtain gun permits in the city, decided to get them in a less legal manner. As Riccio states, a simple trip into next-door Nassau County might have given them the result they wanted. Shoulda coulda woulda…Instead, the mess we see on screen happened. Director Forbes has amazing access to archival film footage and photographs and cuts it all together into a thrilling reconstruction of what occurred when and how. We feel we are there, in the middle of it, and smell the adrenaline, fear, sweat and grime. 
Today, Raheem, now out of prison and a counselor to those formerly and still incarcerated, regrets all of his actions. He refutes the notion that he or his partners shot the officer killed (the bullet was never matched to any gun), but accept that he is responsible, nonetheless, for without his actions, the policeman would not have died then. Wahman is equally pensive, wishing he had never gone along for the robbery. Riccio, in his account, states that all but one of the men were pretty regular, stand-up guys, who under other circumstances might have been genial customers. His interview lends the most personality to the affair, filled with vivid details, and mostly lacking in self-serving bravado. 
Perhaps the most interesting aspect of the movie, though, is how it forces us to see its various subjects in constantly evolving ways. Certain of the cops, all white, exhibit no small amount of racist, reductive thinking. Yet suddenly, one of them makes a surprising observation that runs counter to our previous impression. And on it goes. Humans, we are a complex species, capable of wonders and horrors, both, and everything in between. Here, we see great swaths of that spectrum, and it fascinates, throughout. Seems like something worth talking about.
– Christopher Llewellyn Reed (@ChrisReedFilm)