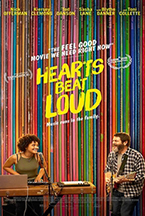 (After charming audiences at Sundance and SXSW, Hearts Beat Loud is in theaters now via Gunpowder and Sky.)
Before diving into my review of Brett Haley's wonderful and charming feature Hearts Beat Loud, I feel compelled to offer a bit of a disclaimer. Listed below, you will see things that will pretty much, automatically make me fall head over heels for any given film. These things include…
– The film is about starting a band (or a sports team coming together)
– The film features a band that writes a really great song (or songs) and really start to gain traction before…drama occurs
– The film has a father/child relationship fraught with frictionThe film has a great soundtrack (by my standards, of course)
– The film features a main character who is a music or film snob and not very secretly a frustrated wannabe musician or filmmaker
– The film features reference to or music from the band Wilco (true story related to this; I was once quoted on the DVD Box for the not-very-good-film The Darwin Awards because, in that film, Winona Ryder gives an impassioned speech involving the Wilco song She's a Jar thus rendering proper judgement and good taste moot to me.)
Clearly, I know my own wheelhouse and it barely took 5 minutes of Hearts Beat Loud and I was firmly not going to be able to offer a "fair and balanced" review because, most of the above happens right out of the gate. All that being said, much more than "Things Don is a Sucker For…" happen in the film and, seeing as the film is in theaters, I definitely feel it's worth giving your money to as Hearts Beat Loud is a lovely, interesting and thoughtful look at growing up and a nice side dish to typical summer blockbuster faire.
As Hearts Beat Loud opens, we meet curmudgeonly record store owner Frank Fisher (played by the almost always joyfully curmudgeonly Nick Offerman) who manages to offend a patron who simply wants to buy a vinyl record. Yes, shades of High Fidelity should indeed come to mind but, this is more than mere music snobbery. Frank is burnt out after 17 years running his own store and as his daughter Sam (Kiersey Clemons) is headed off to UCLA medical school in a few scant weeks. The writing appears on the wall that perhaps it's time for a change. But old habits die hard throughout the film and after breaking out the instruments for a family tradition "jam sesh" with Sam, Frank's audiophile ears perk up after the two dive into a jam that quickly becomes a catchy ear-worm.
Films that include music as a heavy plot point simply must have good songs created for the film. Successes in this realm include That Thing You Do!, Once, Almost Famous, Sing Street and many more and the songs Sam and Frank come up with in Hearts Beat Loud definitely make the list of songs that could likely chart on their own without a movie to embed them in. While it's nice to see Offerman work his way around a Fender guitar, the real star here is Kiersey Clemons who is one of those people who ooze so much talent, it can be hard to accept. She has a warbly, sukltry singing voice and throughout Hearts Beat Loud she maintains a girlish outlook while keeping her eyes fixed on the prize of medical school even as temptations such as new love and a possible music career try to persuade her to stay in Brooklyn.
More than a mere "movie about a band" Hearts Beat Loud manages to draw parallels between Frank and daughter Sam that paint in sweet, slight strokes rather than with a wide, clichéd brush. Topics such as love, passion, creativity and commerce are all touched upon and typically not totally resolved by the time the credits role. This is not a bad thing as the character development here is so strong, it feels as if these characters might still live on in our world, given life by director and co-writer Haley (co-writing credit props to Marc Basch), lead actors Offerman and Clemons as well as outstanding support roles by Toni Collette as Frank's supportive landlord and Ted Danson as Frank's best friend, the bar owning stoner Dave. While indeed a "larger indie" film by Hammer to Nail standards Hearts Beat Loud is just plain fun. I also loved that I was able to take my 10-year old daughter to a non-CGI laden film in the theater and that she really enjoyed the film.
– Don R. Lewis (@ThatDonLewis)