THE CURBSIDE CRITERION: THE GRAND BUDAPEST HOTEL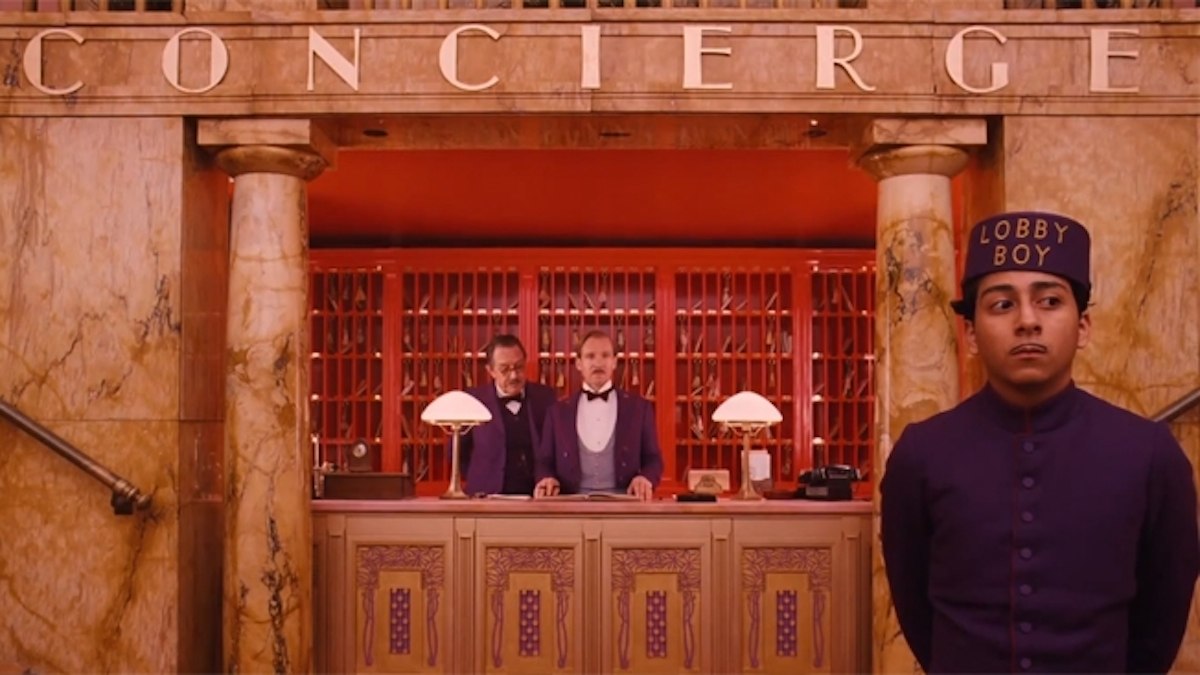 (We here at Hammer to Nail are all about true independent cinema. But we also have to tip our hat to the great films of yesteryear that continue to inspire filmmakers and cinephiles alike. This week, our new addition to the site, "The Curbside Criterion" continues where HtN staff can trot out thoughts on the finest films ever made. This week Brad Cook checks in to the new Blu-Ray release of Wes Anderson's The Grand Budapest Hotel, Like what you see here on Hammer to Nail? Why not give just $1.00 per month via Patreon to help keep us going?)
With movie theaters largely shuttered and Wes Anderson's next film, The French Dispatch, pushed back to an October release, I hope companies like Criterion are enjoying a fresh surge in sales. While streaming is nice for a quick couple hours of entertainment, Criterion is one of the few companies still treating movies like experiences, complete with copious bonus features and a few print materials tossed in for good measure.
Case in point: Anderson's The Grand Budapest Hotel, which was released in 2014 but is a new addition to the Criterion Collection. This new Blu-ray sports a 2K digital transfer supervised by Anderson as well as new bonus features, including a group commentary track. As far as I can tell, everything was ported over from Fox's 2014 Blu-ray, which was a bit paltry in the bonus features department.
One of the things I love about Anderson's movies is his ability to create a fully realized, richly detailed world for each one, with stories that drop us into complex webs of deceitful behavior and schemes that inevitably go awry. He also typically prefers to show us people and/or places in decline from their once-great heights, and The Grand Budapest Hotel is no exception to that, although it spends more time examining the glory years of its subject than many of Anderson's other films.
The titular hotel is located in the Alps, with the real mountain range extending into the fictional European republic of Zubrowska in this world. The film opens with an author telling the story of his time at the hotel in the late 1960s, when he met Zero Moustafa, now the owner of the decrepit building. We're soon whisked into another story-within-a-story as Zero tells the author of his humble beginnings as a lobby boy there in 1932.
Most of the movie is set in 1932, as Zero learns the art of taking care of wealthy hotel guests under the tutelage of elite concierge Monsieur Gustave H. We soon learn that Gustave has been spending many years seducing elderly hotel guests, one of whom mysteriously dies. Gustave is accused of murder by the woman's son and is arrested, but only after he and Zero have hidden a priceless Renaissance painting, "Boy with Apple," that was left to Gustave in the will.
Zero must break Gustave out of prison and help him clear his name, setting off a chain of events during which we're introduced to a ruthless assassin; an apprentice baker, Agatha, who finds common ground with Zero and falls in love with him; a prison gang with its own code of honor; and a secret network of concierges known as the Society of the Crossed Keys, among others. The plot moves at a frenetic pace, perhaps even more so than in most of Anderson's movies, and sometimes you just want to pause a scene to appreciate the exquisite craftsmanship that's reminiscent of one of Agatha's delightful pastries.
It turns out that one of the film's stars, Jeff Goldblum, feels the same way about freeze-framing various scenes, as he explains in the new group commentary track that leads off the bonus features. Another pro tip from him: turn on sub-titles so you can better appreciate the dialogue. Anderson, co-writer Roman Coppola, and critic Kent Jones join the actor to discuss the movie.
While group commentaries can be a mixed bag, this one is lively and delivers a steady stream of useful information, from the influences Anderson drew on for the movie (the director Ernst Lubitsch and the writer Stefan Zweig were two big ones) to technical and thematic details. I'm not sure I've heard a group commentary that includes four key roles – director, writer, actor, and critic – and this one turns out quite well.
The rest of the new bonus features include:
• The Making of The Grand Budapest Hotel (21 minutes): Assembled from footage shot while the movie was being made, this piece alternates between fly-on-the-wall glimpses of Anderson in action and impromptu interviews with the cast and crew.
• Visiting the Grand Budapest Hotel (33 minutes): Broken into three parts, this featurette covers the design and special effects, the music, and the miniatures. The bulk of it is 26 minutes spent with Jeremy Dawson and Adam Stockhausen, two special effects artists who talk about their work on this film as well as the multiple movies they've worked on with Anderson.
• Storyboard animatics (26 minutes): This one breaks down six sequences from the film, including the hotel's introduction and the prison escape, from storyboard animatics to the finished products.
• Two video essays (41 minutes total): Criterion is known for its "film class in a box" approach to movies, and these bonus features exemplify that. In one, professor David Bordwell covers Anderson's overall cinematic style and the themes found in many of his films, including this one, and in the other, critic Matt Zoller Seitz specifically analyzes The Grand Budapest Hotel.
Criterion also included their usual print materials in this release. While some of their editions in recent years have included nothing more than a folded pamphlet, this movie gets the treatment you'd expect. The main piece is a thick, 36-page booklet with an essay by critic Richard Brody ("The hotel is like a majestically confected cake on the outside and a jewel box on the inside") and "The Portier," the appendix to Mark Twain's semi-fictional 1880 work, A Tramp Abroad. Twain's book was about his tour of southern and central Europe, including the Alps, and the appendix discusses the various types of hotel workers he encountered along the way. Shades of Gustave and Zero can be found there.
The other print pieces include a poster and a fold-out that showcases various ephemera from the movie, including newspaper headlines, bits of cash, and the infamous painting "Boy with Apple," which was commissioned by Anderson for the movie but is presented here as if it's a real 17th century painting by one Johannes van Hoytl the Younger.
The bonus features ported over from the previous Blu-ray include a batch of ten featurettes that total about 42 minutes. If you own the Fox Blu-ray, there may be a bit of confusion because that disc contained a Making of The Grand Budapest Hotel that's represented here as the first four featurettes in that series. The rest of them serve up interviews with various members of the cast and crew, as well as a tour of one of the shooting locations by Bill Murray.
– Brad Cook (@BradCWriter)