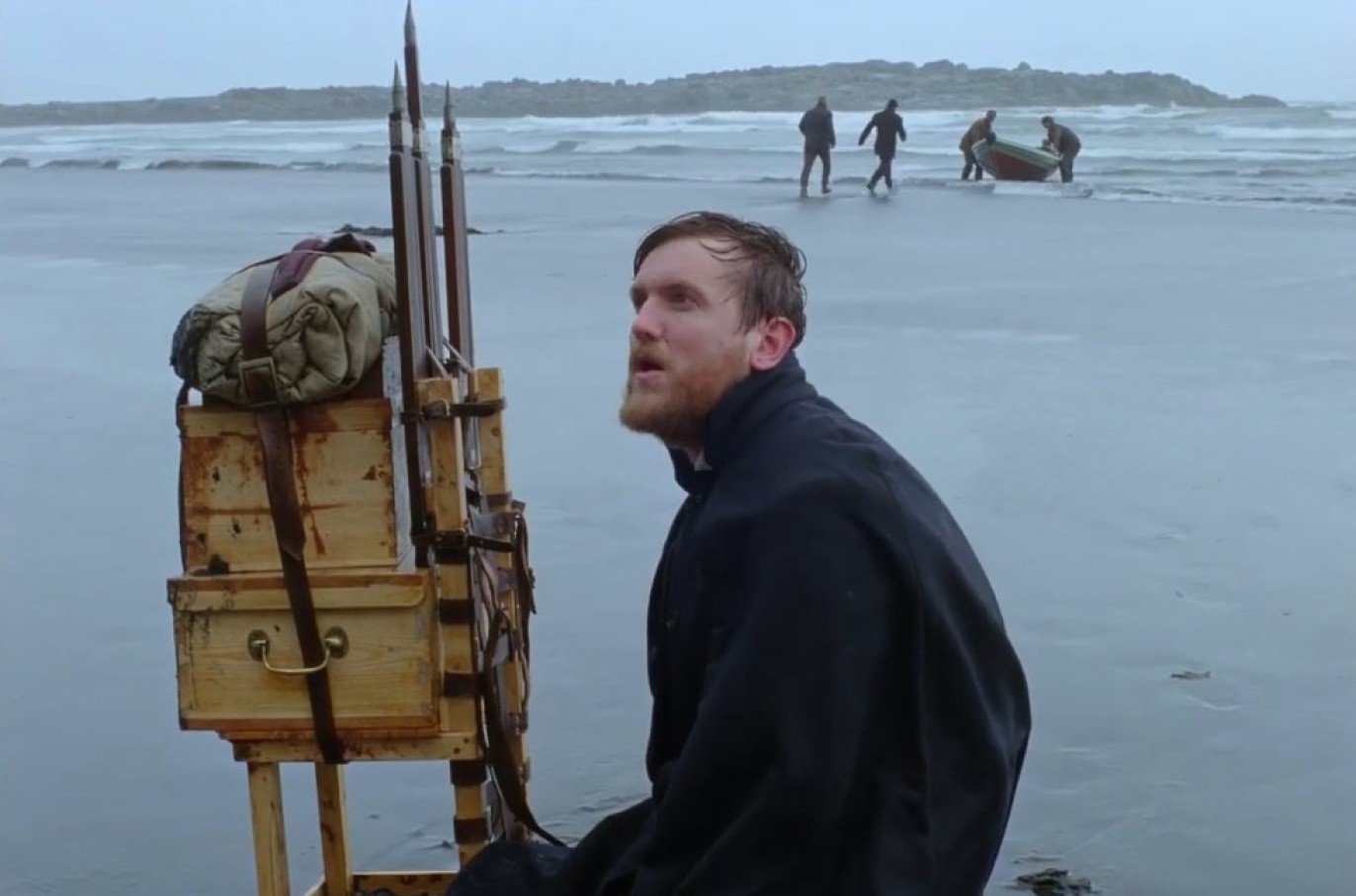 (Check out Jack Schenker's movie review of Godland from director Hlynur Pálmason. It's in select theaters now. Seen it? Join the conversation with HtN on our Letterboxd Page.)
As cliché of a phrase as it is, they don't make 'em like Godland anymore. An aesthetically boundary pushing film about a priest on a quixotic quest to a foreign land in the name of God, director Hlynur Pálmason's latest is shot on film and in a tight 1:3:3 aspect ratio. Despite this tight frame, each image is unforgettable. The film hits on the full spectrum of emotions in its epic 146 minute runtime. I found myself smiling, sad, humored and tense. The amazing character work and performances are secondary to the experiential style. Moments where barely anything happens, such as the camera slowly drifting across a stunning Icelandic landscape, make this film a hypnotic masterpiece. If you can, turn off your phone, go to a nearby theater and let this film suck you into its magnificent world.
The film begins on seven photographs that wash up on the shores of Iceland. These photos were "the first of the southeast coast."  Pálmason then imagines a Herzogian adventure that focuses on language barriers, religion, man vs nature, and ego. The film follows a priest named Lucas (Elliott Crosset Hove) as he travels from his hometown of Denmark, with his film camera, to take photos and build an inaugural church. Helping him journey through the rough terrain of Iceland is Ragnar (Ingvar Sigurðsson). Ragnar speaks Icelandic and Lucas speaks Danish which makes their interactions equally hilarious as it is frustrating for both of them. We follow a wildly ambitious, and flawed lead character as he slowly loses his mind.
One of the few recent comparisons to Godland would be Martin Scorcese's Silence, but Pálmason's timeless style is closer to Fitzcarraldo or even Tarkovsky's Andrei Rublev. From the film's very first moments, despite the clarity of the image, there is nothing about it that makes you feel like it came out in 2023. Shooting this movie on film gives it a sense of urgency that digital would not provide. It allows you to buy into this world. The first hour of the film, in which Lucas, Ragnar and company traverse Iceland does a perfect job of world building. Through gorgeous long shots, an eerie score and powerful performances, within an hour you feel as though you are traveling Iceland with this crew of misfits. Hlynur knows exactly where to put the camera and how long to let a shot breathe in order for these landscapes and characters to seep under your skin. Whether you agree with the pacing of this script, it is hard to deny that from a cinematography and sound design perspective, this is a masterclass. Filmmakers can only dream of having their films look and sound this good. Hlynur comes together with cinematographer Maria von Hausswolff, composer Alex Zhang Hungtai and editor Julius Krebs Damsbo to create many trance inducing sequences.
Early on in the film, Ragnar delivers a very strange story to some of the men on the journey while Lucas and his translator take off their clothes and approach a waterfall. The combination of the music, the oral storytelling and breathtaking shots of the waterfall creates an unnerving feeling that perfectly sets the tone for the rest of the film. Another pivotal moment happens in a transitional period of the film, about an hour in, Hlynur and company decide to shoot an erupting volcano. How this sequence was pulled off is beyond me, but the decision to let this Volcano erupt, consume the surrounding environment and then transition to new characters in a new location was awe inspiring.
While I cannot recommend this film to the average film viewer due to its imposing length and lack of mainstream plotting, this is the type of film aspiring filmmakers and film enthusiasts must seek out and support. For aspiring filmmakers, this is a must watch because of the intimate crew it was accomplished with. This film is epic, yet personal. Elliott Crosset Hove gives one of the best performances of the year. He does not say many words, but Pálmason smartly lets his visuals do the work, and creates one stunning moment after the next.
– Jack Schenker (@YUNGOCUPOTIS)
Hlynur Pálmason; Godland movie review