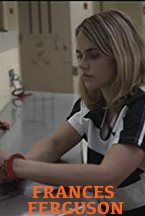 (The 2019 SXSW Film Festival ran March 8-17 in the fantastic city of Austin, TX. Lead critic Chris Reed was on the ground in Austin and has his usual massive slate of reviews and interviews. Stay tuned! Like what you see here on Hammer to Nail? Why not pay just $1.00 per month via Patreon to help keep us going?)
An odd, twisted curveball of a movie, Bob Byington's latest feature, Frances Ferguson, takes us to North Platte, Nebraska, for a Midwestern romp through twentysomething ennui. Frances – or Fran – is an unhappily married mother of one when we me meet her, about to throw the little she has in life away, and with a shrug rather than abandon.
Her repellent husband masturbates in his car before coming home, in full view of anyone who cares to look, and the students she supervises as a substitute teacher barely notice her. But she, herself, notices one: the boy, a blonde vacancy on two legs whom she targets for an escapade. Now imagine the whole narrated by Nick Offerman (Hearts Beat Loud) in his usual ironic tones, and you'll have a sense of the strange disconnect between subject and style. It's a perfect mismatch, and engaging in its peculiarity.
"Based on real events" reads an opening title card, but this is more an amalgam of the many such incidents of bored and frustrated women engaging in willful molestation and self-destruction than of any one story. As Fran, Kaley Wheless, in her first starring role, offers a mordant portrait of a mild-mannered sociopath who can't even be bothered to hide her crime; anything is better than feeling nothing. Every emotion is downplayed, her face a blank slate. As her equally disturbed husband, Keith Poulson (Hermia & Helena) sleazes his way through every scene, allowing us a modicum of sympathy for Fran's plight. Marred to that guy, we all might be a little desperate. Slowly, one by one, they fade away, leaving Fran, by choice, isolated, until she, too, dissolves to black.
Along the way, Byington (7 Chinese Brothers) doles out an amusing cast of supporting players, the best among them the members of Fran's therapy group, led by David Krumholtz (Ghost Team). Entertaining as they are, there's no budging the languorous tedium of Fran's hopeless vacuum. Bleak though the narrative may seem in my retelling, however, it belies the movie's jaunty approach to the nihilism of its subject, including the ridiculous lower-thirds titles that announce each character. The void has never seemed so lighthearted, nor the abyss so appealing.
– Christopher Llewellyn Reed (@ChrisReedFilm)
Like what you see here on Hammer to Nail? Why not pay just $1.00 per month via Patreon to help keep us going?