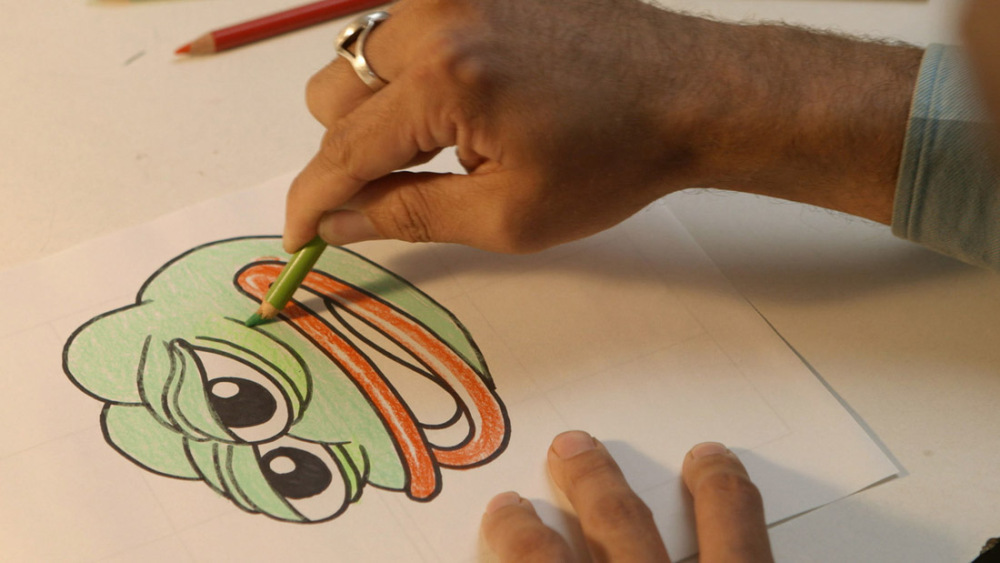 Editors Note: Feels Good Man is now available on VOD. Below is our review from the Lost Films of SXSW 2020.
(The 2020 SXSW Film Festival was sadly canceled. Yet Hammer to Nail is still reviewing films that were slated to premiere at the fest! We present, #LostFilmsofSXSW. Like what you see here on Hammer to Nail? Why not give just $1.00 per month via Patreon to help keep us going?)
Who is Pepe the Frog, and where did he come from? More importantly, how did he become a symbol of the alt-right? Was he always so heinous? Director Arthur Jones and producer Giorgio Angelini's documentary Feels Good Man answers these questions and more over the course of a densely packed, highly engaging 90 minutes. Even those viewers going into the story cold should find themselves hooked from the opening sequence, as we follow Pepe's creator Matt Furie from his early obsessions with drawing frogs, to his creation of the character who would become his most famous brainchild, and beyond. Though Furie, himself, is a gentle, progressive soul, somehow his illustration spawned a decade's worth of memes that eventually turned noxious. It's a fascinating drama, with lessons that go beyond the specifics of just Pepe.
Indeed, Feels Good Man is a perfect case study of the way in which topics, themes and threads go viral in our internet age, starting sometimes in shadowy chat rooms before finding their way into the mainstream. Pepe the Frog first appeared in publication in Furie's 2006 Boys Club, uttering what would become his catchphrase – "Feels Good Man" – as he urinated into a toilet with his pants pulled all the way down. Who knows how or why things catch on, but soon users of the anonymous imageboard website 4chan adopted Pepe as a mascot for the misfits of the world, a trend that accelerated in the aftermath of the 2008 global recession, when hordes of unemployed twentysomethings (and older) made homes in their parents' basements and needed distraction. Pepe's near-infinite iterations took off in popularity, symbolizing this dystopian new world order.
Flash forward almost a decade and Pepe becomes more than a meme; he's a deeply cherished metaphor of nonconformity in opposition to the "normies" of society. As more well-adjusted social-media mavens try to use Pepe, as well, the disgruntled outcasts strike back, placing Pepe in more and more offensive and outrageous situations, until he transitions into something the Anti-Defamation League has officially designated as a hate symbol. And what of Matt Furie, himself? How does he view this strange evolution of his character? While originally bemused, and sometimes amused, by all of it, he is now horrified, and finally, albeit very late in the game, pushes back to reclaim Pepe as the harmless oddball he was always meant to be. It is not an easy struggle.
Filled with fascinating archival footage and interviews, Feels Good Man takes us on the entire journey of Pepe's troubled existence, following Furie in his life as cartoonist and father, along the way. As the movie approaches the 2016 presidential election, in which the rise of right-wing politics played a significant role, the filmmakers bring in astute observers of the election to comment not only on Pepe, but on the way that social media affected the outcome. Taking the corruption of the poor little frog as a metaphor for all that ails us, the documentary offers insights not only into the current rot at our core, but on ways to repair the damage, too. As such, it is more than just a cautionary tale, but one of hope, as well. It's also terrifically entertaining. Watch, learn and have fun.
– Christopher Llewellyn Reed (@ChrisReedFilm)