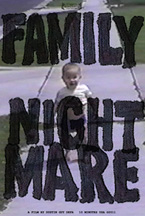 (Family Nightmare world premiered at the 2011 BAMcinemaFEST before making an appearance at Rooftop Films. It screens four times at the 2012 Sundance Film Festival as part of the Documentary Spotlight section, beginning in Salt Lake City on Friday, January 20th, at 6pm. Go here for more Sundance details.)
There really is no way to overstate this, so I'll just state it: Dustin Guy Defa's Family Nightmare is a flat-out masterpiece. In only ten minutes, Defa manages to lay his family's history on the table, and what a bleak, sobering history it is (it's no wonder he was tentative about actually showing this thing to the world). Though no overtly graphic material is contained within, Family Nightmare is such a fragile act of personal expression that it stands as one of the most terrifying psychological horror films I have ever seen.
The footage Defa uses to assemble his scarred diary is harmless enough, or so it seems upon first glance: actual family home videos shot on what appears to be VHS or Hi-8—basically, crappy—consumer grade videotape either by Defa himself or family members who continued to document their lives after Defa fled Salt Lake City for less biologically dysfunctional terrain. Aside from an early glimpse of a baby sitting on a couch playing with a knife—though here, too, the violence is only implied—there is no bloodshed (in fact, in a scene much later in the film, when you expect this baby to be on the verge of bursting into tears, it instead unleashes a big grin). Even when we wander into a bedroom during one holiday gathering only to discover that the men aren't watching sports, they're watching porn, we never see the X-rated on-screen antics. But no matter. For me, that moment is when the creepy depth of Defa's film begins to truly sink in. Contrary to what one might expect, Family Nightmare proves that watching a bunch of crude men crammed in a bedroom drooling over porn is infinitely more shocking than seeing clips of actual penetration. No, this footage is anything but harmless.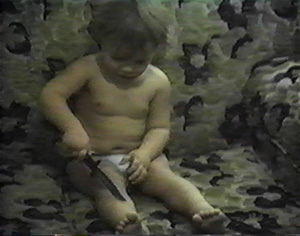 Take, for instance, the film's semi-climax, in which Defa's grandparents get married. Only this marriage takes place in the sterile environment of what appears to be a cheap hotel conference room and… wait a minute, if they're his grandparents then why are they getting married? That's because they're getting married again. In Defa's world, on the surface, his family gatherings were like everybody else's, yet in reality, they were mockingly warped and distorted.
Speaking of mockingly warped and distorted, the sonic template is where Defa displays outright genius as a director. Merely presenting this footage with its regular sync soundtrack would have been disturbing enough. Adding a sprawling horror-film soundscape would have been overkill. So what did Defa do? In an act of creativity equal parts inspiring and risky, he overdubbed the dialogue himself, stepping into the role of child, the role of aunt, the role of cousin, the role of grandma, the role of everyone. At first, it's hard not to find this tactic amusing. It's laugh-out-loud funny, in fact. But as the seconds tick and a creeping sense of dread rises, this no longer seems like some silly, frivolous device. Instead, it becomes the bitter taunting of a sensitive filmmaker who is using these ten minutes to purge years and years of frustration and pain.
As if that weren't enough, Defa ends his film with a nearly physical gut-punch of an epilogue that casts the previous footage in an even bleaker, more hopeless light (for this cursed family, there appears to be no light at all). Like a cowering child's cry from the hidden corner of a pitch-black closet, Family Nightmare will haunt your memory for days. It's haunted mine for months.
— Michael Tully