Hammer to Nail's 20 Most-Anticipated Films at Tribeca 2023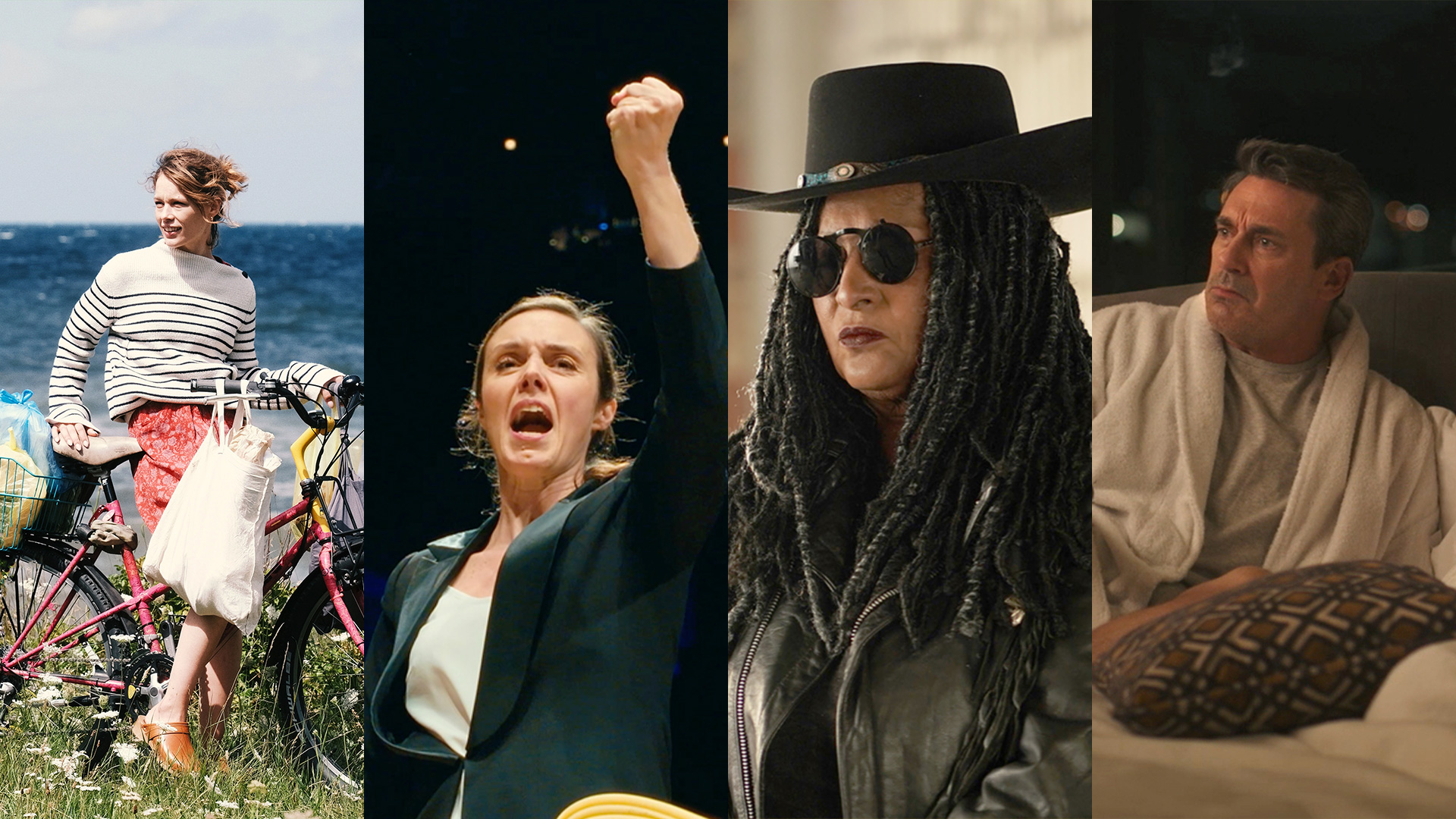 Founded in 2002 in response to the September 11 terrorist attacks on downtown Manhattan, the Tribeca Film Festival spent its first few two decades running at the end of April. In 2021, the festival moved to June as a response to pandemic complications and has remained there since, with 2023 marking the third year of that shift. In whichever month it happens, Tribeca (the neighborhood name comes from "Triangle Below Canal Street")—created by the trio of Jane Rosenthal, Robert De Niro, and Craig Hatkoff—continues to offer exciting screenings, talks, immersive video options, and more.
Running June 7-18, this year's festival presents 109 feature films from 127 filmmakers across 36 countries, including 93 world premieres. That's a lot to choose from (and that's not counting everything else you can see and do). Fortunately, we here at Hammer to Nail have got you covered with our own recommendations of what to see. Each of the 4 critics—Christopher Llewellyn Reed, Melanie Addington, and 2 New York natives, Matt Delman and MJ O'Toole—in attendance pick 5 films each to showcase. We hope to see everyone there!
Breaking the News (dir. Heather Courtney/Princess A. Hairston/Chelsea Hernandez)
The 19th* is "an independent, nonprofit newsroom reporting on gender, politics and policy" (taken from their website). Founded in 2020, the organization seemed set to stumble as the COVID-19 pandemic threw a wrench into everyone's works. And yet, they did not, and in Breaking the News, an exciting new documentary from directors Heather Courtney (The Unafraid), Princess A. Hairston, and Chelsea Hernandez (Building the American Dream), we follow the remarkable narrative of how this exciting new organization came into being and flourished, providing coverage of underserved stories—prioritizing women, people of color, and LGBTQ+ topics—for an audience desperate to read them. The modern world can be a very depressing place at times. This film will give you hope. (CLR)
It's Basic (dir. Marc Levin)
The concept of a Universal Basic Income or UBI was popularized by Presidential hopeful Andrew Yang. But many people may not realize that pilot programs have already been running successfully in many major US cities. The relief it provides low income families is undeniable. When a mother is finally able to adopt her children, the film reaches an unexpectedly emotional climax. Marc Levin's film poses the question, if we can provide poor folks with the basic necessities for survival, what does that then enable them to accomplish? (MD)
Afire (dir. Christian Petzold)
German auteur Christian Petzold (Phoenix, Transit) brings his Berlinale-winning relationship drama to Tribeca. It's the second entry in his "elemental trilogy" following 2020's Undine. While that story was set against the backdrop of water, his new undertaking is set around the emergence of a forest fire. Petzold collaborates for the third time with actress Paula Beer in a tale of passion set along the Baltic Sea, following the relationship between four people trapped in a holiday home that is surrounded by a wildfire. The film also stars Thomas Schubert, Langston Uibel, Enno Trebbs, and Matthias Brandt. (MJ)
Gloria Gaynor: I Will Survive (dir. Betsy Schechter)
The woman who defined it all with "I Will Survive" now shares her latest gospel album in her seventies while chronicling her comeback journey from 20 years of a traumatic spine injury and abuse of a now ex-husband. Gloria Gaynor: I Will Survive shares a vivid truth for many women in their careers and the changing tides of the music industry. Her recent Mermaid experience of The Masked Singer and reemergence into pop culture will culminate in a performance after the world premiere at Tribeca. Betsy Schechter directs the film, a Spotlight Premiere as part of the Expressions of Black Freedom programming. (MA)
Chasing Chasing Amy (dir. Sav Rodgers)
I will not lie: I am among those who do not particularly like director Kevin Smith's 1997 feature Chasing Amy, which tells the tale of how an ostensibly lesbian woman falls for Ben Affleck. It represented many straight men's secret fantasies, to the horror of gays and lesbians everywhere. Or did it? In Chasing Chasing Amy, director Sav Rodgers, himself a member of the LGBTQ+ community, explores the legacy of that film from the vantage point of someone to whom it meant a great deal. In fact, it saved his life when he was being bullied in high school. Starting with a TED Talk he gave that garnered attention from that original movie's creators, the documentary follows Rodgers as he meets Smith, lead actress Joey Lauren Adams, and a slew of others who offer a wonderfully nuanced take on the work, all the while profiling his own deeply moving love story. (CLR)
The Gullspång Miracle (dir. Maria Fredricksson)
What's even stranger than Three Identical Strangers? The answer isn't four identical strangers. It's The Gullspång Miracle! An exceedingly entertaining mystery that you'll never see coming. The reunion of long-lost half-sisters begins oddly enough, with a couple of older Swedish ladies missing their marks and flubbing their lines to the camera. It's almost as if director Maria Fredricksson started out making a quirky, heartwarming film, and as the investigation continued, it turned into an astoundingly dark thriller. I can't say much more without spoiling it, so just trust me and put it on your Must-See list. (MD)
Rule of Two Walls (dir. David Gutnik)
As the War in Ukraine is getting the documentary treatment this year through films such as the Sundance-winning 20 Days In Mariupol and the Cannes selection In The Rearview, we will see the war unfold through the eyes of Ukraine-based artists. Ukrainian-American filmmaker David Gutnik, who made a splash in Tribeca back in 2020 with his award-winning psychological drama Materna, traveled to the country of his heritage to document the lives of the artists who chose to remain to continue to make their art as an act of defiance in the face of aggression. Gutnik uses live music performances, painting, street art, and filmmaking itself to shine a light on the psychological aspects of the crisis. Through a series of perspectives on the frontlines of war, the film is sure to offer a unique look at a country that continues to fight back hard. (MJ)
Your Fat Friend (dir. Jeanie Finlay)
There are a handful of filmmakers that I will watch anything and everything they release: Jeanie Finlay (Seahorse, Orion: The Man Who Would Be King) is near the top of that list. Following the success of Aubrey Gordon's blog in 2016, "A Request From Your Fat Friend: What I Need When We Talk About Bodies," which addresses fatphobia, Your Fat Friend world premieres at Tribeca in the Spotlight category. Shedding her anonymity after five years of writing on the topic, Gordon enters the spotlight to face critics, trolls, and supporters. How she navigates this should make for an excellent documentary. (MA)
Maggie Moore(s) (dir. John Slattery)
Actor John Slattery returns to feature directing for the first time since his 2014 God's Pocket with Maggie Moore(s), a darkly comedic thriller set in a small town where not much seems to happen … until it very much does. Headlined by Jon Hamm (Confess Fletch) and Tina Fey (Wine Country), the ensemble includes an engaging cast of quirky performers who keep the action going even when the plot becomes nasty. As the title indicates, there is more than one Maggie Moore, and the fate of these unfortunate women drives the improbable story as the police (led by Hamm) try to make sense of it. (CLR)
Maestra (dir. Maggie Contreras)
Though Lydia Tár is not a real person, women conductors are a real thing, and they are arguably just as talented as the men. In her new documentary Maestra, filmmaker Maggie Contreras follows several as they compete at 'La Maestra', an all-women conducting competition in Paris. Though they have contrasting styles, they share a mutual respect, and often can see more talent in each other beyond what the judges can spot. As with all competition docs, there are winners and losers, but unlike with fiction film, your favorite main character may not end up on top. (MD)
Lost Soulz (dir. Katherine Propper)
I'm always down for a good ol' American road trip film. Katherine Propper's feature debut Lost Soulz centers on an aspiring young rapper (Sauve Sidle) who after a house party incident hits the road with a touring group of hip-hop artists across Texas where he discovers who he is as an artist and a person. Seems like the kind of tale that would be in the realm of Fear and Loathing in Las Vegas or American Honey. Fans of those films will likely appreciate the chemistry between the stars and views of modern-day America over a genre-bending hip-hop soundtrack. Hopefully we'll be in for a crowd-pleasing wild and trippy gem. (MJ)
Cinnamon (dir. Bryian Keith Montgomery Jr.)
Cinnamon caught my eye due to Pam Grier and the wild and fun description. The feature directorial debut of Bryian Keith Montgomery Jr. (known for several shorts including Good Guy With A Gun), the film stars Damon Wayons, Hailey Kilgore, and David Iacono. Kilgore's character Jodi and small-time crook Eddie decide to change their life, but things go awry in this homage to '70s blaxploitation. The film is a world premiere in the spotlight narrative section. (MA)
Richland (dir. Irene Lusztig)
Documentarian Irene Lusztig (Yours in Sisterhood) trains her lens on the town of Richland, Washington, located not 20 miles south of the Hanford Nuclear Site, where the weapons-grade plutonium used to build the bomb dropped on Nagasaki during World War II was created. That plant has been in operation ever since and has provided many needed jobs to locals, even while irrevocably polluting the surrounding land. That's bad enough for the mostly white residents of Richland, but even worse for the traditional occupants, members of the Wanapum, Yakama Nation, Confederated Tribes of Umatilla Indian Reservation, and Nez Perce Tribe. In her complex portrait of the area, Lusztig lifts a great variety of voices, by the end delivering a wide-ranging look at this small community that proves as specific as it is universal. (CLR)
The Adults (dir. Dustin Guy Defa)
I loved director Dustin Guy Defa's talky comedy Person to Person, which was based on his short film of the same name. His latest feature has a similar title, The Adults, and also stars Michael Cera (Superbad), this time playing a poker player returning to his hometown. Here Tavi Gevinson is replaced by another actress with a pixie cut, Sophia Lillis (It: Chapter 1), playing Michael Cera's sister, with a dysfunctional family dynamic. Rounding out the cast as the third sibling is Hannah Gross (from Netflix's Mindhunter). I have yet to see the film but if it's anything like Person to Person I will be very satisfied. The film has been picked up by Variance Films who last year took RRR all the way to Oscar glory. (MD)
The Graduates (dir. Hannah Peterson)
Chloé Zhao (Nomadland) executive produces the feature directorial debut of her filmmaking mentee Hannah Peterson. The Graduates is a searing drama set one year after a high school shooting and centers on senior Genevieve (Mina Sundwall) who struggles with loss and tries to look to a more hopeful future. The film co-stars indie darlings John Cho, Maria Dizzia, and Moonlight breakout Alex R. Hibbert who will undoubtedly help carry the film's emotional tone in this tale of people trying to move forward from a tragedy that's sadly common in this country. Peterson's debut is hyped as the arrival of a fresh, stirring new voice in cinema. (MJ)
The Secret Art of Human Flight (dir. H.P. Mendoza)
In The Secret Art of Human Flight, filmmaker H.P. Mendoza deals with a widow's grief with a healthy dose of humor and skepticism when Bran (Grant Rosenmeyer) decides that a spiritual guide (Paul Raci) may have the solution to his problems. Ben's character learns that despite all of the pain, the only way through the trauma is through it. A charming film that connects us to just how tough losing love can be, but relatable to most of us. Full disclosure that the festival I work for gave H.P. Mendoza the Stubbornly Independent Prize in 2022 – so naturally I'm excited to see his new film, which is world premiering in the US Narrative Competition. (MA)
Rock Hudson: All That Heaven Allowed (dir. Stephen Kijak)
When Rock Hudson (1925-1985)—that great Hollywood star of film and television—passed away, his death proved more tragic and monumental than he could have ever thought. As the first celebrity to succumb to the AIDS virus, he inadvertently shone a light on what had been, up to that point, a criminally neglected disease. His demise was a double shock for the public, since most people didn't know that the closeted actor was gay. In Rock Hudson: All That Heaven Allowed, director Stephen Kijak (Shoplifters of the World) gives us a comprehensive look at the man, the myth, and the reality of his life. At the peak of his fame in the 1950s and early 1960s, Hudson (born Roy Scherer) was everyone's ideal of virile beauty, but in order to stay on top he had to hide his true self. Taking his title from one of the works by director Douglas Sirk that helped propel Hudson's career, Kijak interweaves modern-day interviews with archival audio and video in a poignant mix. And though there was already a 1992 documentary that told much the same story, this latest one has the enormous benefit of greater distance for a more historical overview. (CLR)
First Time Female Director (dir. Chelsea Peretti)
Chelsea Peretti is truly one of the greats. A quadruple threat, she is the writer/director/producer/star of the new comedy First Time Female Director. Yes, that is a meta-joke right in the title. If you haven't seen Peretti's standup specials, you must have seen one of her memorable characters on Kroll Show, or perhaps her breakout role as Gina Linetti in Brooklyn Nine-Nine. Those influences, as well as Christopher Guest and Wet Hot American Summer come to mind in writing this blurb, though knowing Peretti this should have a flavor all its own. Expect the unexpected. (MD)
The Miracle Club (dir. Thaddeus O'Sullivan)
As a first-generation Irish-American who has grown up around some iconic Irish ladies, it is personally hard for me to resist this tale about a group of 1960s Dublin women taking a trip to the holy French city of Lourdes. Emmy-nominated filmmaker Thaddeus O'Sullivan directs the always sensational Kathy Bates and Maggie Smith as longtime close friends who are joined on their pilgrimage by an old friend (Laura Linney) whose return reopens old wounds and forces the trio to confront the past to begin healing. While I may have some concerns about the authenticity of the accents, I'm also hopeful that the warm Irish charm will be intact. (MJ)
The League (dir. Sam Pollard)
One of the excellent museums in this country is the Negro Baseball Hall of Fame Museum in Kansas City. It tells the story of the Black League formed in the 1920s in America. Sam Pollard (MLK/FBI), along with executive producer Ahmir "Questlove" Thompson (Summer of Love), explore the history of the league created by Black baseball players in their new documentary, The League. After seeing the film, you'll want to make the trek to see this museum in person. With a rich history and a league with great stories, including the one of founder Rube Foster, this doc is about as American as it gets. Magnolia is releasing the film in theaters and on VOD on July 14th. (MA)
– Christopher Llewellyn Reed (@ChrisReedFilm), Matthew Delman (@ItsTheRealDel),  Melanie Addington, and M.J. O'Toole (@mj_otoole93)