Short Film Contest Winner/Runner-Up: Fall '18
Yes, we here at Hammer to Nail realize it's winter and 2019. BUT, the HtN Fall Short Film Contest started in the fall. And what a contest it was! Entries started slowly but really picked up by the time the contest wrapped which was great. It's been noted before but I'm trying to find sweet spots to maximize our entries and also give filmmakers another option as they attempt to jump into the festival circuit with their latest work.
If you're reading this, you probably already understand that the Sundance Film Festival kind of "unofficially" kicks off the film festival circuit each year and filmmakers apply to that fest en masse. I have thoughts about this and the kind of "normality" that process has taken on but, maybe I'll save that for another article. Sundance submissions/acceptance/dismissal letters go out by Thanksgiving so I've tried to allow a window of time for filmmakers who didn't make the Sundance grade to seek opportunity with us. But, we all know SXSW submissions are open and filmmakers are awaiting word on that as well.
To me, it doesn't make sense to not enter our shorts contest because you're awaiting word from Sundance or SXSW. But, filmmakers do it and rather than tweet or rant in public about it, I'll just try and move dates around to help fit into the "Way the World Works." There's also a lot of filmmakers who have recently made a short so I feel there's more out there who may enter the contest. If you have any thoughts on this, jump into the comments!
In any case, we had a really nice group of short films to check out and we chose 5 to send to our esteemed jurors. But, before I get into all that, I wanted to throw some ink to two really cool interviews I recently did with former winners of the short film contests. The first was with Frank Mosley who's short Casa de Mi Madre won our summer 2016 contest. If you read the interview, you can get some insight into how Frank was lucky enough to attend a filmmaking retreat in Cuba put on by Abbas Kiarostami. Yes, really. The other interview was with Tony Oswald who's short film Great Light won our 2017 short film contest. His film is deeply personal and lead to his acceptance into a filmmaking boot camp put on by Jim Cummings. Read all about it here and note both films are available to watch in those interviews.
As always, huge thanks to the film festivals who support us by providing film festival fee waivers to our winners and runners-up! They are: IFFBoston, Maryland Film Festival, Denver Film Festival, Oak Cliff Film Fest, St. Cloud Film Fest,  Julien Dubuque International Film Festival,  Oxford Film Fest, Sun Valley Film Festival , Dallas Video Fest, Austin Film Festival , Bend Film Festival , Austin Film Festival, Indie Memphis , San Diego Film Festival ,  Dallas International Film Festival, Montclair Film Festival and Sidewalk Film Festival!!
Also, huge thanks to our excellent jury! They are:
Mallory O'Meara  is an author, screenwriter, genre filmmaker and co-host of the awesome Reading Glasses Podcast  (with former HtN short film contest juror Brea Grant!). She also has a book called The Lady from the Black Lagoon: Hollywood Monsters and the Lost Legacy of Milicent Patrick which drops on March 5!
Paavo Hanninen who won our summer contest with his OUTSTANDING short film The Tourist. Stay tuned to our Facebook and Twitter feeds and we'll let you know when and where the film is playing.
Paul Tremblay, author of my favorite fiction book of 2018, The Cabin at the End of the World as well as A Head Full of Ghosts which is being adapted into a film to be directed by Osgood Perkins. He also has a short story collection titled Growing Things and Other Stories which is coming in July.
Now, for the winners…
Runner-Up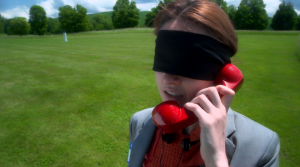 Mata Laya Pata 
(Directed by Kevin Vu; 12 minutes, 45 secs)
A most peculiar and puzzling short film, Kevin Vu's Mata Laya Pata is a cleverly shot and economically paced short that manages to ratchet tension as well as keep one guessing through it's nice run-time. Vu is no stranger to thr HtN short film contest as his short Splendona was runner-up in the Winter, 2018 contest. Here's Kevin's take on the film and some tidbits that are every bit as intriguing as the film itself.
Mata Laya Pata and its bizarre, convoluted system of rituals and exercises was created during a time of personal despair and existentialism. I found myself turning to self-help books and meditation to make sense of my emotions and the world around me. A mix between video art and self-help informercial, my wonderful team and I wanted to use meditative visuals and ambient music to create a therapeutic experience. So, I hope you feel better and learn to love yourself after watching it. 
Awww yeah! Congrats, Kevin!
Winner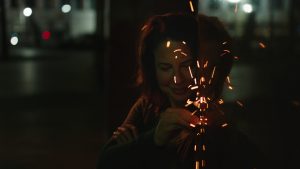 Stella for Star
(Directed by Nick Singer; 11 mins, 20 seconds)
Nick Singer's Stella for Star feels like a great big movie but it's neatly tucked into just over 11 minutes. In it, a single mom who also happens to study fusion takes her kids along to a conference in New Orleans. Once there trouble starts brewing as not only is the hotel packed out with some kind of Furries convention, there's also a nasty hurricane headed their way.
The jurors all went crazy for Stella for Star and for good reason. It's chock full of ideas, has a killer rhythm and excellent performances. It's also funny, scary and makes you think. That's a lot to pack into such a short time frame!
And now, a few words from writer/director Nick Singer…
I know I'm not alone in being both terrified and apathetic about climate change. It's a very strange way to feel, and a little bit absurd. With Stella for Star, I wanted to investigate what that feeling might be like for a scientist trying to solve this slowly approaching catastrophe. 
I was lucky enough to work with Robin Weigert, a truly fantastic actress, who plays the scientist. She dove into the character and the material with enthusiasm, and always pushed me to embrace the darker, dreamier aspects of the story. I am forever grateful to Robin for taking on this project with us. I'm also thankful to the entire cast and crew, who gave their all in our tricky shoot, crammed into five days, down in New Orleans.
I want to single out our producers, Milo and Catherine, who did an exceptional job both pushing me creatively and running what turned into a massive shoot; Sam, our production designer, who created a dynamic world on the smallest of budgets; the post-team, Quentin and Nat, whose loyalty and commitment elevated the work we had done down in Nola; Justin, our cinematographer, who, as always, delivered masterful, haunting work bringing out the nuances of our story; and Ben, my co-writer on the film, who brought so much humor and perspective to the script. Lastly, I want to thank Columbia University, for nurturing this film, and the Sloan Foundation, which made the whole thing possible. I'm not sure why exactly they took a risk on our weird film, but I am deeply appreciative that they did.
That's all for the fall contest. Stay tuned for a quick turnaround for the winter contest as well!
Like what you see here on Hammer to Nail? Why not pay just $1.00 per month to help keep us going?
– Don R. Lewis (@ThatDonLewis)