EVERYONE WANTS TO BE THE NEXT WEISMANN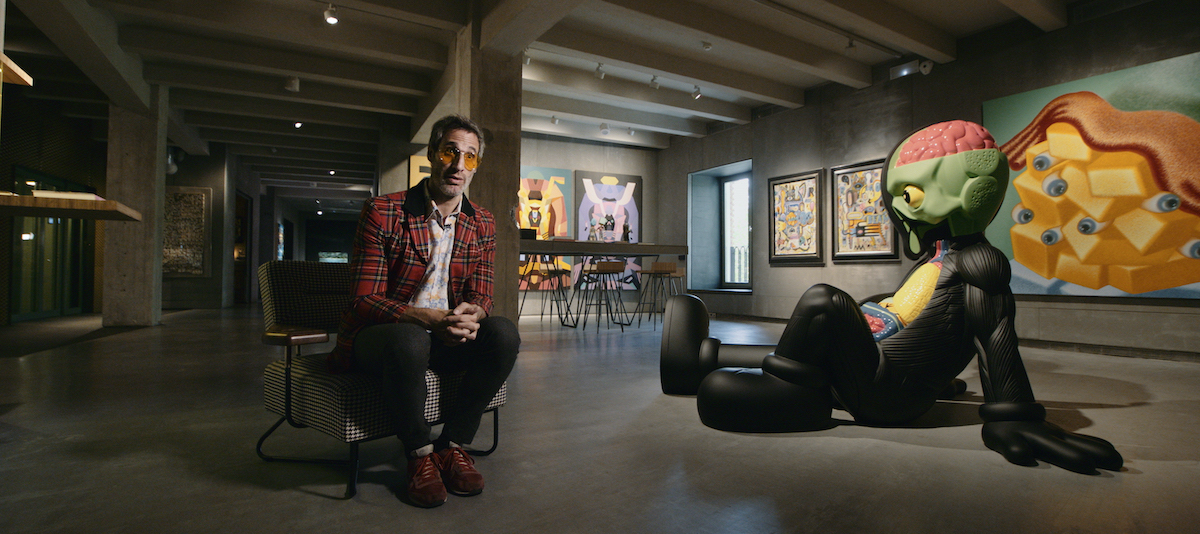 (The 2021 Slamdance Film Festival kicked off February 12 and runs through February 25, all online. Like what you see here on Hammer to Nail? Why not give just $1.00 per month via Patreon to help keep us going?)
Spanish art collector Martín Solo, owner of a private gallery in Madrid, is a man on a mission, determined not to repeat the mistakes of the recent past. The first to discover an artist named Richard Weismann, he committed the error of allowing others to know of him without initially claiming exclusive promotional rights. In the art world, as in the arena of journalism, s/he who strikes early gets the fame and, hopefully, fortune. Now, with a new painter in his sights, he has major plans, with a cutting-edge showcase in the works. So begins director Alberto Triano's lively and charming debut feature documentary, Everyone Wants to Be the Next Weismann, which follows Solo and his rising star as they get ready for the big opening, which will hopefully guarantee for both a slice of glory-and-payday pie. 
It's a delightful romp of a movie, just over an hour long, filled with striking compositions that do justice to the art and architecture on display. Though we begin with Solo, we quickly jump to Brooklyn, NY, where Taiwanese-born artist Mu Pan is hard at work. Or not. We catch him in the act of throwing an axe into a target in a friend's studio, hitting the bullseye, an apt metaphor, hopefully, for impending success. Then again, it's not as if he is an unknown quantity prior to Solo's involvement: as we discover in the film, director Guillermo del Toro is already a fan, and has purchased at least one major work that, sadly, he keeps to himself. Still, he has to yet have a breakthrough into the higher tiers of contemporary artists, and welcomes the attention from someone more than willing to lay down time and resources to help him reach the top.
Mu Pan's work is a mix of many different influences, among them Japanese Ukiyo-e (woodblock prints), classic literature and modern pop culture. And monkeys. He loves monkeys, seeing in them a metaphor for the good and the bad in the human race. They populate his paintings, joining Moby Dick, Star Wars stormtroopers, Godzilla and more in an amalgam of whirling visuals that engage the mind as much as the eye. Embedded in each painting is a story open to varying interpretations, a rich tapestry that can take hours to decipher.
And what does Solo bring to the aesthetic table? A sense of flair and presentation. As Mu Pan readily admits, Solo's meticulous attention to detail, down to the rigorous insistence on the right shade of red for the gallery walls and the proper kind of frames for the paintings, elevates his work to the next level. Lamenting that he can't even find a gig in New York as an illustrator, yet now is celebrated throughout Europe, Mu Pan returns all the compliments given to him by his patron.
Along the way, we meet many other supporting characters, including curator Paolo Castillo. She's a vibrant, hard-working woman who offers the practical, grounded support that allows the far more flamboyant Solo to keep his head in the clouds, whence he looks down and sees the big picture, his vision of what art should be driving the narrative. All together, the ensemble in this brief, but delightful glimpse at a rarefied world, keep us entertained, throughout. We also learn more than a little bit about art old and new, as well. By the end, everybody may want to be the next Mu Pan, and for that we have Solo, and Triano, to thank. Enjoy the show.
– Christopher Llewellyn Reed (@ChrisReedFilm)