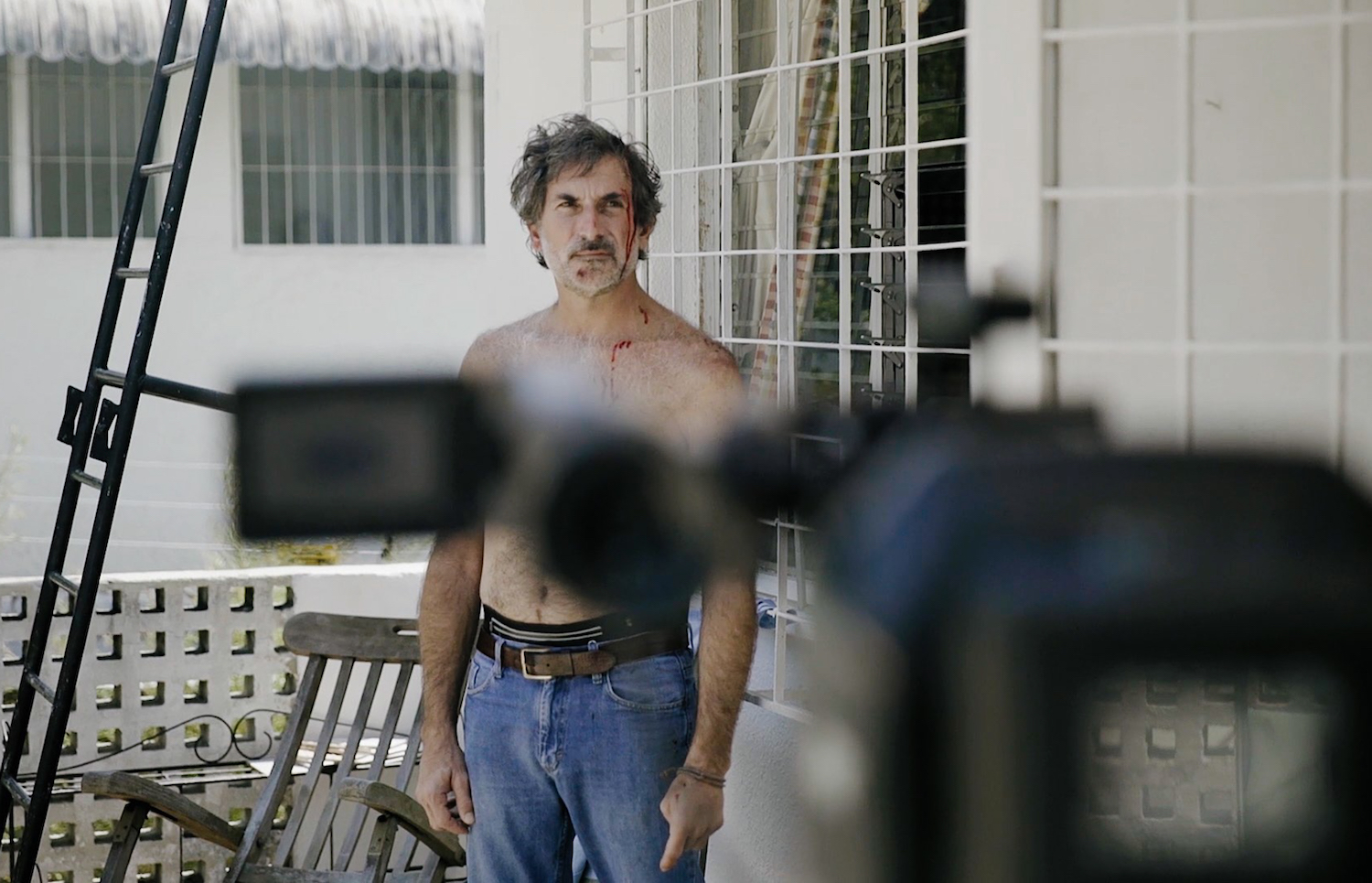 (DOC NYC runs online Nov 11 – 19, 2020 and Hammer to Nail has TONS of reviews to keep you in the loop! Like what you see here on Hammer to Nail? Why not give just $1.00 per month via Patreon to help keep us going?)
Telling biographical stories that balance drama and truth can be challenging enough, even without a close personal connection to the narrative; make them about your own family, and the process grows ever more fraught. Add in the further complication of having a relative play a version of himself, and one's head might explode. Such is the setup of El Father Plays Himself, the new documentary from director Mo Scarpelli (Anbessa), which follows Jorge Thielen Armand as he returns to Venezuela to make a movie, La Fortaleza, about his father, Jorge Roque Thielen, starring the pater familias in the title role.
Two more factors add to the emotional tension: Jorge the younger left Venezuela for Canada when he was 15, and since then he and "el Father" (as they call him on the shoot) have grown apart; and Jorge the elder is a raging alcoholic. Still, where there's a will there's a cinematic way, and off they go, into the Amazonian jungle of dad's younger years, cameras and copious bottles in hand, to see what happens. And we are right there, all the way, witness to this fascinating mix of fact and fiction.
The crew is made up of consummate professionals, rarely upset by el Father's heavy drinking (though some are more disturbed than others). This is not the first time the two Jorges have collaborated, as dad also appears in his son's first feature, the 2016 La Soledad, though it seems that the previous production may have involved less alcohol. Addiction is a progressive disease, and the evidence is right there on the screen. "El Father Drinks Himself" comes to mind as a more appropriate title, yet even the most out-of-control lush can still muster moments of creative genius, and so the shoot goes on. Scarpelli, who also filmed her own movie, is a gentle, observational presence, quietly gathering this remarkable footage of dysfunctional family dynamic with both sensitivity and confidence, always where she needs to be when the good stuff happens.
Cut into the present-day material are archival clips showing the Jorges in their younger years, el Father cutting quite a different figure back then. Between the two men now lies a vast gulf of simultaneous affection and misunderstanding, the passage of time a burden that this new venture might help lessen. Despite the stress of the shoot, once things get going, they mostly get along, the son tolerating his lead actor's misbehavior when it leads to powerful acting.
Director Jorge clearly has a strong vision, and is supported by sharp and organized producers, since nothing phases him and he pushes forward, no matter what, the equipment always showing up where and when it is needed. In fact, he is a model of what a filmmaker should be, even without the father angle: calm under pressure and able to roll with the unexpected while remaining true to whatever central idea got him started. And Scarpelli is no different, delivering this gripping saga of creative fervor as one uniquely compelling documentary.
– Christopher Llewellyn Reed (@ChrisReedFilm)