(Winter's Bone won the Dramatic Grand Jury Prize and Waldo Salt Screenwriting Award at the 2010 Sundance Film Festival. It is being distributed by Roadside Attractions and is now available on DVD
or Blu-ray. It opened in New York City and Los Angeles on Friday, June 11, 2010. Visit the film's official website to learn more.)
With Winter's Bone, Debra Granik pulls off a feat so phenomenal that I confess to not fully appreciating it the first time around. What kept me from giving into it then was the sinking feeling that Granik couldn't possibly maintain her film's delicate balance; inevitably, eventually, Winter's Bone would capsize into a disappointing flood of sentimentality and cliche. To my dismay, that never happened. Months later, now fully ready for what I was getting into, I watched it again. This time, that prior skepticism eradicated, I was able to fully appreciate what Granik and her creative partner, co-producer/co-writer Anne Rosellini, had accomplished. Winter's Bone is something utterly special and unique, a movie that has the heart of an old-school genre thriller and the soul of an unflinching social documentary.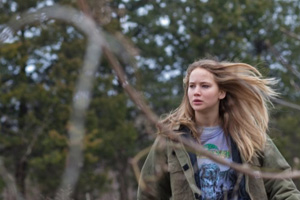 Based on a novel by acclaimed Missouri author Daniel Woodrell, Winter's Bone is set in the bleak, impoverished world of the Ozarks. Ree Dolly (Jennifer Lawrence), a pretty, baby-faced 17-year-old with an absent father and a catatonic mother, has been forced to grow up far too fast. A sharp-minded young woman, Ree has become the caretaker for her younger brother Sonny and sister Ashlee (newcomers Isaiah Stone and Ashlee Thompson). When her father puts up her house and land for his bail bond, only to drop off the map, Ree must embark on a dangerous mission to track him down before she loses everything. Unfortunately, her main source of help, her uncle Teardrop (John Hawkes), is a drug addict with a violently short fuse, and her distant kin, who wield all the power in the community, are intent on keeping Ree's mouth shut.
So many elements of Winter's Bone come as a pleasant shock, especially for those viewers who might be expecting another typically generic Ameri-indie (on paper, the film's description sounds like the recipe for an insufferable festival-ready stew). Firstly, Granik establishes an atmosphere of convincing, gritty regionalism without ever crossing over into exploitation. This is aesthetically achieved through the celluloid-rich cinematography of Michael McDonough (shooting on the Red Camera), as well as the hardscrabble production design of Mark White and rustic costumes of Rebecca Hofherr. Secondly, Granik and Rossellini somehow manage to transfer Woodrell's almost literary dialogue to the screen without it feeling forced or distracting (the noblest feat of all, perhaps). Thirdly, Granik has assembled an ensemble cast, both professional and amateur, who further preserve the film's authenticity.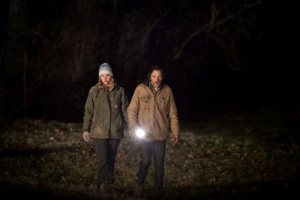 While an unrecognizable Hawkes and Dale Dickey are standouts, Winter's Bone belongs to Jennifer Lawrence. In Ree Dolly, Lawrence has landed the role of a lifetime, and she doesn't squander the opportunity. This is a young female who consistently butts up against insurmountable odds, yet she never backs down. She doesn't look for romantic comfort in the arms of a man. She doesn't give up when she's been battered and bruised. She doesn't lose her humanity in the face of so much suffering. One of the most excellent, revealing scenes in the film reminds us of just how young Ree actually is. At an Army recruiting center, Ree is politely dissuaded from signing up by an officer who tenderly points out the flaws in her plan and sends her wandering back into the world that she simply cannot escape. The honesty in this officer's delivery, combined with Ree's tearful, newly awakened understanding of her predicament, is a crusher.
In 2009, Lee Daniels's Precious bucked the unfortunate trend of Sundance Dramatic Grand Jury Prize winners to make nary a dent at the theatrical box office, going on to become a breakout smash (thanks in no small part to Oprah Winfrey and Tyler Perry). The 2008 winner, Courtney Hunt's Frozen River, which has a much more superficially similar appearance to Winter's Bone, also achieved an unexpected amount of critical success, culminating in two Oscar nominations. If there is any justice in the world, Granik's extraordinary dramatic thriller will catch on not just with audiences everywhere, but will earn the Winter's Bone cast and crew Oscar statues of their very own.
— Michael Tully