Recommended
*** Everyone Else (Cinema Guild) — In bare outline, Everyone Else may sound like a neat and cleverly symmetrical construction, but moment to moment it unfolds in the most unclassifiable, unpredictable, and miraculously organic manner. I don't know if I've ever seen a more nuanced on-screen portrait of a relationship. Its devastating accuracy has little to do with whether one identifies more with Chris or with Gitti, or indeed with Hans or Sana: what matters is how beautifully the movie captures the overall dynamic of being part of a couple. Read the rest of Nelson Kim's review, then buy it on DVD
.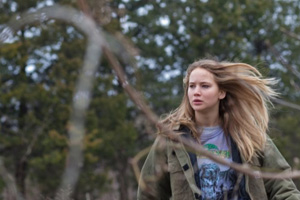 *** Winter's Bone (Roadside Attractions) — So many elements of Winter's Bone come as a pleasant shock, especially for those viewers who might be expecting another typically generic Ameri-indie (on paper, the film's description sounds like the recipe for an insufferable festival-ready stew). Firstly, [Debra] Granik establishes an atmosphere of convincing, gritty regionalism without ever crossing over into exploitation. This is aesthetically achieved through the celluloid-rich cinematography of Michael McDonough (shooting on the Red Camera), as well as the hardscrabble production design of Mark White and rustic costumes of Rebecca Hofherr. Secondly, Granik and Rossellini somehow manage to transfer Woodrell's almost literary dialogue to the screen without it feeling forced or distracting (the noblest feat of all, perhaps). Thirdly, Granik has assembled an ensemble cast, both professional and amateur, who further preserve the film's authenticity. Read the rest of my review, then buy it on DVD
or Blu-ray
.
** 21 Below (IndiePix) — Samantha Buck's documentary about one Buffalo family's tumultuous interrelations is a very sobering experience. As the Q&A unfolded following a screening at the Sarasota Film Festival, I coined a new phrase to describe its impact on viewers: B.Y.O.P. (Bring Your Own Prejudice). It was fascinating to witness the audience's personal reactions, for they all seemed to bring their own baggage to the story that had unfolded on screen. As for the footage itself, it too is fascinating; it's like watching a strangely familiar train wreck (or maybe that's just because I grew up with three sisters). Buck's film says a lot about how complicated and impossible families can be, but it also works as a visceral update on the Guess Who's Coming to Dinner theory. Ultimately, class, not race, appears to be the cause of so much of the friction between the mother and daughter, but the insertion of an African American boyfriend nonetheless plays a vital role in giving 21 Below a new angle on the family dysfunction non-fiction genre. Buy it on DVD
.
* Wild Grass (Sony Classics) — Truth be told, when it comes to Alain Resnais' opening night film of the 2009 New York Film Festival, my coin continues to spin comfortably somewhere in outer space, with no foreseeable return to Earth in sight. Whatever the case, the gleeful audacity of Wild Grass cannot be denied. In trying to best describe it, I settled on the term senile noir. Resnais tells the story of an aging crank, Georges (Andre Dussollier), who finds a woman's purse (Sabine Azema) and becomes obsessed with her, to the dismay of his young wife (Anne Consigny, who better be not be his first wife because there's no way in hell she's the mother of Georges' adult son). Azema's character is at first taken aback by his brusque behavior, but just when the seed has been planted and she starts to become excited by the prospect of a tryst with him, he pulls away. Then, in one quick second, he acts like an asshole to Emmanuelle Devos' seemingly strong-willed character, stuffing his face in her car window in order to make out with her, and, pretty soon, she's under his spell too. I'm not exactly sure what reality this film takes place in, but it is a severely alternate one. At times, the characters' behavior infuriated me; at times, it intrigued me. At times, I thought all this illogic was a sign of an auteur in full control; at times, it felt like I was watching an old man lose his mind before my very eyes. This is just one of those films where my jury might never come to a conclusion. I will say this for Resnais, however. He didn't just cock my head to the side at an angle that I haven't experienced in quite the same awkward manner. With one of the more say HUH? endings I can remember since… Dr. T & The Women?… he made it spin like a tornado. Buy it on DVD
.
* House (Criterion) — My bar of expectation was ridiculously high for this recently resurfaced 1977 cult classic from Nobuhiko Obayashi, but the truth is that it kinda wore me down. People often compare psychedelic movies to acid trips, but this one really best can be described as that, especially in the way time ebbs and flows. I couldn't tell if I'd been in there for two hours or ten hours. That said, it's certainly worth checking out. It will just work on some more than others. Buy it on DVD
or Blu-ray
.
Kisses (Oscilloscope Pictures) — This tender little Irish drama about two young runaways is a small delight. Borderline too many musical montages but the performances are endearing. Consider this the cute little niece/nephew of Once. Buy it on DVD
.
Wah Do Dem (Factory 25) — Ben Chace and Sam Fleischner's scrappy Wah Do Dem—winner of the lucrative Target Award at the 2009 Los Angeles Film Festival—left me with a curious reaction. Were the filmmakers commenting on a certain type of privileged American who exudes an unconscious air of entitlement when his soles step onto the dirt of a foreign land? Or were my allegiances meant to gradually align with this film's particular young hero, he of the Caucasian skin tone who liveth and imbibeth in the Brooklyn shoreline neighborhood calledeth Williamsburg? If the former, Wah Do Dem succeeds. If the latter, things start to get shaky. Read the rest of my review, then buy it on DVD
.
New Old Movies
*** Paths of Glory (Criterion) — Stanley Kubrick's early masterpiece truly is one of the most powerful anti-war films ever made. Buy it on DVD
or Blu-ray
.
** Alien Anthology (20th Century Fox) — Based on Ridley Scott's Alien alone, this collection is worth a purchase. Buy it on Blu-ray
.
Have Not Seen But Want To Do Just That
Who Is Harry Nilsson (And Why Is Everybody Talkin' About Him)? (Lorber Films) — I was very bummed to have missed this film's recent theatrical run in NYC, but now I don't have any excuses. Buy it on DVD
.
Michael Nyman: Composer in Progress (Arthaus Musik) — If you put a gun to my head, I'd say Nyman's Wonderland is my favorite motion picture score of all-time. Buy the 2-DVD Set
.
Tropic of Cancer (Olive Films) — Why have I never heard of this adaptation of the Henry Miller novel, featuring Rip Torn and Ellen Burstyn? Perhaps there's a reason for that. Either way, I plan to seek it out. Buy it on DVD
.
Passenger Side (Strand Releasing) — Buy it on DVD
.
The Girl Who Played With Fire (Music Box Films) — Buy it on DVD
or Blu-ray
.
Chronic Town (Pathfinder Home Entertainment) — Buy it on DVD
.
A Mother's Courage: Talking Back To Autism (First Run Features) — Buy it on DVD
.
Wild Cards of the Week
Just in time for Halloween, two of the finest home video distributors for cult and underground titles have released some fitting treats. These aren't for everyone, but if you enjoy b-movies from the '60s-'80s, check 'em out:
Blue Underground: Maniac: 30th Anniversary Edition (DVD
or Blu-ray
)
Severin Films: Psychomania (DVD
) and Crucible of Terror (DVD
)