DR. FEELGOOD: DEALER OR HEALER?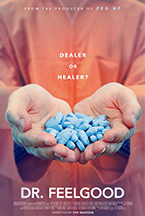 (The documentary Dr. Feelgood: Dealer or Healer? will make its national digital/streaming debut via Gravitas Ventures on Jan. 31, 2017, on such platforms as iTunes, Amazon, Google Play and more. It will also be playing a handful of theaters prior to online release. Info at the films website.)
Part history of our national opioid epidemic, part profile of a doctor at the center of the radical treatments for chronic pain linked to said epidemic, Dr. Feelgood: Dealer or Healer? is one of those documentaries that takes great care to lay out the case on both sides of its main issue. We meet experts and patients who believe that opiate medicines are a net good, in spite of the risks, and those who see them as an unmitigated danger. A few fall in between, adding important moderate voices to the mix. The man in the middle of it all is William Hurwitz, a former doctor who was once a prolific prescriber of significant amounts of pain medications, now disgraced and living a quiet life out of the limelight after serving jail time in the last decade. The film asks us to consider the ethics of his actions and the propriety of using opiates in the way he urged. Was he a criminal, a dangerous opportunist, a naïve idealist, or some combination of all three? You decide.
I always enjoy this kind of balanced movie that presents the facts of the matter without judgement. First-time director Eve Marson (producer on Fed Up) has interviewed an array of witnesses to Hurwitz's story, including the doctor, himself, as well as one of the police officers who pursued the case against him. Hurwitz's ex-wife and a daughter provide a nuanced and complicated perspective on Hurwitz's basic humanity, while the widow of a man who died of an overdose sees him simply as a drug pusher. All along, we learn the statistics of just how many Americans suffer from chronic pain, and how many opiates we take, as a nation. As a final title card informs us, it was not until 2016 that the federal government finally provided guidelines on how to prescribe such medications, so clearly there has been no one opinion on what works and what is dangerous.
That said, and despite the attempted impartiality of the filmmaker, it is clear from the film that Hurwitz was irresponsible, at best. His story is that of a man who started out wanting to do good by his patients, who then refused – or was unable – to see how those medications were being re-sold by dealers in what was a huge black market. Indirectly, then, Hurwitz is possibly responsible for many overdoses and deaths, whatever his motivations, noble as they were. As he tells the story of how he became the preeminent purveyor of these drugs – even appearing on 60 Minutes at one point – we watch in a combination of horror and fascination at the sheer volume of opiates that passed to his patients via his prescription pad. He eventually paid a price, going to jail in 2004, serving 4 years and 8 months, and then losing his medical license, as well as his marriage, so the man's hubris did not go unchallenged, but many others paid with their lives. On the other hand, still others were able to function in ways they never thought possible, overcoming debilitating pain, thanks to Hurwitz. A complex portrait, indeed, and well worth seeing.
– Christopher Llewellyn Reed (@ChrisReedFilm)