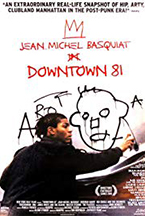 (Downtown 81 (a.k.a. New York Beat Movie) is a film that was shot in 1980-1981 and released in 2000. Directed by Edo Bertoglio and featuring Jean Michel Basquiat the film has been restored and is making the art house rounds theatrically. Like what you see here on Hammer to Nail? Why not pay just $1.00 per month via Patreon to help keep us going?)
Downtown 81 follows a homeless artist named Jean — played by a young, and yet to be discovered, Basquiat—as he riffs his way through a day/night in 1981 New York City, specifically the East Village, with its dark underbelly and burgeoning music scene. His mediums are diverse — a clarinet, his words, epigrams, and signature doodles — they paint a memorable backdrop for the live performances that follow. Naturally, he plays the artist, but a bit less convincing as an actor. In truth, the film stumbles a bit across all the performances with some unconvincing dialog. But don't let that stop you, because here lies a forgotten gem that's genuinely '80s, an authentic portrayal of big things to come. And what the film lacks in acting, it more than makes up for in live musical performances, featuring a documentary-style capture of new wave and emerging rap—DNA, Plastics, Kid Creole and the Coconuts, James White and the Blacks, the list goes on. It even includes a cameo from the Queen of Cool herself, Debbie Harry. All the music acts are memorable, but as I walk away I can't shake images of Kid Creole's rhythmic energy and James White's dazzling lavish sax. Nowadays, the '80s being all the rave, an authentic look at the era is much needed, and a sight for sore eyes. It wasn't all like the Goonies, you know?
The narrative is surprisingly simple—a journey into night. Jean wakes in a hospital bed, his nebulous affliction never quite explained. Is he dead, I wondered? It all begins there, like rebirth, full of hope and confidence as he wanders the streets ready to take on the world, but soon finds himself evicted and homeless. He shuffles away with his only real possession: his art. He tries hustling a canvas painting for cash, but no such luck — the journey of all artists. Despite a dire situation he remains cool and collective, and in time with the natural rhythms of the night. It's all about that: timing and rhythm, the beat, not where you've been, and not where you're going, but where you are in the moment, and Jean clearly knows this. His luck changes when he meets a genie of sorts (Debbie Harry). He kisses a frog, and, like Basquiat, Jean the character finds himself, with fame following not far behind. The story ends with an extended scene of him driving away in a shiny new Cadillac Seville. It's there I found myself looking back on Tarantino's Once Upon a Time…in Hollywood — with its own vintage driving sequence—a nostalgic trip down memory lane. While that was fun, it was make believe. This, on the other hand, is a genuine time capsule that shouldn't be missed.
Clocking in at an hour and fifteen minutes, it's over before you know it, like Basquiat's short life itself. Filmed in 1980/81, and originally released in 2000, the film has been digitally restored and reprinted on glorious and nostalgic 35mm. You can catch the re-release in October, at the Metrograph in NYC, before it expands nationwide.
Like what you see here on Hammer to Nail? Why not pay just $1.00 per month via Patreon to help keep us going?)
– A.D. Calvo (@ADCalvo)