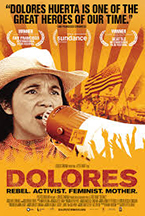 (Dolores – a feature documentary about Dolores Huerta's lifetime fight for social justice – is in theaters now via PBS Distribution.)
From director Peter Bratt (La Mission) comes a stirring tale of one our nation's most unsung political activists, Dolores C. Huerta, president and founder of the Dolores Huerta Foundation and co-founder of the United Farm Workers of America. The film – his documentary debut, entitled simply Dolores – accompanies its subject from her early days working with her more renowned colleague Cesar Chavez through the present day, where we find her still going very strong at 87. In fact, that's where we start – today – with a sequence of Huerta getting ready to attend a rally, followed by a montage of many such rallies. First a pioneer and now an icon, Dolores Huerta is above all a woman committed, as ever, to the many causes she has championed throughout her life.
Those causes include migrant workers' rights, all workers' rights, women's rights and more. Using archival footage and recent talking-head interviews with family and colleagues, alike, Bratt shows us a woman of action, always true to her beliefs, even from the earliest days of her collaboration with Chavez, which began in 1959. As one would expect, her work has earned her praise and condemnation from opposing quarters. Unfortunately, even within her own domain of the United Farm Workers (UFW) Union, Huerta faced criticism, simply by virtue of her gender. Chavez did a lot of good for the then-disenfranchised farm laborers, but he didn't do it alone and he didn't have to deal with sexist obstructionists. Bratt's film helps set the historical record straight.
This is by no means a hagiography, however, and the real strength of the movie is its profoundly human portrait of Huerta. A mother of 11, she was often forced to leave her children in the care of others to pursue her work (a challenge Chavez never had to face). Those actions left wounds in her progeny, though Bratt shows how much love and respect they bear her now. Many of them now follow in her footsteps, and understand how Huerta's presence in the labor movement made it possible for other women to follow. Thanks to interviews with former Black Panther Angela Davis and feminist leader Gloria Steinem, we come to understand just how important was Huerta's contribution to minority and women's rights. Steinem praises Huerta for teaching her more about working-class issues, while Huerta, in turn, praise Steinem for helping her – a good Catholic who never had an abortion, herself – understand the essential value of giving women the right to choose what to do with their bodies.
And so the film goes, both history lesson and testament to a legacy of activism. By the end of the movie, when we return to some contrary voices – from conservative politicians and pundits, the latter mostly from Fox News – heard in an opening sequence, we have no doubt of their folly and ridiculousness in the face of Huerta's body of work. She helped free farm laborers from the shackles of corporate feudalism, among other achievements. Who cares what the fools think?
– Christopher Llewellyn Reed (@ChrisReedFilm)