BETRAYAL (NERAKHOON), THE
(The Betrayal (Nerakhoon) screens tonight, July 21, 2009, on PBS, as part of their Emmy-nominated POV series. Visit the film's official website to learn more.)
Ellen Kuras didn't set out to become one of the American cinema's most sought after directors of photography. Initially, her plan was to direct her own films. However, it wasn't long into her filmmaking self-education when something surprising happened: Kuras's aptitude behind the camera—as well as her kind, workmanlike demeanor—turned her knack into a bona fide profession. A current glance at her resume as a cinematographer reads like a what's what of some of the most relevant American cinema over the past two decades (Swoon, 4 Little Girls, Personal Velocity, Blow, Eternal Sunshine of the Spotless Mind, etc.). Yet as busy as she was, Kuras never abandoned that initial goal, shooting footage whenever she could find the time. Twenty-three years later, the veteran cinematographer has become a rookie director. Yet The Betrayal (Nerakhoon) doesn't feel like a directorial debut, as it tells both a sweeping historical and personal tale with astonishingly poetic grace.
The film's story is the stuff of epic literature. During the Vietnam War, America fought a secret war in Laos, recruiting many Laotian citizens to help fight against their government. But when America decided to jump ship, those Laotian fighters were left behind to suffer the consequences. Thavisouk "Thavi" Phrasavath's father was one of those unfortunate souls. At only twelve years old, Thavi was forced to swim across the Mekong River to Thailand, at which point he waited two years for his mother and most of his siblings to join him before they were able to relocate to America. (At that stage, their father was imprisoned and unable to join them.)
Journeying to New York City in the early 1980s led to more shock and awe for Thavi's already beleaguered family, as they unknowingly landed in one of the more violent and dangerous sections of Brooklyn, where crack and gangs ruled the streets. As Thavi and his siblings struggled to adapt to their brutal, cutthroat surroundings, an enormous strain was put on their mother, who was unable to come to terms with an overwhelming feeling of displacement and dislocation. Perhaps Laos wasn't so bad after all.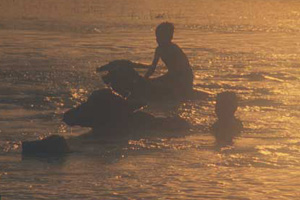 While in America, Kuras befriended Thavi—whom she initially met when she hired him to teach her his native language—and realized that his story was worth telling. Not only would it satisfy her dream of sharing the Laotian-America experience with the world; it was, perhaps more importantly, a remarkable immigrant tale that was deeply intertwined with such an unfortunate aspect of 20th century American history. Thavi understood what Kuras was trying to do. So much so, in fact, that over the course of the production's two decades, he became more than just Kuras's main subject and narrator. He became the film's co-director, co-writer, and editor as well.
In the 1990s, a new knife arrived to twist itself even deeper into Thavi's back. The less said about this, the better. Suffice to say, it is at this point when The Betrayal (Nerakhoon) abandons its historical and cultural threads to speak profoundly about the universal theme of fathers and sons. That Thavi allows himself to be filmed in such fragile, intimate situations adds a more crushing layer of emotion to the story.
Unfortunately, I do have one somewhat nagging issue with The Betrayal (Nerakhoon), which might sound like a backhanded compliment, come to think of it. As Kuras was relegated to shooting when her schedule allowed, the film can't help but suffer from this sense of fragmentation. To their credit, Kuras and Phrasavath work hard to soften these dramatic gaps in time, using a blend of narration, Howard Shore's score, and poetic Laotian imagery, but the problem is that Kuras captures each of these distinct eras with such authenticity that the film can't help but feel segmented. Which is where the backhanded compliment comes into play. I don't say this very often, but I almost wish there was a twelve-hour cut of The Betrayal (Nerakhoon), broken up into two-hour parts, in which Kuras had followed Thavi and his family every single step of the way. Then again, if that had happened, all those other movies wouldn't have looked so good.
— Michael Tully