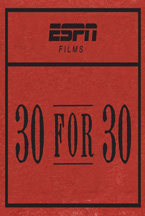 (Once Brothers is now available on DVD. After world premiering at the Hamptons International Film Festival, Once Brothers it had its national television premiere on ESPN on Tuesday, October 12, 2010, at 8pm. Visit the film's page at the 30 For 30 website to for future screening dates and times.)
It isn't just the recent streak of less-than-mediocre entries in ESPN's 30 For 30 series that makes Michael Tolajian's Once Brothers stand out. It's a very strong work, in which the grand scope of the Yugoslav Wars of the early 1990s is personalized through the relationship—and unfortunate falling out—between former NBA stars Vlade Divac and Drazen Petrovic. As civil war broke out on the many-sided divide but in Croatia and Serbia in particular, Petrovic, a serious Croat, ended his relationship with Divac, an upbeat Serb. For reasons you either already know or will find out three paragraphs from now, Divac is the sole present-day narrator of this story, as he journeys back to his homeland to reflect upon this somber chapter in not just his country's history, but in his own life.
As with the best of the 30 For 30 docs, Once Brothers is about many different things at once: it's a history lesson, a touching interpersonal drama, and a positive reaffirmation that the American dream still exists and isn't a completely silly construct. But for those viewers who watch ESPN solely for the sports, this film is also an effective reminder of just how freakishly good the Yugoslavian national team was before civil war ripped them apart (it's this aspect, combined with all the others, that most closely aligns Once Brothers with the earlier feature-length 30 For 30 entry The Two Escobars).
Tolajian and Divac leave no stone unturned in telling this tale, incorporating archival footage, interviews with several former Yugoslavian national teammates—most notably Toni Kukoc and Dino Radja, who are clearly relishing the chance to make their own peace with the past—as well as interviews with many notable NBA figures who coached and played with Divac and Petrovic (including Jerry West, Magic Johnson, Clyde Drexler, Kenny Anderson). The most touching footage is when Divac returns home to visit his parents before crossing into Croatia to sit across the table from Petrovich's mother. This trip provides a certain amount of closure, though it can never provide the closure that Divac really wants.
That's because in 1993, Petrovich was killed in a car accident at 28 years old, just as he was exploding into a full-blown NBA star for the New Jersey Nets. It wasn't always that easy. The handsome and determined standout, who had a skill set that recalled legend "Pistol" Pete Maravich, was first drafted by the Portland Trailblazers, where he sat on the bench and complained to his friend Divac on the telephone just about every night. Divac's transition to America was on the other side of the spectrum, as he found immediate success and pleasure playing for the Los Angels Lakers. While this only made things harder for his friend, Divac's steady shoulder nonetheless kept him afloat.
A misinterpreted gesture by Divac after a Yugoslavian national game at the 1990 World Championships resulted in Petrovich's termination of their friendship. From there, as the war escalated, Divac found it virtually impossible to have relationships with those he previously considered to be his best friends. Decades later, the lingering sadness of the war and the memory of the dissolution of not just the Yugoslavian national team but the friendships associated with it remain. It's this genuine feeling of regret, and of one man's attempt to bring closure to his haunted past, that makes Once Brothers so genuinely affecting.
— Michael Tully