LEONARD COHEN LIVE AT THE ISLE OF WIGHT 1970
(Leonard Cohen Live At The Isle Of Wight 1970 opens at Cinema Village for a limited theatrical release on Friday, January 22, 2010. More importantly—especially for those of you not in New York City—it's available right now on CD/DVD
or Blu-ray
. If this isn't in your collection, you've got problems.)
On Friday, October 23, 2009, I went on a hot date with my girlfriend to Madison Square Garden to see one of my musical heroes, Leonard Cohen, perform live. In recent years, I had sworn off these types of arena shows by elder statesmen, knowing that I brought too much unfair baggage to the table and was almost always let down (i.e., the present can never be the past). But with Cohen, I thought things would be different. It wasn't just the gushing praise that had been lavished on his resurgent live show. It was that he seemed to have a timeless presence and a voice that could make even the obnoxious cotton candy vendors dissolve into the cosmos. But on this night, less than an hour into that show, my girlfriend and I exchanged a silent but similar look of sadness. Even Leonard Cohen was no match for his cheesy sax player and the corny sports arena atmosphere. The next morning, we woke up and listened to Songs From A Room. This was 2009. Listening to those old albums was as good as it was going to get.
Or not. A few days ago, I watched Murray Lerner's Leonard Cohen Live At The Isle Of Wight 1970 and the past came back to life with ghostly, religious power. After my recent letdown, Lerner's film became an even greater—dare I say vital—revelation. But what's so ironic about it is that I only just now realized that Leonard Cohen Live At The Isle Of Wight 1970 was actually released for the very first time in a CD/DVD package on Tuesday, October 20, 2009, three tiny days before my profound letdown. This was the show I had wanted to see all along. Better late than never, I guess. And, man, was this way better than that.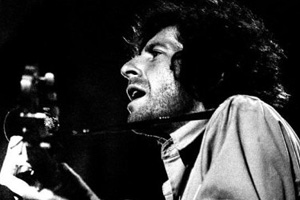 It's tempting to think that Lerner's recent revamping of unused footage from previous features to make new films—this one in relation to 1997's Message To Love: The Isle Of Wight Festival and 2007's The Other Side Of The Mirror: Bob Dylan At The Newport Folk Festival in relation to 1967's Festival—might be some sort of lazy attempt at cashing in. Until you watch them. Both of these works are more than just interesting time capsules that show us the past on a screen. They transport us into that past. The scratchiness of the celluloid and the sonic imperfections don't add a layer of remove; on the contrary, they only make the experience more intimate and involving.
When Leonard Cohen took the stage deep into the final night of the infamous Isle of Wight Festival in 1970, it was after Jimi Hendrix had just stoked the crowd into an even deeper frenzy than they'd already been in (as in, somebody set the stage on fire during his set). For days, 600,000 restless, seething attendees and gatecrashers had spent most of their time wreaking havoc on the Isle of Wight grounds. Quieter acts like Kris Kristofferson were met with boos and beer bottles. Which made everyone worry that poor Leonard Cohen would be trampled.
After being awoken at 2am and subsequently waiting an even longer period of time until a piano had been tracked down (the other having been destroyed), Cohen and his recently formed band The Army—Ron Cornelius (guitar); Charlie Daniels (electric bass, fiddle); Elkin "Bubba" Fowler (bass, banjo); Corlynn Hanney, Susan Musmanno, Donna Washburn (background vocals); and Cohen's producer/manager Bob Johnston (organ, piano, guitar, harmonica)—took the stage. Cohen told a strange story about going to the carnival with his father when he was young, building to a gentle plea for the audience to brighten the darkness with matches and lighters. Many of those in attendance feared that this request would be the equivalent of handing a pyromaniac a flamethrower. But when Cohen opened his mouth and began to sing "Bird On A Wire", the crowd fell into a reverent hush.
For the next 80 minutes, Leonard Cohen and The Army played Cohen's poetic songs with an otherworldly spirit that tamed the crowd and quenched the fire. Throughout the course of this moving document of that legendary night, Lerner interviews some of the festival's performers, who stood offstage to witness it and remain in awe of the spectacle almost forty years later.
It might be reaching to say that, for a brief moment in time, Leonard Cohen tamed the '60s, ended the war, and sang anger to sleep. But watching Leonard Cohen Live At The Isle of Wight 1970 and listening to the companion CD (which contains the entire set, as opposed to Lerner's trimmed down and reshaped 64-minute film), he appears to have done just that.
— Michael Tully
Liked it? Take a second to support Hammer to Nail on Patreon!

Michael Tully was born and raised in Maryland and now lives on Tennis Court in Brooklyn. His most recent narrative feature, Septien, world-premiered at the 2011 Sundance Film Festival and was picked up for distribution by Sundance Selects. In addition to directing Cocaine Angel (2006) and Silver Jew (2007), he is also a proud alumni of Filmmaker Magazine's annual "25 New Faces of Independent Film" club (2006). Visit his indieWIRE blog Boredom at its Boredest—http://blogs.indiewire.com/tully—for more sporadic personal updates.