GREAT SPEECHES FROM A DYING WORLD
(Great Speeches From a Dying World receives a one-week run at Anthology Film Archives from Wednesday, February 11th, through Tuesday, February 17th, 2009.)
Linas Phillips' feature-length non-fiction debut, Walking to Werner, was a risky proposition in theory: inspired by his hero Werner Herzog, the aspiring young filmmaker videotaped his journey on foot from Seattle to Los Angeles to confront Herzog face-to-face and hopefully uncover his true calling in life. In much the same way, the premise for Phillips' follow-up, Great Speeches From a Dying World, treads similarly dangerous terrain: the privileged documantarian skirted in and out of the lives of several homeless people in Seattle, building their trust enough to film them reciting great speeches from history directly into the camera. While Walking to Werner was a surprisingly sweet success, Great Speeches From a Dying World is an even more substantial achievement, a dignified cry from the gutter that should leave a lasting impression on even the most intolerant of viewers.
For all of you skeptics out there, it must be noted that the reading of those historical texts isn't the main hook of Phillips' film. They are mere punctuation marks on the film's true speeches, the speeches that aren't speeches at all. Rather than telling the story of nine homeless people, Phillips lets them tell their stories themselves. These oral histories, shared without pity or bitterness, allow viewers not just to see, but to feel, the events that might possibly lead to such an unfathomably dramatic downturn. To hear Tomey Smith, the film's main subject, say that the worst thing about being in his current state is the shame it creates when it comes to his family, one can't help but think, "Wait, he still has a family?" For not every homeless person was born and raised a homeless orphan. In the case of this ignorant viewer, Great Speeches From a Dying World provided an embarrassing reminder of that.
So, what makes a person homeless? If only it were that easy. For Tomey, it keeps coming back to a childhood puppy that he lost. For Jose, being molested by his brothers as his mother told him that it wasn't actually happening was the beginning of the end. For others, it was an injury or the loss of a job. And for the wheelchair-bound, crack smoking Deborah, it was the blunt desire to simply not be clean and sober anymore. The stories of Phillips' collection of subjects are so varied that one can't simply dismiss them with one broad explanation (laziness, stupidity, stubbornness). That said, without the disease of addiction, one seriously doubts that these people would settle for their current plights. To quote Mike with regards to his alcoholism:
I get the shakes because I drink so much. So I gotta drink some more to get rid of the shakes. And that's… the cause and the cure are the same.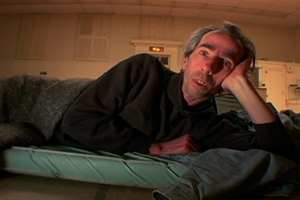 To his credit, Phillips doesn't try to provide any answers or pass any judgments. This isn't the type of pushy, self-important, backslapping filmmaking that I have absolutely no tolerance for anymore. Maybe that's why Great Speeches has had a difficult time finding its way into the supposedly open-minded film festival circuit? The fact that Phillips' main message appears to be that there is no main message? That maybe the most important thing—the only thing—is to at least recognize that the figures hiding inside these cardboard huts and curbside sleeping bags are actual human beings? It seems to me that everyone should be supporting this type of personal exploratory cinema made by unselfish artists who are reaching to tell stories in new, increasingly brave ways. I'm a weirdo, I know.
Though Phillips does incorporate voice-over to present his own conflicting emotions and connection to the story, it feels different from many other documentary examples I would rather not name right now. Phillips' isn't saying, "Look at me, I'm slumming with the homeless!" He's implicating himself in the problem and trying to do something about it in his own small way as a filmmaker and as a citizen. In this case, he wants to wake us all up from our insensitive slumbers.
As stated, those speeches aren't the core around which the film is built. Instead, they are extensions of Phillips' greater purpose, to restore some small measure of dignity to these beleaguered souls. For this very reason, when they arrive, they pack quite a powerful punch, from Mike Harmon's fiercely defiant reading of Robert Kennedy's "A Ripple of Hope," to Deborah's explosive interpretation of Sojourner Truth's "Ain't I a Woman," to "Sarge" James Mikal Browers' inspiring recitation of Abraham Lincoln's "The Gettysburg Address." When it comes time for Tomey's climactic speech (John Donne's "No Man is an Island"), that he delivers it in such a matter-of-fact, emotionless manner makes it all the more heartbreaking. Richly photographed by Phillips (with help from Benjamin Kasulke and time-lapse specialist Matt Daniels), and featuring a yearning, reverb-drenched score from Lori Goldston and Tara Jane O'Neil, Great Speeches From a Dying World is an act of timely, timeless humanity.
— Michael Tully