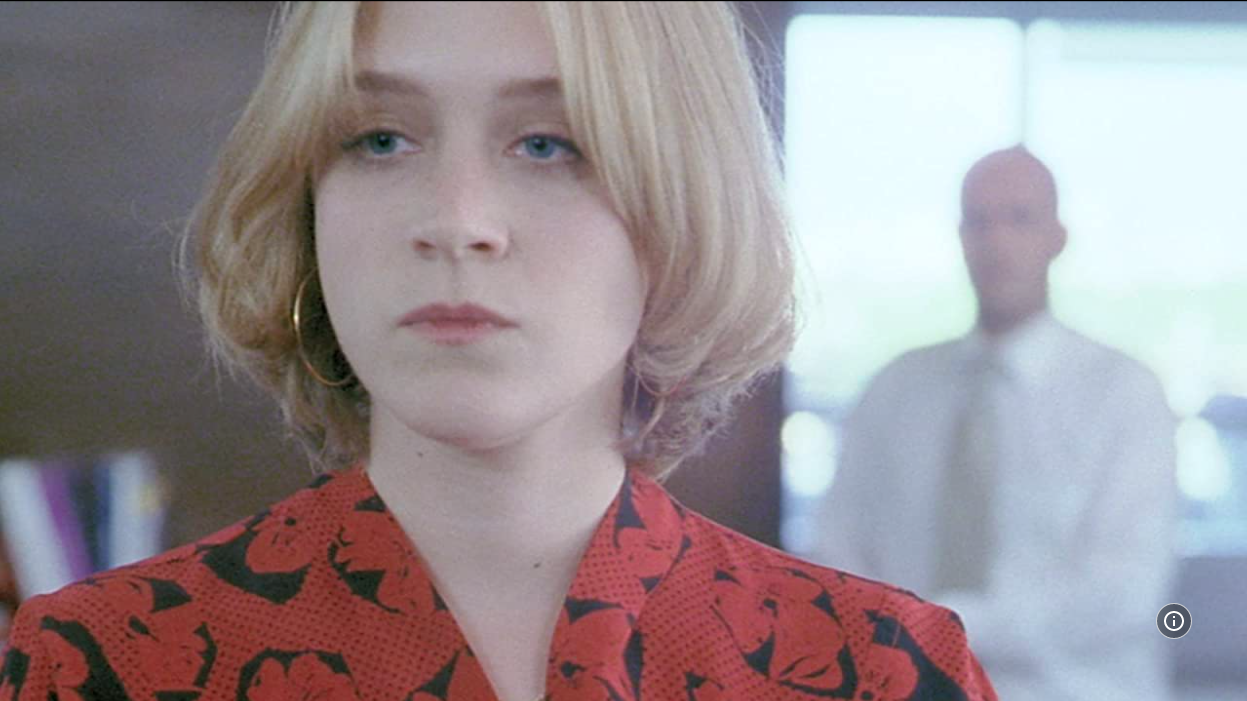 (Olivier Assayas' Demonlover is currently available to stream in the Film at Lincoln Center's Virtual Cinema for a limited time. Like what you see here on Hammer to Nail? Why not give just $1.00 per month via Patreon to help keep us going?)
Olivier Assayas' Demonlover, originally released in 2002, has been re-released in a gorgeous 2K restoration via Janus Films. The film, previously received as a stylistic exposition of the potential dangers of digital entertainment, has grown more prescient with age. Demonlover in 2002 asked the question, "what if?"; with its revisit, 19 years later, it presently begs the question: "now what?" 
Demonlover is a complex tone poem dissecting the sexiness of internet dangers in the 21st century. It is a supremely stylized piece of genre cinema by one of the great synthesizers of film form. Assayas seamlessly intermeshes video formats ranging from pixelated web video, cartoonized fetish porn, and beautifully textured film stock. This diverse montage enhances the narrative beyond its use of pure genre formalities into a language all its own. 
The narrative details the combative acquisition of a 3-D hentai product by various competing multinational corporations. These companies (Volfpeck, Mangatronix, and Demonlover) all deal in online porn distribution, and are vying to squash their competition with the next hottest product. With this in mind, they have planted various mole agents in each of their competitors. The principal players in the film are revealed to be double and maybe even triple agents. In fact, the Demonlover company turns out to be a shell corporation hiding a sinister interactive torture website. Eventually bonds are tested, and identities exposed. The result is a scathing indictment of our desensitized apathy for internet horror. The performances in this film are committed and daring. Chloë Sevigny, in particular, stands out as an assistant harboring a grudge. Her acting is a delicate balancing act ranging between tempered and campy. Her presence in the film simmers with passion and fervor yet never overheats into distaste. The ensemble, although outshined by the filmmaking bravura, remains efficient and effective.
Demonlover shares many resemblances to Assayas' Irma Vep. It is an experimental art house film with French New Wave sensibilities. Yet, unlike Irma Vep which borrows mostly from the past, Demonlover looks to the future. Its montage of video and film formats offer a beautiful and hellish vision of the digital age. The edit by Luc Barnier propels the film in ways that achieve incendiary stylistic exuberance. At times, though, this very approach heavily sacrifices narrative cohesion. The cinematography, shot by Denis Lenoir, a regular collaborator of Assayas and Hansen-Love, is crisp, vibrant, and moody. The photography knows when to embrace the shadows and ambiguity of the piece. It also knows when to enhance the color pallet and the light and vibrancy created in the explosive set pieces. The soundtrack is a creepy electronic lullaby by avant-garde outfit Sonic Youth in collaboration with Jim O'Rourke. The music is very fitting for this cautionary tale of society sleepily slipping into devilish digital derangement.
A cult item ahead of its time, Demonlover is a brooding experience sure to leave some exasperated and scratching their heads. Though at times narratively incomprehensible, the kick provided by the inspired filmmaking keeps our attention throughout. This part espionage thriller, part kinky psycho drama, part socially/technologically conscious film will bury its nails deep in your back as it reaches stunning stylistic climaxes. It truly is a daring work of experimentation, boundary pushing exploration, and social relevance.
–Sammy Levine (@thesammylevine)