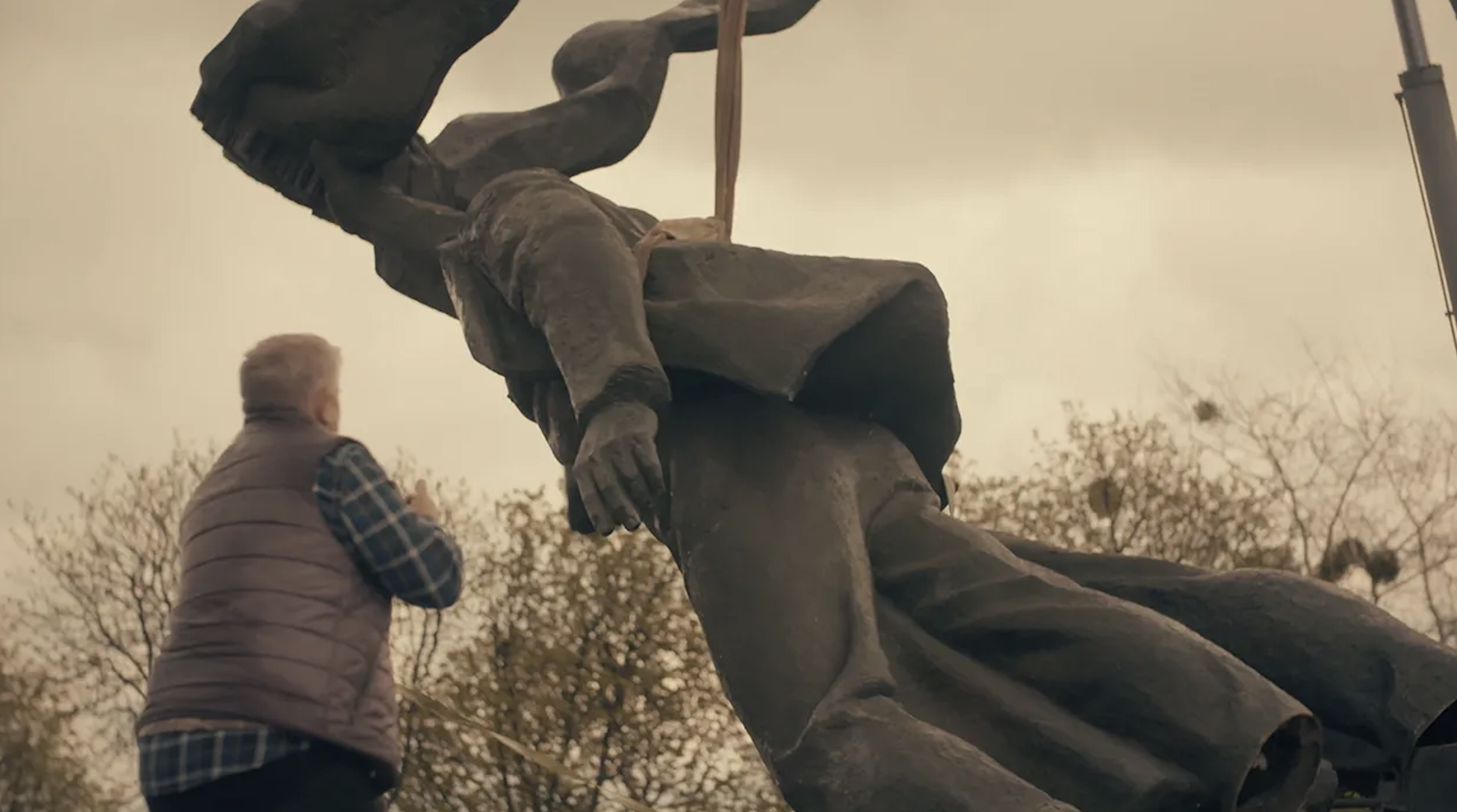 (The 2023 Toronto International Film Festival (TIFF) ran September 7-17 and HtN has tons of coverage from the fest! ! Check out Chris Reed's movie review of Defiant. Seen it? Join the conversation with HtN on our Letterboxd Page.)
The nation of Ukraine has faced an existential crisis since long before the 2022 Russian invasion. Though it declared independence from the much larger neighbor to its east in 1991, that break has never sat well with the man who came to the Kremlin in 1999, one Vladimir Putin. He has yet to recover from the implosion of the Soviet Union—for which he served in the notorious state security organization known as the KGB—and will do anything in his considerable power to build it up again.
In Defiant, a new documentary from director Karim Amer (Flight/Risk), the viewer plunges deep into the current conflict, courtesy of impressive access to many members of cabinet, foremost among them Foreign Minister Dmytro Kuleba. He is by no means the only protagonist here, as Amer makes sure to show us all the many people working hard to keep Ukraine afloat. It takes not just a village, but an entire country.
Beyond the history of the USSR, briefly discussed via an opening montage, recent events are front and center. In 2014, Russia annexed Crimea, the peninsula jutting into the Black Sea from southern Ukraine. No one in the international community did much of anything in response, nor did they when Putin fomented unrest in other Ukrainian provinces to claim they would be better off in Russia. That was a mistake.
Given the lack of previous action, Kuleba's shuttle diplomacy to shore up support for both sanctions against Russia and Ukraine's candidacy for the European Union (E.U.) is fraught with especially high drama. Will other E.U. members, not to mention the United States, ignore his country's pleas for help? Or will they, this time, step up? The key is to appeal to their better nature. Oh, and have them send weapons, too, please.
Meanwhile, Ukrainians are dying, and Amer's camera does not shy away from showing us the horrific results of occupation. There's no way to sugarcoat a war. Bad things happen, and innocents suffer. Hence the heightened urgency of Kuleba's campaign. And for folks like Deputy Prime Minister Iryna Vereshchuk, whose self-appointed task is to visit all the devastated areas and offer aid, it's a series of brutal revelations. The worst of these involve the kidnapping of children by Russian forces.
President Volodymyr Zelenskyy is not part of the film, except in occasional walk-throughs, but his strong leadership allows Kuleba and the others to better perform their own duties. Some of those include the anti-Russian-propaganda activities of Minister of Digital Transformation Mykhailo Fedorov and the supplemental diplomatic efforts of delegate Rusten Umerov (now, post-filming, Ukraine's new Defense Minister). Together, they make a good team.
In addition to the terrific behind-the-scenes aspect of the movie, what engrosses is the human side of politics, all too easily forgotten. Kuleba, a husband and father, confesses what a huge toll his work takes on him. Fortunately, he has his three "shrinks" with whom he meets daily, who help him cope. When we meet one of them, a young French Bulldog, it endears the man to us even more. He is lucky to have them, and Ukraine is lucky to have him. In spite of potentially bleak prospects for the future, there is hope. Defiant makes that abundantly clear. Слава Україні!
– Christopher Llewellyn Reed (@ChrisReedFilm)
2023 Toronto International Film Festival; Karim Amer; Defiant documentary movie review