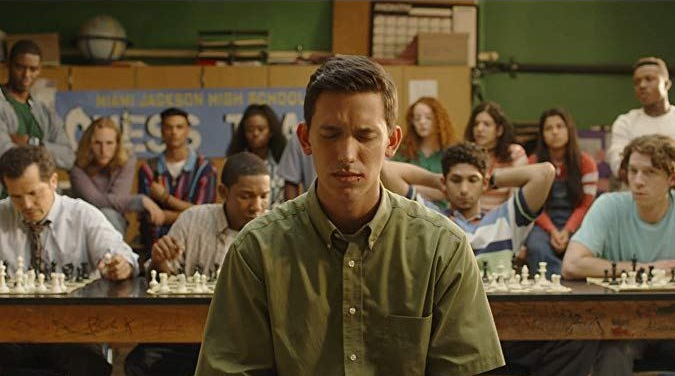 (The 2020 SXSW Film Festival was sadly cancelled. Yet Hammer to Nail is still reviewing films that were slated to premiere at the fest! We present, #LostFilmsofSXSW. Like what you see here on Hammer to Nail? Why not give just $1.00 per month via Patreon to help keep us going?)
There have been only a handful of good chess movies in the history of cinema, and luckily Critical Thinking can add its name to that short list. The new film is nothing like Edward Zwick's Pawn Sacrifice (2014) or Steven Zallian's Searching for Bobby Fischer (1993), and certainly nothing like Andrew Bujalski's Computer Chess (2013) — but what is? Instead it's mostly modeled, perhaps not intentionally, on the 2012 documentary Brooklyn Castle. A narrative feature was in the works at one point for that story, but now John Leguizamo has brought a similar true story of unlikely high school chess champions to life — this time in the tough streets of Miami. First-time director Leguizamo also stars as the upbeat and resilient teacher/coach, but it's the young actors who ultimately make the film worth watching. Leguizamo matches their energy and harnesses their talents to make a truly special film built to inspire.
Sedrick (Corwin Tuggles), Ito (Jorge Lendeborg Jr.) and Rodelay (Angel Bismark Curiel) are talented players in Mr. Martinez's (Leguizamo) chess elective. They want to compete in the local tournament but are short a man, so they recruit Gil (Will Hochman). After a first place finish, they raise money to make the trip to regionals by selling weed cookies. Soon they bring in another ringer they meet on the beach, Marcel (Jeffry Batista), a recent transplant from Cuba, and enroll him in classes at their school. Marcel is on another level, demonstrated by playing the rest of the team simultaneously without looking at their boards (a feat also performed by Fischer in Pawn Sacrifice). If the plot of Critical Thinking feels a bit familiar and predictable, it is. But the interpersonal relationships are still resonant today, especially Sedrick's relationship with his terrifyingly aggressive father (The Wire's Michael Kenneth Williams) and Ito's gravitational pulls towards a gang.
The style harkens back to the 80s and 90s, when school competition films like Hoosiers (1986), The Mighty Ducks (1992), and The Karate Kid (1984) won over audiences of all ages. Almost every detail down to the cheesy title card fonts is era specific. Fortunately, the acting and the dialogue feel fresh. Leguizamo scores highest on his sense of place, with the energy and vibrance of the Miami 'hood on full display. You almost wish he had called the movie, Miami Castle.
Finally, it should be declared that this film is freaking hilarious. On their flight to Nationals, which is the first time any of them have been on an airplane, Rodelay asks Sedrick about the flight attendant, "Hey do you think that waitress is into me?"  The teams' laughter is infectious, and screenwriter Dito Montiel squeezes a ton of comedic juice out of most scenes. But the dialogue would mean nothing without the young actors' charm to pull it off so effortlessly. It's easy to imagine Mr. Martinez's tough love and street smarts being used in equal measure by Mr. Leguizamo behind the scenes as the director working with these bright diverse actors. His new heartwarming and winning film was no doubt a labor of love, and it's delightful to see these young kings get their big break.
– Matthew Delman (@ItsTheRealDel)