THE CURBSIDE CRITERION: HEART OF A DOG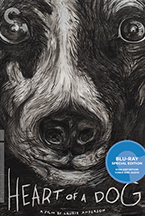 (We here at Hammer to Nail are all about true independent cinema. But we also have to tip our hat to the great films of yesteryear that continue to inspire filmmakers and cinephiles alike. This week, our "The Curbside Criterion" continues where HtN staff can trot out thoughts on the finest films ever made. Today HtN Lead Critic Chris Reed digs deep into the new Blu-Ray release of Heart of a Dog, the tough-to-define autobiographical doc by Laurie Anderson.)
I first encountered the work of multimedia artist Laurie Anderson when I heard her haunting 1981 hit song "O Superman." As it turns out, that is how most of the world initially discovered her, as well. At some point, I may have bought the Big Science CD (her debut album) where the song was featured, and I have a vague memory of also checking out Strange Angels, released in 1989. Still, for years, when I thought of Anderson, it was as the singer-songwriter of "O Superman." Nothing wrong there, per se, since it's a great composition, but there is a lot more to her than that one song, or even her music. Hence the label "multimedia" artist, a term, we learn from one of the special features on this new Criterion Blu-ray of her 2015 experimental moving-image autobiography Heart of a Dog, with which she has a love/hate relationship. On the one hand, it's so broad that it means nothing; on the other, it's liberating, since no one can put you in a creative box, given that you are expected to mix and match different media in your work. Anything, in other words, goes.
Which is certainly the case here. A metaphysical meditation on just about everything, albeit as filtered through the details of Anderson's own life, Heart of a Dog (which made it to the 2015 Oscar documentary shortlist) is a mesmerizing audio-visual tone poem, alternatingly bracing and hypnotic. The dog of the title is Anderson's late rat terrier Lolabelle, whom we see in archival footage as well as reenactments (where she is played by other rat terriers). Following the 9/11 terrorist attacks, Anderson journeys west with her, to California, only to find parallels between the feints of predator hawks, as they dive towards the dog, and the crashing of hijacked airplanes. This is how the film is constructed, as a series of memories embedded in dreams and visions, the whole narrated by Anderson in her simultaneously ironic and sincere voice that alternates between laughter and tears, sometimes in counterpoint to what we see. There is animation, painting, home movies, poetry flashing on screen, and so much more. And always, as the spine of the piece, there is Lolabelle, departed but ever beloved. Into this heady mix Anderson also wedges stories from her childhood – some quite harrowing – as well as quotes from Wittgenstein and copious amounts of Tibetan Buddhism. "Is it a pilgrimage?" asks Anderson at one point. "Towards what?" she, herself, responds. Good questions, and everyone will have a different answer.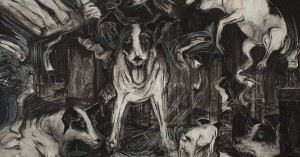 For me, it all works, and I love Anderson's blending of narrative and documentary, conventional storytelling and experimental techniques. Underneath it all is an often evocative score, which one can purchase as its own album. The music is so integral to the experience, it's a shock to realize that the disc offers one the option to watch the film without it. Especially since the final song, over the credits, is not by Anderson, but her late husband, Lou Reed, whose loss is never once mentioned, making his appearance in the music at the end a kind of ghostly tribute. I saw no point in rewatching the film without its soundtrack (though the sound design and voiceover are still there), but you are welcome to do so and let me know how it compares. The other options on the Blu-ray, which is presented in high definition (the film, itself, was shot in a variety of digital formats) and 5.1 surround sound, include five different sets of video extras, and two separate booklets, all briefly reviewed, below. Heart of a Dog is not for all viewers, but I highly recommend it for fans (even casual, like me) of Anderson, and experimental work, in general. Criterion's usual fine package mostly serves the movie well.
BOOKLET:
 As noted, there are actually two separate inserts:
Main Booklet – "Enough Time to Hold Love in Your Grasp," Essay by Film Critic Glenn Kenny: Kenny is clearly a more knowledgeable fan of Anderson's than am I, and offers some wonderful insights into her life and career, bringing up her first feature, the 1986 concert documentary Home of the Brave, as well as her marriage to Lou Reed. Like me, he loves the sound of her voice, calling it "radio-friendly" and one of the best at connoting irony. He best sums up the film thusly: "A movie that does not just beguile but entertains." A worthy read.
Photo Mini-Booklet w/ stills and text from film: On paper of varying thickness, including what feels like onion paper, this small booklet features stills and text from the movie. It's harmless, though not particularly memorable.
 DISC:
Once more, there are five video special features:
"Retelling" – A conversation between Laurie Anderson and co-producer Jake Perlin, shot in 2016 (41:10): This is where we learn how much Anderson hates the term "multimedia" (yet also recognizes the freedom it gives her). She discusses, with Perlin, the origins of the project (solicited by the Franco-German television network ARTE), her use of her family's Super 8 home movies, and her previous film work. She talks about the choices we all make in deciding which stories to tell about our lives, quoting Wittgenstein once more: "The limits of my language determine the limits of my world." It's a great conversation and, along with Kenny's essay, the strongest of the extras.
Two Deleted Scenes – "What the Mind Sees: Secret Pictures of the Tibetan Sky" & "On the Way to Jerusalem" (1:47 and 1:06, respectively): Since neither of these scenes ended up in the finished movie, they have only a rough sound design accompanying Anderson's voiceover. They are not without interest, but nor are they indispensable to the movie from which they were excised.
Excerpts from "Concert for Dogs" (6:36): On January 4, 2016, Laurie Anderson played a solo concert in Times Square, for dogs and handlers from the NYPD, MTA and other city agencies, in honor of 9/11 first responders' dogs. After the concert, footage from Heart of a Dog was projected on billboard screens on surrounding buildings. What we see was shot on a 360-degree camera. I hope the dogs liked it, since what we see and hear in this disappointing feature is dull, flat and uninteresting beyond the extreme wide angle of the perspective.
Lolabelle's Christmas Card (4:46): This is an adorable extra featuring the real (and aged) Lolabelle playing piano as she receives treats (footage from this video appears in the movie). True, at almost five minutes, it overstays its welcome a bit, yet it is still a loving and sweet testament to the canine inspiration behind the documentary.
Trailer (1:51): A terrific trailer, which brilliantly captures the spirit of the movie.
Overall, then, another fine entry in the Criterion canon, perfect for devotees of dogs, documentaries, and dazzling experimentation. Enjoy!