THE CURBSIDE CRITERION: THE GREAT ESCAPE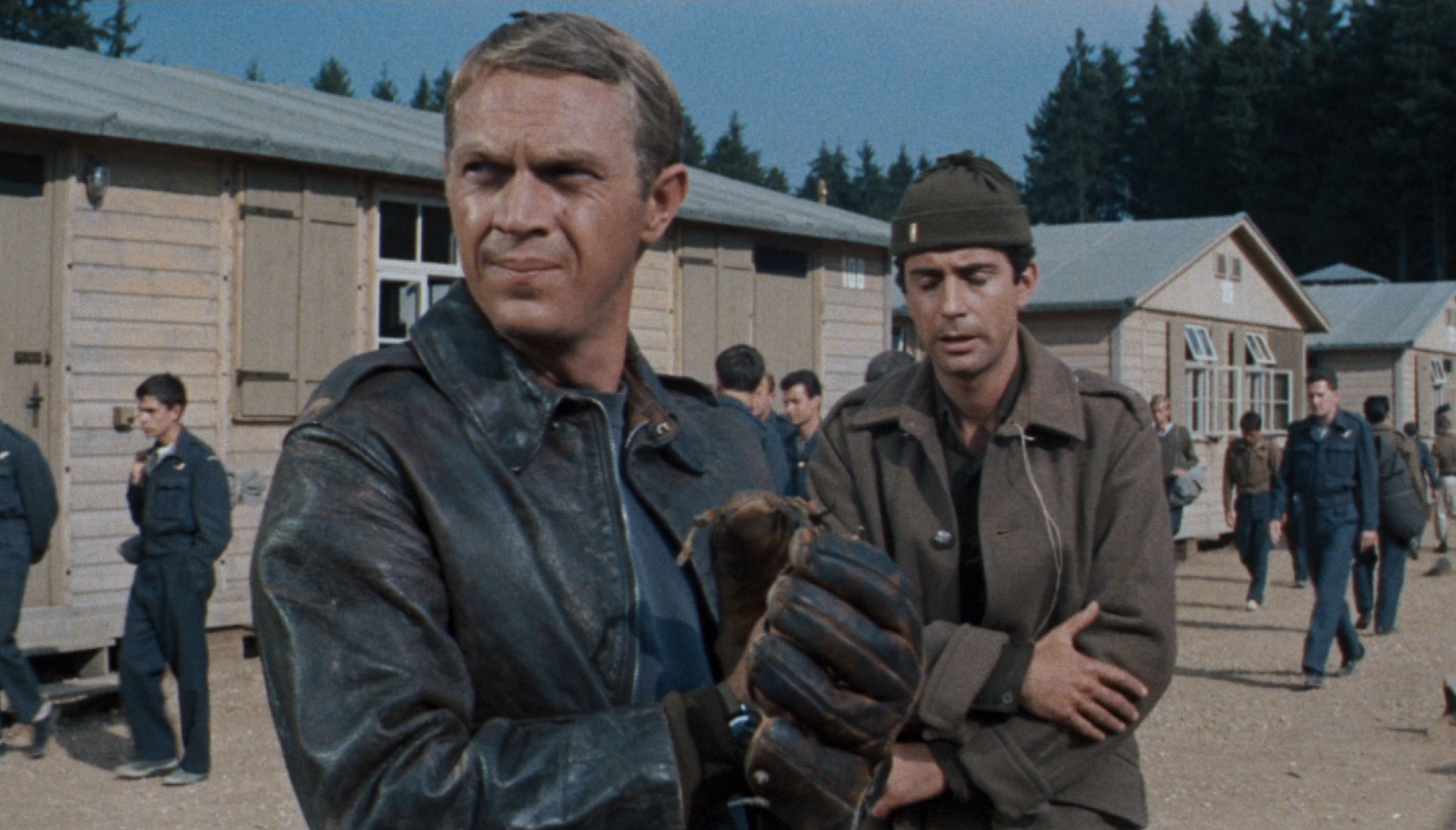 (We here at Hammer to Nail are all about true independent cinema. But we also have to tip our hat to the great films of yesteryear that continue to inspire filmmakers and cinephiles alike. This week, our new addition to the site, "The Curbside Criterion" continues where HtN staff can trot out thoughts on the finest films ever made. This week Brad Cook rides away with the new Blu-Ray release of John Sturges and Steve McQueen's classic, The Great Escape. Like what you see here on Hammer to Nail? Why not give just $1.00 per month via Patreon to help keep us going?)
I've read that personal 35mm acetate prints of The Great Escape owned by Quentin Tarantino and Martin Scorsese were used during the restoration process for this new Criterion release. I'm not certain that's true, but it certainly sounds plausible, and it's a testament to the enduring popularity of the movie, which I'm sure has seen an uptick with films like Tarantino's Once Upon a Time … in Hollywood.
The Great Escape, based on the book of the same name, tells the true story of a mass escape from a German POW camp during World War II, although the movie fictionalized many of the events and characters, including making a lot of them American. (They were all British, although one was an American serving in England's military.) The ensemble cast is notable for the number of actors who had burgeoning careers at the time, including Steve McQueen, James Garner, Richard Attenborough, Charles Bronson, James Coburn, and Donald Pleasence.
The running time is nearly three hours, but the story never drags, thanks to a script by James Clavell and W.R. Burnette that keeps the tale humming along and John Sturges' astute directorial skills. While much of the film details the POWs' intricate plans to escape, the third act follows what happened to those who successfully got out. The story hammers home the fact that in a war, whether you live or die can come down to simple luck, no matter how clever you are.
There's only one new bonus feature on this disc, so keep that in mind if you own an earlier edition and you're deciding whether to take the plunge with this one. Of course, this is a Criterion release, so it's certainly worth a purchase to keep supporting the company and their dedication to classic films. And don't forget that you get that new restored 4K digital transfer.
The new bonus feature features critic Michael Sragow talking about the making of the movie and the legacy left behind by Sturges. There's also a printed fold-out with an essay by critic Sheila O'Malley, who concludes: "When you watch The Great Escape in a packed theater today, and the audience erupts into cheers when McQueen/Ekins sails over the barrier, you know you're in the presence of something eternal, a movie that has gone far, far beyond the bounds of its time. It has entered the cultural bloodstream."
Ekins was the stuntman who was riding the motorcycle for that famous jump that's been referenced in so many movies, although McQueen was a solid rider who even played a German motorcycle rider for certain shots. And, of course, you likely won't be able to see The Great Escape in a packed theater for a while, but you can still screen it at home with some friends over Zoom, and everyone can cheer at that moment.
The rest of the bonus features were ported over, some as far back as Criterion's original laserdisc release Two audio commentaries are included, one from 1991 and the other cobbled together from various sources for a 2003 MGM DVD.  The former is hosted by film historian Bruce Eder and features Sturges, Ekins, composer Elmer Bernstein, and production manager and second unit director Robert E. Relyea, although they were recorded separately.
The latter includes bits from a 1974 Sturges interview as well as comments by Relyea, Ekins, McQueen's talent manager, Hillard Elkins, production designer Fernando Carrere, and actors Coburn, Garner, McCallum, Pleasence, and Taylor. Writer Steven Jay Rubin serves as a host of sorts: he interviewed the participants and put the track together.
While two tracks that have some overlap in the participants might seem monotonous, they're both worth listening to, especially if you're a big fan of the film. The fact that both of the commentaries were assembled from separate sources means that neither of them lapses into one of the common traps found in group tracks: people just watching the movie and commenting on how fun that scene was to film, or laughing at some inside joke. Of course, this is Criterion, so you expect a scholarly approach to everything.
Beyond that, the main bonus feature is a 2001 documentary called The Great Escape: Heroes Underground, which runs 44 minutes and is narrated by Burt Reynolds. It's a solid overview of the making of the film, complete with comments from some of the POWs who were part of the actual escape and an explanation of what was fictionalized and why. Would you be shocked to learn that the studio wanted a more American feel to the cast? Of course you wouldn't.
Another 2001 featurette that was ported over is The Real Virgil Hilts: A Man Called Jones, a 25-minute look at a pilot named David M. Jones who was the inspiration for McQueen's character. And there's a 1993 piece, Return to The Great Escape, that also runs 25 minutes and features interviews with many of the cast members. The film's trailer rounds out the platter.
– Brad Cook (@BradCWriter)