THE CURBSIDE CRITERION: BOYHOOD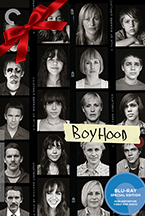 (As you may have noticed, it's holiday season! As a result, Hammer to Nail is going to bust out some reviews of the latest and greatest Criterion Blu Rays as well as re-running reviews and interviews of films that are available now. What better gift than the gift of awesome cinema!?! Next up…the new Criterion Blu of Richard Linklater's beloved Boyhood.)
Can a story about growing up be considered an epic tale? That's a question I had never considered before seeing Richard Linklater's Boyhood. While the idea of making a movie over a 12-year period and editing the footage into a film that runs nearly three hours may seem tedious and even a bit gimmicky, the end result is a fascinating exercise in applying documentary techniques to a fictional narrative.
The boy of Boyhood is Mason (Ellar Coltrane), who has an older sister (Lorelei Linklater), a single mom (Patricia Arquette), and an absentee dad (Ethan Hawke). His sister bugs him nonstop, as all sisters are obligated to do, and his mother tries to improve her lot in life by going to college while continuing to make poor relationship decisions. As Mason progresses through his K-12 years and prepares for college, his sister begrudgingly shows her love for him, his mother marries and divorces twice, and his father becomes increasingly present in his life.
Linklater dips in and out of Mason's life without breaking each of the 12 years into discrete chapters. Mason might exit a room in one scene and appear noticeably older while walking to school in the next moment. His family could even be living somewhere else, and the viewer must use various cues to figure out what's happening, since, of course, no one walks to junior high one day and announces, "I'm now 13 years old and my mom is married to a real bastard."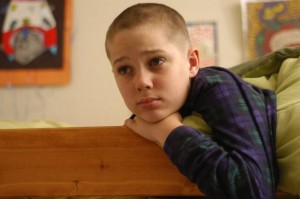 As in many of Linklater's films, the story is episodic and there's no resolution to many dramatic situations. Mason catches a brief glimpse of a boy he's friends with while moving away and then he's on to the next place in his life. A couple of bullies hassle him in a junior high bathroom but there's no cathartic moment when he knocks one of them down. His mother divorces two alcoholic, abusive men who simply disappear and are never seen again. In other words, Boyhood is much like real life.
This two-disc Blu-ray release from Criterion is packed with bonus features, although none of them were carried over from the prior Paramount Blu-ray. I don't have the earlier edition, so I can't say if this release is more worthwhile than the other one.
The first disc features a new 2K digital transfer of the movie, which was supervised by Linklater, along with a commentary track featuring the director and nine members of the cast and crew. While none of the principal cast members appear on the track, a couple minor ones do, such as Libby Villari, who played Mason's grandmother. Linklater hosts the proceedings and coaxes plenty of interesting insights from the participants, although there's also a fair number of moments where people lapse into silence, watch what's happening on the screen, and then react to it. I like it when commentary participants are more prepared, but overall, this is a pretty good track.
During the commentary, Linklater mentions some footage that was cut from the film, but unfortunately it's not in this release. The second disc leads off with Twelve Years, a 49-minute documentary that chronicles the making of the movie with on-set footage and interviews that were conducted during the 12-year process.
The next entry is Memories of the Present, a 57-minute conversation with Linklater, Arquette, and Coltrane that's moderated by producer John Pierson. Coltrane reappears with Hawke for Always Now (30 minutes). Both pieces were shot in December 2015 and feature a look back at the making of the movie.
Time of Your Life (12 minutes) is a video essay by film critic Michael Koresky. Coltrane reads Koresky's discussion of Linklater's use of time in not only Boyhood but also Slacker, Dazed and Confused, and the Before trilogy. It's a piece that's more academic in nature, much like the essay by novelist Jonathan Lethem in the included booklet.
The final bonus feature is Through the Years (24 minutes), which offers up a selection of on-set photographs from the book Boyhood: Twelve Years on Film. Photographer Matt Lankes, producer Cathleen Sutherland, Linklater, Hawke, Arquette, and Coltrane contributed writings to the book, and they read selections from their essays while the photos appear onscreen.
– Brad Cook (@BradCWriter)