PATTI SMITH: DREAM OF LIFE
(Patti Smith: Dream of Life airs on PBS's POV Wednesday, December 30, 2009. Check your local listings for dates and times. Also available are director Steven Sebring's companion book
and the DVD
.)
If you're looking for a traditional rock-and-roll biopic, then be forewarned when sitting down to watch Steven Sebring's Patti Smith: Dream of Life. An experimental, dream-of-consciousness reverie, Sebring's film honors the musician/activist/poet by strumming to its own rhythm. The result is a poetic, untamed portrait of a living rock icon.
Though Smith is still alive, many of her best friends are not. This loss casts a pall over the film, which, combined with Sebring's striking use of B&W 16mm and Smith's own haunting music, might make it seem like a sad lament. But if one succumbs to Sebring and Smith's impressionistic groove, the film ultimately reveals itself to be a testament to a life lived without compromise, one in which art and family and politics are forever intertwined.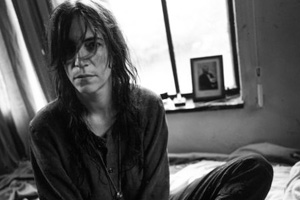 A commercial photographer by trade, Sebring latched onto Smith in the mid-1990s and followed her with a film camera for the next eleven—yes, eleven—years. He was there for her return to the stage opening for Bob Dylan in 1995, as well as her emotional appearance at Allen Ginsberg's memorial service in 1997. In what might be the film's most poignant sequence, Smith returns to New Jersey to show us her childhood home and introduce us to her kindhearted parents. So much for that tortured artist theory.
Patti Smith: Dream of Life unfurls like a kaleidoscopic collage, as Smith wanders the world to visit the gravesites of her heroes: Arthur Rimbaud, William Blake, Gregory Corso. Along the way, she reconnects with many friends—Sam Shepard, Michael Stipe, Dylan—who inspire her to continue creating music. While most of those celebrity appearances feel natural, a late film beachside powwow with Flea seems superfluous. More important than all of those recognizable faces, however, are the presences of Smith's children, who we see grow up before our very eyes. While Smith's music is an acquired taste, her devotion to her family, her tireless creative drive, and her unwavering spirit are not. Wannabes, take note. This is how a true artist's life is lived.
— Michael Tully