CONFESSIONSOFA EX-DOOFUS-ITCHYFOOTED MUTHA
(Melvin Van Peebles' latest film is opening in NYC at Cinema Village on Friday, 8/21/09, followed by Chicago on 8/28 and LA on 9/4. NOTE: This review was first posted in conjunction with the Gotham Awards, where Van Peebles was acknowledged for his contribution to independent cinema, as well as MoMA's simultaneous salute to the multi-talented director.)
This year has seen the release of several films that exemplified the potential for screen artistry, such as the elegant 35mm cinematography of Lance Hammer's Ballast or Azazel Jacobs' devastatingly restrained script for Momma's Man, yet no movie better conveys a love for storytelling than Melvin Van Peebles' Confessionsofa Ex-Doofus-ItchyFooted Mutha.
Seated before the camera sporting a black fedora, red neckerchief, and mammoth cigar, Van Peebles spins a yarn that spans 30+ years and all the seven seas: the travels and travails of a young boy (played by the 75-year-old filmmaker) from Chicago with an unquenchable thirst for adventure. Van Pebbles' narration has the same "itchy feet" as his character; it scuttles about with such agility that not only is it nearly impossible to pin down, but any attempt would unavoidably miss its charming whimsicality.
Most entrancing of all is Van Peebles himself, whose intimate narration makes it seem as though he is sitting across the room from you. His words have the rhythm of a great musician, and like a great bebop solo, they give the impression of being at once both improvised and highly deliberate. Even Melvin's particular style of narrating seems to derive from musical, rather than cinematic, roots. Much like Bobby Womack's spoken intro to his epic soul ballad "The Fact of Life/He'll Be There When the Sun Goes Down," Van Peebles fluidly combines confession, philosophy, and life-lesson. Nor do the affinities with music stop there, for Confessionsofa Ex-Doofus-ItchyFooted Mutha is also part musical. And the composer of all the songs and the score? None other than writer/director/producer/editor/painter/star Melvin Van Peebles.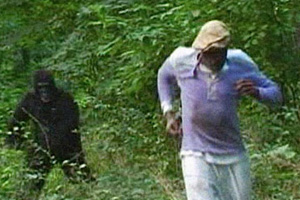 Riffing off the established conventions of the Bildungsroman genre (in which a character goes from adolescence to adulthood, and ultimately achieves some sort of enlightenment), the scope of the film is by necessity tremendous. Starting at the age of fourteen, Van Peebles' character lights out from his home in Chicago intending to go to Mexico, but winds up in New York. Years working in a restaurant give way to even more years spent as a merchant marine (including a battle with a pirate played by son Mario Van Peebles); a brief stint as a gigolo for elderly ladies; a used shoe-salesman in Africa; slave-labor as a miner; and even a daring escape from a sex-crazed gorilla. Moving effortlessly and unpretentiously through this outlandish picaresque, Van Peebles proves that he is a narrative charlatan like Orson Welles did in F For Fake. Both directors consistently make daring leaps in their storytelling, and their gambles become successively grander and more outrageous. So much of the joy of watching these movies is in reveling in the glory of these filmmakers' narrative theatrics—they're so good one can't help but laugh at the extent of their skill, and its seemingly limitless potential.
As if to complement the deliberately hyperbolic story, the images are self-consciously artificial and exaggerated. Van Peebles doesn't hide the limitations of his budget; instead, he accentuates them and then triumphantly transcends them. This movie is hardcore DIY. From endearingly cheap consumer-level computer special effects to an undisguised contemporary New York City that is supposed to pass for the 1960s, Van Peebles proves that it doesn't take a big budget to make a big movie—just ingenuity and fearlessness. What looks to be a large pool doubles for an ocean (complete with a white sheet in the background, blocking out some incongruous scenery); a hand-drawn sign reading "Haul with Paul" is attached to the side of a moving van; and boldest of all is the fact that no characters age throughout the decades-long story. Playing a naïve teenager, the septuagenarian auteur fumbles with the brassieres of women some fifty years his junior. Such incongruity only adds to the film's surrealist atmosphere.
Regardless of how unconventional and experimental it is, more than anything Confessionsofa Ex-Doofus-ItchyFooted Mutha is a joy to watch. It certainly breaks new ground, but never at the expense of its sense of humor. Van Peebles never seems as though he is trying to be obscure for the sake of being so; rather, he made the movie the only way he could. Take no prisoners. Make no excuses. Just make the movie by whatever means necessary. Melvin Van Peebles' conviction and determination is nothing short of inspirational.
— Cullen Gallagher