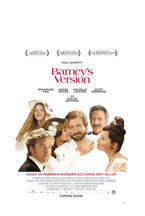 (Distributed by Sony Classics, Barney's Version is being released theatrically in New York and Los Angeles for one week only on December 3, 2010—presumably to qualify Paul Giamatti for an Oscar nomination. The regular theatrical release happens on January 14, 2011. Visit the film's official website to learn more.)
In Barney's Version, Paul Giamatti plays another gruff, obnoxious, inexplicably lovable schlub. Adapted from Canadian author Mordecai Richler's humorous novel, the fictional autobiography of TV producer Barney Panofsky traces the loves, losses, and questionable motives that carry him through his three marriages and the mysterious death of his best friend.
Barney makes his conjugal start while on a bohemian jaunt in Rome. Amongst a loose circle of expat artistes Barney begrudgingly marries his pregnant girlfriend Clara (Rachelle Lefevre), an unstable painter who waddles to the altar in crochet and platform heels. The film glazes rather quickly over the tragic circumstances that part Barney from his first wife, but the more enduring relationship from those early days is his friendship with Boogie (Scott Speedman), an aspiring writer and bon vivant. A slightly deflated Barney returns to Montreal where he is soon cornered into marrying the second Mrs. P. (Minnie Driver), the pampered and silly daughter of a wealthy family. Barney allows himself to be content with well-enough until he falls smashingly in love with Miriam (Rosamund Pike), an alluring, urbane beauty—and a guest at his second wedding. He drags himself through the superficial motions of marriage while courting Miriam from afar. He is convinced that she is his intended soul mate and the mother of his children, and when his second marriage unravels in spectacular fashion Barney views it as a lucky turn of events. The details are less favorable than he wishes, a drunken haze of resentment, adultery, and violence that leaves Barney estranged from his ex and accused of murdering his best friend Boogie. The film takes a mostly sympathetic view of Barney's involvement in the situation and doesn't linger long on the death. Not one to be deterred from his goal, Barney hustles off to woo Miriam as soon as he has his divorce papers in hand.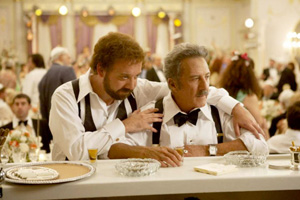 Barney does manage to win over Miriam and the film quiets down as it begins tracing the rhythms of their life together. The colorful characters and antic situations that marked the first half are replaced by more intimate moments, both thoughtful and sentimental. Barney falls in love without really knowing Miriam, and though they build a family together a very real insecurity tugs at their relationship. She is reedy and elegant, sporting berets and scarves and toting around heavy literature, and though a dedicated wife and mother she remains somewhat of a glamorous cipher. Barney smokes stinky cigars, lets his gut hang out, and seems perpetually on edge. Giamatti puts his nasally whine to good use in Barney's leveled insults, rants, and pleading. He is at his least guarded and most human with his father Izzy (Dustin Hoffman), a former cop who is Barney's wiser half. Who else would give him a handgun packaged in Star of David wrapping as his wedding gift?
Such attention to detail abounds. The clever and thorough production design added a rich visual layer to a film that could have felt much smaller. The film wisely lets subtle repetitions underscore its emotional themes, an elegant way of charting the passage of time. Seemingly casual gestures—the way Barney chops an onion or lights a cigar—are able to take on surprising nuance when we've watched him do them over a lifetime. In the end the film is made mostly of these smaller moments, that, when strung together, build a coherent and satisfying whole. Barney is kind of a jerk—selfish and needy—but his clumsy gropings at love, and the human way it slips through his fingers, are endearing.
— Susanna Locascio