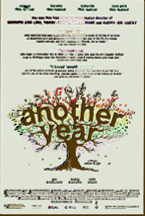 (Another Year is now available in a 2-Disc Blu-ray/DVD Combo
pack through Sony Classics. It opened Wednesday, December 29, 2010, in New York City and Los Angeles. Visit the film's official website to learn more.)
Is it possible for an Englishman to be declared a national treasure in the U.S.? If not, maybe they'll make an exception for Mike Leigh. Quietly and steadily, over four decades of work, Leigh has tunneled into the regional, the close-at-hand, and the culturally specific with mole-like determination, and emerged with a body of films that speaks to the world in the broadest and most accessible terms. He has largely forsaken the "star system" for a cosmos populated by his own constellation of trusted regulars; his famous method of developing scripts through several months of discussions, improvisations, and rehearsals with his actors lends the finished movies a remarkably dense texture, in which every interaction feels weighted with personal history, and the largely episodic storylines seem to emerge organically from the core of the characters' beings. And he has insisted, in a medium that sometimes seems naturally inclined to favor the spectacular and the sensationalistic, that the unfolding of ordinary moments in ordinary lives can constitute the greatest show on earth.
Leigh's humane intelligence, large-souled comedy, and deft ensemble-management skills are all on full display in Another Year; he provides a smoothly pleasurable entertainment even as he probes at disappointment, loss, and regret. Gerri (Ruth Sheen) and Tom (Jim Broadbent), a long-marriedsixty-ish couple, occupy the still center of the narrative. At first, perhaps, a bit too still—Gerri and Tom are kind, steady, and conscientious middle-class liberals, fine people to have as friends or co-workers or neighbors, but, in the settled regularity of their lives and habits, not terribly promising as movie protagonists. Fortunately, that objection turns out to be somewhat beside the point. What matters isn't Gerri and Tom's lives considered in isolation, but their lives considered in contrast to those Leigh sets spinning in motion around them: their community-lawyer son Joe (Oliver Maltman), Tom's old boyhood chum Ken (Peter Wight), and Gerri's hapless work colleague Mary (Lesley Manville).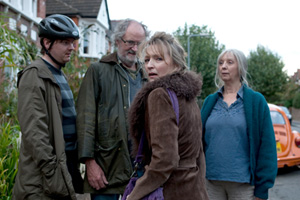 Over the course of a year—the story-time of the film—Joe takes a chance on love, Ken (a lifelong bachelor nearing retirement) drinks himself into a funk over how the world is slipping away from him, and Mary sinks deeper into her nest of neuroses, clinging to a sympathetic ear or shoulder like a drowning woman straining to reach the shore. (Lesley Manville's frantic, frayed-nerve performance is pitched at a level much higher than the other actors', but Mary never turns into a caricature. Mary is too much, but Manville is just right.) A child is born. An old woman dies. A friendship is sundered, then renewed. A garden is planted, offers up its bounty, then withers away for another winter. Through it all, Gerri and Tom preside over their small circle, offering food, drink, and words of encouragement or comfort.
The contrasts Leigh is exploring here have to do with those who find happiness and those who don't, those who can cope handily with the passing of time and those who can't, those with the strength to care for others and those who need others to care for them. These are universal concerns—once food and shelter have been taken care of, they're arguably the essential concerns. They've never been far from the surface of Leigh's work, but with Another Year and its equally profound (and equally delightful) predecessor, 2008's Happy-Go-Lucky, they move into the spotlight, to the exclusion of virtually all other topics and themes. The films ask, bluntly and without adornment: How do you feel about your life? At the end of the day (or in the middle of the night), are you counting your blessings, or climbing the walls? Another Year presents us with two extremes—Gerri and Tom at one end, serenely content, and Mary and Ken at the other, deeply dissatisfied—but viewer identification isn't an either/or proposition; most lives, after all, are lived somewhere in between.
The movie concludes with an image of inconsolable loneliness, yet both times I saw it, I came out of the theater on a high, exhilarated by Leigh's artistry and empathy. Which, for him, are really the same thing.
— Nelson Kim