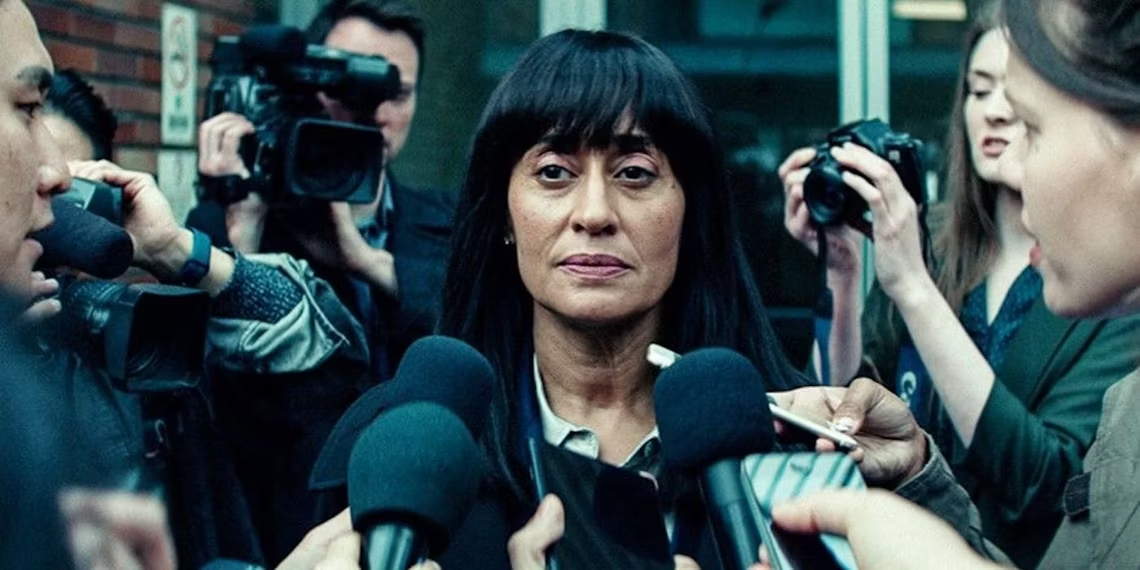 (The 2023 Tribeca Film Festival runs June 7-18 and HtN has a ton of coverage coming like Matt Delman's Cold Copy movie review. Seen it? Join the conversation with HtN on our Letterboxd Page.)
In Cold Copy, Diane Heger (Tracee Ellis Ross) is a temple that all journalism students pray at. And Mia (Bel Powley) enrolls as the small but mighty wrecking ball. Notably, the most broken character is Igor, played by Jacob Tremblay, as an angsty pre-teen (unrecognizable from Room).  If the stellar cast doesn't sell you, I'm not sure what will. They are all terrific, delivering director Roxine Helberg's delectable dialogue with force and conviction. Though Ross plays the part of the villain, every zinger endears you to her more. While the plot of the movie relies on familiar tropes, it nevertheless succeeds on the strength of the acting, dialogue and cinematography.
Bel Powley plays Mia, an overly ambitious student interested in investigative journalism. She must interview for a spot in the class of Heger (Ross), a famous hard-hitting reporter with her own television show. Their initial "meet cute" doesn't go great, but Diane spies something special in Mia, and Mia in turn is hypnotized by Diane's radical candor. The dance begins, and we see manipulative tactics used on both sides. The most dramatically interesting scenes are the ones focused on Igor (Tremblay), who shows up to save Mia from an awful date that was getting dangerous. When she enters his family's mansion, she realizes that he is the son of Charlotte Nowak, a famous writer who killed herself. Could there be a story here? They hang out in sugar factories and empty rooftops, escaping the world while Mia films on her camera, capturing footage that she'll edit together for her assignment. Tremblay is the emotional core of the film. He makes the story feel real, and that allows everything else to click into place.
The antics between Mia and Diane are perhaps unintentionally hilarious, though we know people like them in the real world, where their behavior is not-so-funny. Somehow it feels cathartic to see them played out onscreen, toward the extreme but no so over-the-top that it ever becomes cartoonish. The slick cinematography by Matteo Cocco places the film squarely in the noir-ish dramatic thriller genre. The look is more Michael Clayton than Erin Brockovich. Cocco and Helberg are also not afraid to linger on a good closeup. The lead trio is supported by Nesta Cooper as Mia's roommate who becomes competition in Heger's class, and James Tupper as Igor's dad, who makes a meal of a single scene in which he discovers Mia, 'the vulture,' inside his home.
Investigative journalism usually makes for good films. It was a wise choice for first time feature director Roxine Helberg, who also wrote the script, to pursue this angle. She doesn't necessarily have a lot new to say about the current media landscape, but neither did All The President's Men. Not that the two films are in the same ballpark—unfortunately Cold Copy's ending is cliché, predictable and anti-climactic. But overall the film plays so well that it overcomes its missteps. Thanks to a tremendous ensemble cast and high production values, Cold Copy deserves to be seen in theaters, before it lands on the front page of a streaming service.
– Matthew Delman (@ItsTheRealDel)
2023 Tribeca Film Festival; Roxine Helberg; Cold Copy movie review