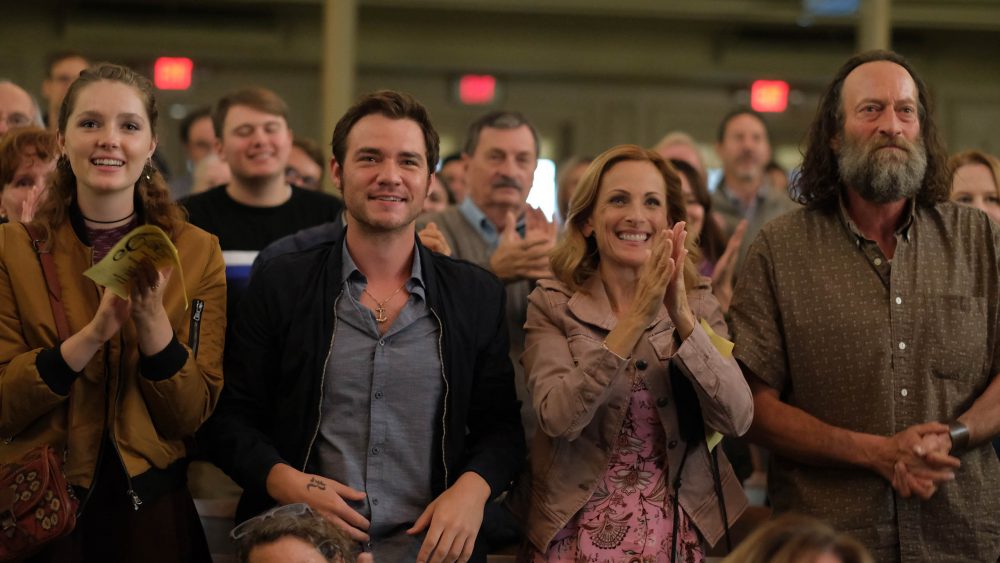 (The 2021 Sundance Film Festival runs January 28- February 3, all virtually as well as with drive-ins sprinkled around the U.S.. Hammer to Nail is bringing you a ton of coverage so, keep coming back! Like what you see here on Hammer to Nail? Why not give just $1.00 per month via Patreon to help keep us going?)
A dramedy about a fisherman family that also happens to be deaf, the film CODA has a special double meaning. The term Children of Deaf Adults is at the core of this story with Ruby (Emilia Jones, Locke & Key) being the only hearing member in her family. At 17 she helps her mom and dad (Marlee Matlin, Oscar winner and Troy Kotsur, No Ordinary Hero: The SuperDeafy Movie) and brother (Daniel Durant, Switched at Birth) with their Gloucester fishing business while also joining her high school's choir club. There she meets love interest and duet partner (Ferdia Walsh-Peelo of Sing Street) and meets the choirmaster who changes her life (Eugenio Derbez, Overboard).
The double meaning is simple – CODA also is a music term for a passage that brings a piece to an end and this film seamlessly blends the two terms into one. While a formulaic idea of being the family member who wants to go in a different direction, Director Sian Heder escapes this by capturing a detailed nuanced story of a deaf family in a Gloucester town immersing the actors in the lifestyle of the local fisherman and casting only Deaf actors for the Deaf roles.
Like opening night one year ago at Sundance with Crip Camp, this year's kick-off is a story that revolutionizes how the deaf community is seen, with humor, sexuality, conflict and general family life. And Heder gives the example of how to be a director from outside the community but thoughtfully engage with the disabled community and make the story authentically. She learned American Sign Language, she had ASL interpreters onset but more importantly, all the actors in playing their characters learned the regional signs of Gloucester which differ from their own communities.
But while the Deaf community is featured prominently in the story, this is not an "inspirational disability" story. This is a family story and a coming of age film that happens to include a Deaf cast. Sure, there are inside jokes from the Deaf world, sure there is a hilarious and uncomfortable translation scene for the daughter to explain her father's medical issue, but the director never takes us down that path of so many films of "othering" the disabled.
In Derbez' dramatic role, we get to see a new side of him with his gruff performance as the choir instructor who wants to help Ruby recognize her raw singing talent. He doesn't let her excuses stand in the way of her own success. For Jones, this breakout role really sets her apart while Walsh-Peelo feels a bit wasted in his role. For Matlin, who has always played a stoic, buttoned up character, seeing her as a fisherman's wife with a wild and sexy side is so refreshing. But it is the father-daughter relationship that really leads to the biggest tears as Kotsur brings this wonderful feeling to trying to understand and support his daughter the best way he can.
The film was an English-language remake of the 2014 French film La Famille Bélier. This is Heder's follow up from Tallulah which premiered at Sundance in 2016. CODA was a world premiere at Sundance and news on it's theatrical release is not yet announced.
– Melanie Addington (@MelAddington)