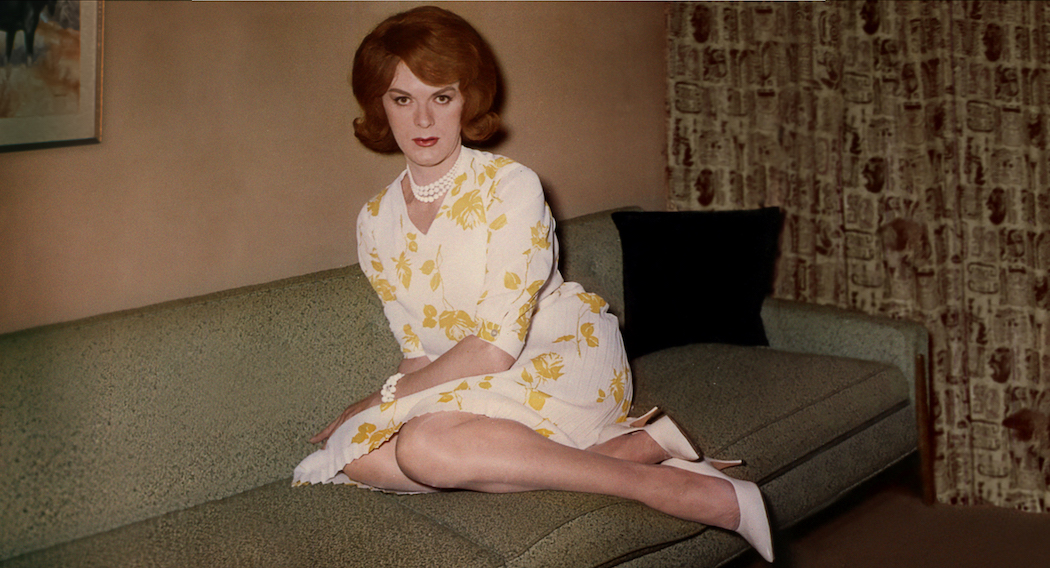 (DOC NYC, "America's largest documentary festival" is back this year for its 13th edition, running November 9-27. Check out Chris Reed's movie review of Casa Susanna. Seen it? Join the conversation with HtN on our Letterboxd Page.)
There has never been a truly safe time in modern history to be transgender, but there have at least been occasional safe havens or moments. With the rise of an American right-wing pushback to increasing acceptance of the full gamut of gender identities, it would behoove us to listen to the voices in the new documentary Casa Susanna (Sébastien Lifshitz, Little Girl), who speak of the need for tolerance and compassion in a world made better by both. Take a journey, then, to the Catskills region of New York in the 1950s and 1960s, where the titular residence enveloped its guests in a warm embrace that offered light in the somber tunnel vision of everywhere else.
The main (living) characters are Katherine (Kate) Cummings, Diana Merry-Shapiro, Betsy Wollheim, and Gregory Bagarozy, interviewed throughout and our guides to the world of yesterday. Kate and Diana were both frequent visitors to the Casa, Betsy is the daughter of another, and Gregory is the grandson of the refuge's owners, Marie and Susanna (aka Tito, depending on the context). Kate and Diana walk us through their own transitions, while Betsy explains her childhood realization of her father's crossdressing desires, and Gregory provides the rest of the background.
It all makes for a fascinating and poignant tale. Kate, born in Scotland but then a transplant to Australia, first came to Canada and then to the United States, hoping to explore life as a woman, unsure of whether or not that was what she indeed wanted. Married to a woman Down Under, with children, she explains that today, only one of her daughters remains close to her; the rest were unwilling to stay in touch post-transition. Diana's trajectory has many ups and downs, as well, though she wouldn't change anything, having found herself and happiness, together.
Betsy's father was the sci-fi author Donald A. Wollheim, a man consumed with self-loathing from an early age, who discovered peace and joy whenever he donned women's clothes. Though he never permanently gave up his male identity, he needed the visits to Casa Susanna as much as did Kate and Diana. Thanks for Gregory, we learn all about the marriage of Marie (a wigmaker) and Tito/Susanna, and how they came to buy the upstate property, which was originally designed to be "for crossdressing men who were exclusively heterosexual," though labels were never applied to anyone. Theirs was a loving marriage, as was that of Donald and Betsy's mother. Some spouses were understanding, others less so.
Lifshitz blends archival footage and present-day material seamlessly, weaving his story in intricately connected threads. Love forms the central through line. Who could say no to anyone self-actualizing? As Gregory says, what business is it of the world that some folks don't follow the heteronormative convention? Lifshitz even manages to bring his 4 protagonists together at the end for a series of deeply affecting sequences. Casa Susanna may be a thing of the past, but her open-minded spirit lives on.
– Christopher Llewellyn Reed (@ChrisReedFilm)
2022 DOC NYC; Sébastien Lifshitz; Casa Susanna documentary movie review