BURLESQUE: HEART OF THE GLITTER TRIBE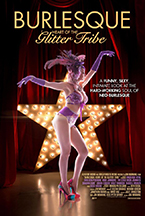 (Jon Manning's well received doc Burlesque: Heart of the Glitter Tribe is available now in theaters as a limited release and on VOD
Women and men dress in sparkly outfits, sequins flashing in the lights, hips swaying, breasts and buttocks exposed (though artfully concealed with tassels, which one of the performers calls "assels" when they adorn the nether regions), the various body parts all moving in carefully choreographed routines that are at once silly and sensual. Such is the spectacle of American burlesque, a tradition stretching all the way back to the 1860s, where striptease and dance combine into ribald commentary on contemporary mores. The practitioners of this craft whom we meet in Burlesque: Heart of the Glitter Tribe , a new documentary from director/producer Jon Manning (Cooking from A to Zest), may have everyday lives beyond the arch of the theatrical proscenium, but as presented here, they really on come to actual life once on stage. The line between persona and person is a blurry one.
We know them only by their performer names, a collection of evocative monikers such as Zora Von Pavonine, Babs Jamboree, Angelique DeVil, Isaiah Esquire and the Stagedoor Johnnies (a trio of male dancers). In a series of talking-head interviews, we learn about their personal histories with burlesque and how it has helped them gain the confidence they need to exist in the world as fully actualized human beings. Liberation is a common theme, whether it is from the shackles of oppressive heteronormativity or life in North Dakota (for the performer in question, one and the same). Watching these talented folks let loose on stage is joyful, indeed. Let the sensitive souls among us be forewarned, however, that there is nudity (as if those tassels do anything) and strong language, in the tradition of raucous backstage dialog heard around the world, from Broadway to the Bolshoi. All in the name of good fun, however.
That's the positive, and as a declarative statement of the power of self-expression, Burlesque: Heart of the Glitter Tribe is a resounding success. As a film that places its moving emotional content in a context that explains the history of the art form and its current popularity (or not), it disappoints. We remain in Portland, Oregon, for the vast majority of the movie, yet we never understand why. Is Portland a center of burlesque dancing? Are other cities? There is brief allusion to the fact that different places have differing laws about what body parts can and cannot be exposed, but that is the extent of the discussion of burlesque as a national phenomenon. Manning has one (articulate and smart) expert on camera, author Haley Sweetland Edwards, who does a credible job providing some background on the tradition, but it is just enough information to whet our appetite for more and not nearly as comprehensive as it should be. Keeping that criticism in mind, however, I still recommend the movie for its affecting portrait of a group of people who engage viewers' hearts and minds (and maybe something else, as well) with their beautiful and sexy performances.
– Christopher Llewellyn Reed (@ChrisReedFilm)