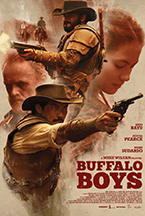 (Mike Wiluan's debut feature Buffalo Boys is in theaters now via Samuel Goldwyn Films. Like what you see here on Hammer to Nail? Why not pay just $1.00 per month to help keep us going?) 
Buffalo Boys, director Mike Wiluan's debut feature, offers a clever, if brutally violent (especially to women), riff on the Hollywood Western, taking the conventions of that genre and adapting them to 19th-century Indonesia. The villains are the Dutch colonists, pillaging the land and raping and killing its inhabitants. The heroes are two brothers back from a youth spent in California, who take up the cause of defenseless villagers, adding a dash of Seven Samurai-like chivalry to the affair. There are guns! There are swords! And yes, there are buffalo (of the Asian variety), as well. The net result is often exhilarating, if sometimes exhausting, though strong lead performances help buoy us past the weaker narrative moments. When it works, it's good, brisk (bloody) fun.
Jamar (Ario Bayu) and Suwo (Yoshi Sudarso) have grown up in the United States under the protection of their Uncle Arana (Tio Pakusadewo), working on the construction of the great railroad lines. The young men know little of their past, but when an accidental injury to their uncle sends them all back home to Indonesia, Arana tells them how the local Dutch military ruler, Captain Van Trach (Reinout Bussemaker), killed their father and forced the family into exile. Before long, they are caught up in the resistance to that very same Van Trach, older now but no less cruel.
Their passion to fight is fueled not only by a thirst for vengeance but also by love for the daughters of the village's chief, one of whom, Kiona (Pevita Pearce), is up to the challenge of battle, herself. It is she who shows the brothers the art of buffalo riding. And so Jamar and Suwo adapt their cowboy ways, becoming hybrid Eastern Western warriors to confront Van Trach once and for all. Yee-haw!
The film opens strong, with Wiluan demonstrating a deft hand at blending humor and action in a compelling mix. It's when he later turns to sentiment, and excessive violence, that the film occasionally falters, though it never completely loses its appeal. Bayu and Sudarso are consistently charismatic, throughout, and their feats of derring-do never cease to entertain. Overall, then, Buffalo Boys delivers on its initial promise of a thrilling tweak to familiar tropes.
– Christopher Llewellyn Reed (@ChrisReedFilm)
Like what you see here on Hammer to Nail? Why not pay just $1.00 per month via Patreon to help keep us going?