Jim Brunzell's Sundance 2018 Wrap-Up…Part Two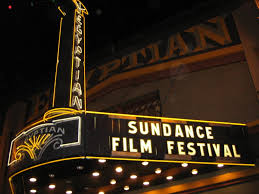 (The following is part 2 of HtN contributor Jim Brunzell's wrap up of the 2018 Sundance Film Festival. Part one can be found here.)
A slew of films dealt with family dynamics or lack thereof including, Hereditary and Mandy and the first documentary to appear in the NEXT section, director siblings Elan and Jonathan Bogarin's, 306 Hollywood, explored their grandma Annette's life and the 70+ years she lived in her house in Newark, NJ. The film is alight with her colorful collection of knick knack items, wardrobe, tax documents, and findings of multiple vacuum cleaners had wonderful footage and insightful examinations with their granny. However, this-clearly being a deeply personal film, is there much of an audience or will anyone really find much in a small film about two siblings grandmothers' life? Or what about the film family involved in sharing stories about legendary film editor, an Oscar winner on 1967's In the Heat of the Night, and director, Hal Ashby in director/editor Amy Scott's thoroughly entertaining, Hal. Ashby fought studio heads for final cut in many of his films, and was an obsessive, compulsive filmmaker working non-stop on his eventual multiple 1970's masterpieces Harold & Maude, The Last Detail, Shampoo, Bound for Glory, Coming Home and Being There before fizzling out in the early 80's. Through spectacular archival footage, audio interviews, typewritten letters, interviews with actors such as Beau Bridges, Jane Fonda, Bud Cort, Warren Beatty among others, Ashby's legacy is defined for his film canon and style were ahead of their time in discussing race, breaking barriers on social justice and relationships and pushing social and economic times. Hal itself will not break any new documentary barriers, using familiar talking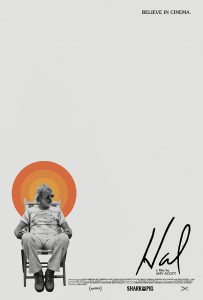 heads and stylistic tropes, it undeniably will bring a legion of new fans to discovery or re-discovery Ashby's amazing contributions to American cinema in a time, when Hollywood needed a director like Ashby to chart a new cinematic re-course.
With her first film in eleven years, writer/director Tamara Jenkins returned to Sundance with her lively and heartbreaking film, Private Life featuring three terrific performances from Kathryn Hahn, Paul Giamatti, and relative newcomer Kayli Carter working on becoming a family through failed pregnancies, adoptions options and complicated circumstances. The film seemed as authentic and genuine rang more true than most of the films at the festival. Looking for luck to becoming parents and starting a family, even as their marriage starts declining with every failed attempt, Rachel and Richard are left with one last hope in their step-niece Sadie (Carter), by asking her to be a surrogate after she decides to leave college and stay with them in city. Going against the grain and bringing a fresh perspective on parenting, Jenkins' script and direction is a luminous journey through the awful procedures, family boundaries, never ending bills, and fighting for human rights in finding true happiness and creation of the "idea" a happy family. Private Life felt a touch long for its over two hour running time, but nevertheless, left an impression on a brilliantly crafted and honest portrayal of a family in need. (Private Life will premiere on Netflix sometime in 2018.)
After making documentaries over the past decade, In A Dream (2008) and Captivated: The Trials of Pamela Smart (2014) and winning the "NEXT Innovator Award," director Jeremiah Zagar's narrative debut, We the Animals, makes it all the more impressive as a first feature, and one of the best films at the festival. Based on Justin Torres celebrated novel, Zagar's coming of age film, works wonders through dreamy, animated, and adventurous mise-en-scène following three brothers fulfilling their imaginary world, while watching their parents marriage coalesce and deteriorate in front of their eyes over a long, hot summer. All eyes are on the youngest boy Jonah who, by all means, is still trying to figure out what is next for him growing up in rural New York and eventually having his own sexual awakening. Our eyes become as adult and childlike in watching the narrative complexity unfold with plenty of surprises and complicated tender hearts. The set-up is both a tricky and a problematic formula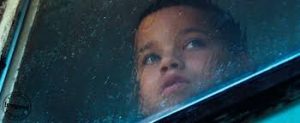 to present in a narrative film, however, Zagar's direction in juggling the all consuming naturalistic performances from each actor including Raul Castillos' and Sheila Vand's performances as Ma and Pa, along with Zak Mulligan's beautiful scenery stirs a Terrence Malick-like palette with slow, impressionism visuals developed another beautiful character out of thin air. Sundance has always been about discovery and perhaps the biggest acting discovery of the festival was Evan Rosado as Jonah, (think back to Quvenzhane Wallis' Beasts of the Southern Wild performance, which lifted her to Sundance royalty). Well, next in line should be Rosado's layered We the Animals performance as it will be remembered as an absolutely stunning acting debut. (We the Animals was bought by The Orchard who will release the film theatrically in 2018.)
As we constantly bring up words and terms in film criticism such as "films," "performances" and "community" more often than we can explain, nothing brought all these terms together capping off this year's Sundance viewing experience as much as Sam Green's "live documentary" A Thousand Thoughts, featuring the classical music group Kronos Quartet playing throughout Green's commentary on the expansion, extension and the forty-five year history of the group. The event at the Egyptian Theater was a sight to behold, and one filled with incredible surroundings on stage and abound in the theater, leaving a singular unrepeatable show. Even Green said so as he checked his watch to start the show and later, to end the show. Starting in 1973, the Kronos Quartet is one of the most celebrated and influential musical acts in American music history, Green (and co-directed/editor Joe Bini) using his computer to project videos, interviews, and personal stories from the group, while each musician, performed together and had separate solo pieces tell a moving and powerful abstract cinematic experience. Starting with founding member David Harrington (violin), Hank Dutt (viola), John Sherba (violin) and Sunny Yang (cello), recount how Harrington started the group in Seattle, and later relocated to San Francisco in the late 1970's and how their evolution has changed since their humbling beginning. They have performed more than 900 pieces of work written for them, 40 albums and more than 3,000 performances in their history and watching the group playing selected pieces, as Green's commentary explained the nature and history of the music and how certain pieces or life moments brought the musicians together, was boldly experimental, completely daring and left the biggest impression on this entire Sundance voyage. Not only watching a film with a packed audience, but watching a once in a lifetime happening change the way one looks through the visual media, and expanding it for a sensory feast for all the senses, left this viewer speechless.
So in closing, with the entire year to prepare for changes happening with Sundance, let us hope the new Director of Programming will consider creating an award, strictly for a Midnight film, sound good?
Lastly here were my ten favorite films seen, along with directors, at the 2018 Sundance Film Festival.
A Thousand Thoughts (dir. Sam Green & Joe Bini)

Mandy (dir. Panos Cosmatos)

You Were Never Really Here (dir. Lynne Ramsay)

Hereditary (dir. Ari Aster)

We the Animals (dir. Jeremiah Zagar)

Private Life (dir. Tamara Jenkins)

Sorry to Bother You (dir. Boots Riley)

Matangi / Maya / M.I.A. (dir. Stephen Loveridge)

Blaze (dir. Ethan Hawke)

Damsel (dir. David & Nathan Zellner)
 Jim Brunzell III is the Program Director of the All Genders, Lifestyles and Identities Film Festival (aGLIFF) based in Austin, TX and director of Sound Unseen Music/Film/Art Festival in the Twin Cities, MN. He has been covering the Sundance Film Festival for 11 years. He currently resides in Austin, Texas. He is on Twitter @JimBrunzell_3